Images of the LiveWire and concept images are directly from Harley Davidson.
This Monday at CES, Harley-Davidson finally revealed the specs and price on the long-awaited LiveWire electric motorbike. This bike has a futuristic style and aggressive stance. It even comes equipped with a touchscreen panel that not only acts as your speedo/tachometer, but allows you access to GPS navigation, music, battery status, and more. Whirring down the track, the LiveWire sounds straight out of a Star Wars scene.

(left) Action shot of the LiveWire in the exclusive Orange Fuse anodized finish; (right) the LiveWire in Vivid Black finish
What Harley is calling the "most connected motorcycle experience ever" comes in at a hefty $29,799. This bike is more akin to a Tesla than your average concept of a motorcycle; the H-D Connect App allows you to remotely access the battery status of your bike, as well as a GPS locator in the event that you get lost or your bike gets stolen. The app can also alert you for service warnings if the bike malfunctions. With a price like that, however, you're probably wondering what else can this bike do?
Thanks to being electrically powered, the LiveWire accelerates to 60 miles per hour in less than 3.5 seconds without a clutch or shifting gears. Harley-Davidson's Revelation Powertrain is responsible for allowing 100% of the torque to be accessible instantly. On a full charge, the LiveWire lasts a distance of around 110 city miles. Not a bad range for commuting, but possibly problematic for long-distance riders. With a Level 3 DC charger, this bike gets back to full charge around half an hour; it can also be fully charged with a Level 1 (or Level 2) DC charger overnight. Currently, Harley has slated 3 official finish options for the LiveWire. The Yellow Fuse and Orange Fuse finishes will be exclusively available for this bike, as well as for Vivid Black. More information on the LiveWire is to come; official details can be found here on Harley-Davidson's official website.
Along with the LiveWire specs, Harley also dropped two new electric bike concepts...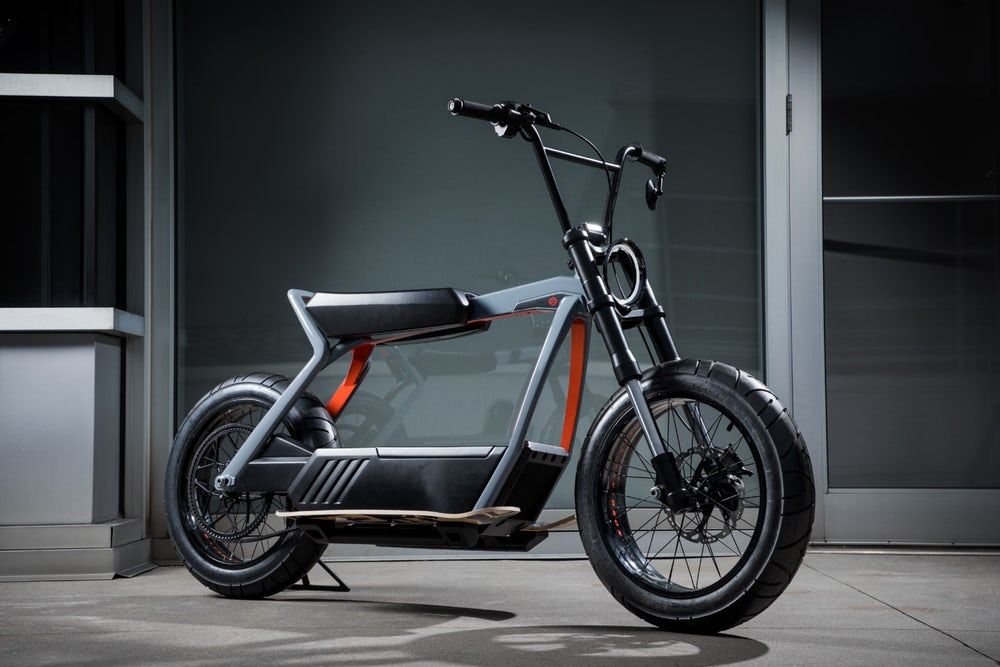 The first concept bike looks to be an electric off-road mountain bike, it has a lightweight look and a super-thin flat track seat. The other is a mini moped aimed for urban riding. It essentially looks like a moped frame with wheels; with everything on the bottom part of the frame, there is a completely wide open space below the seat. To top off this new look, Harley included a unique hollow ring headlight on this concept. Not much information was released besides the concept images. Keep your eyes peeled for any official updates on these bikes!

It looks like Harley is trying to open up to the market of millenials and younger riders by pairing futuristic designs with a reliable zero-emission engine. It's a big leap away from the classic Harley style, leaving out the signature rumble in place of what sounds like a space rover zipping through the fields of Neptune. Harley-Davidson is looking to the horizon; regardless of how you feel about electric engines, we are looking at the beginning of a new chapter in the evolution of motorcycles.
Recent Posts
The Deadbeat Stunt Division came out swinging at Garden State Harley! Check out this killer video Ad …

Looking to spice up the dirty walls of your motorcycle shop or garage? We just dropped a couple of n …

Check out this video we put together from our recent Deadbeat Stunt Division show at Staten Islan …