We're doing it again this year! But.... we're going totally back to basics. This year we're changing the location of the Deadbeat Retreat to the Fiddlehead Campground in Fryeburg, Maine. We're also making the event two days instead of one.
Buy A Ticket:
https://deadbeatcustoms.com/deadbeat-retreat-ticket-august-23-24-2019-fiddlehead-campground-fryeburg-maine/
We decided to pull the plug on just about all aspects of the event this year.
We wont have vendors, sponsors or any other bullshit. What we will have is a two day motorcycle campout on the Saco River. That's right, we'll have an entire beach to ourselves inside of the grounds. Fiddlehead Campground is located within 30 minutes of some of the best riding Maine and New Hampshire has to offer. If you're looking to get out and ride for the weekend, spend the day either floating in the river on Saturday, or exploring some of the best motorcycle roads than come out!
Here's the skinny on the weekend:

Price for the 2 day campout is $60 per person. As always there are no designated campsites. It's first come first serve, plan on camping next to and with other retreat attendees. Our reserved area consists of hard dirt and grass (off beach) and sand (on beach). Camping is allowed everywhere within our reserved retreat space, this includes the beach as well.
Plan to be self sufficient for the weekend, bring food and any other supplies you may need for two days.
Friday:
Show up any time Friday afternoon.
Check in at the main gate and come to beach 2 where we'll be. Here's a map of the grounds: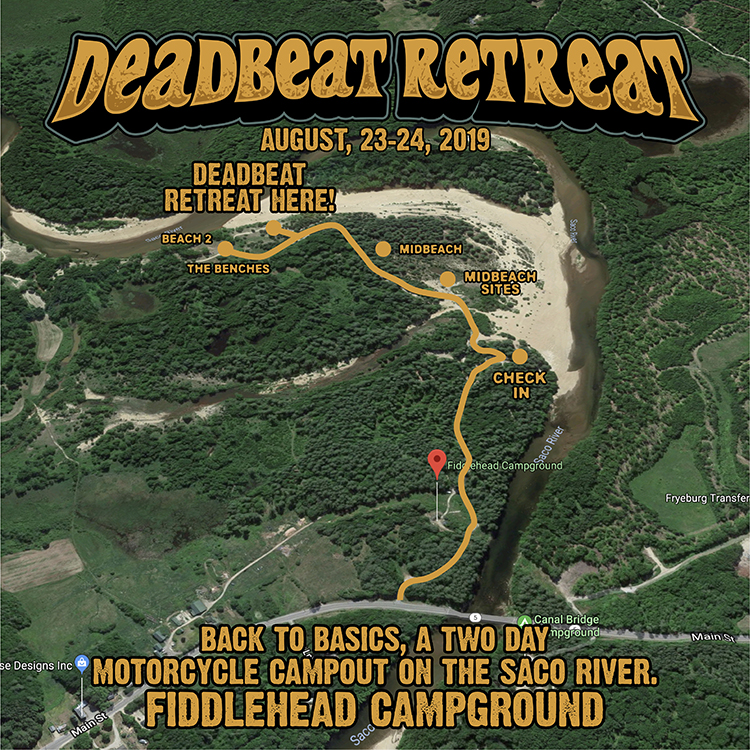 We'll have free beers, pizza and booze (tequila!) on ice while supplies last Friday night.
Saturday:
We don't have anything planned for the day Saturday....GET OUT AND RIDE! We mapped out a bunch of great options if you're looking to spend the day riding with friends.
Another option is to also swim in the Saco River, Fiddlehead offers a shuttle and tube rental (at an additional cost) if you want to float down the river with friends.
Saturday late afternoon we'll have an informal ride in bike show hosted by the Low Life Chopper Podcast guys, you're invited!
Saturday evening (starting at 4-5PM) Smoking Rednecks will be selling BBQ & Pizzas. We'll have pulled pork, ribs, mac 'n cheese, fries, and cole slaw.
Bonfire & Clay Shanks Band on the Beach Saturday night.
Sunday:
Breakfast at the Smoking Rednecks truck.
Ride Home.
FAQ:
Is the event all ages: No, this event is 21+.
Will alcohol be sold at the event: Alcohol will not be sold inside the event, we'll have free beer while supplies last. BYOB as well.
Where are the camping spots: There are no reserved camping "spots," it's first come first serve, your welcome to park your bike and drop your tent anywhere within beach 2.
Are tickets refundable: No, tickets are not refundable.
Rain or Shine: If it rains pack a honcho, we're still going to party. If it's sunny bring sun screen.
What type of motorcycle is allowed: All motorcycles are allowed at the Retreat. While we prefer home builts and v-twins, anyone can come...just come with a good attitude and have fun!
Can I have a campfire: Sure, we'll have a main bonfire on the beach as well.
By purchasing this ticket you acknowledge that Deadbeat Customs holds no responsibility for your actions and holds no liability. Ride hard, party harder, just don't be a dick and please clean up before you leave. Deadbeat Customs & Event Staff reserve the right to remove you from the property if you fail to follow these rules, don't be that guy...
Recent Posts
We're now carrying camchest kits from Fueling and they are available in three different st …

Our exclusive Moto Gloves were created with two important things in mind: performance and …

Tyler O'Hara won the inaugural Drag Specialties' King of the Baggers Race on an S&S Cy …