Trevor Hibbs had no idea just how far his 2017 Dyna Lowrider S would take him.
He works in the oil and gas industry as a welder and fondly recalls the day he entered the world of motorcycles.
"I met another welder years ago who told me he could ride a wheelie on a Harley," Hibbs, 41, reminisces. "Naturally, I thought he was full of shit, but he showed me. I was hooked! His name was Kenny Johnson, and he passed away (non-motorcycle accident). But because of that shithead, here I am."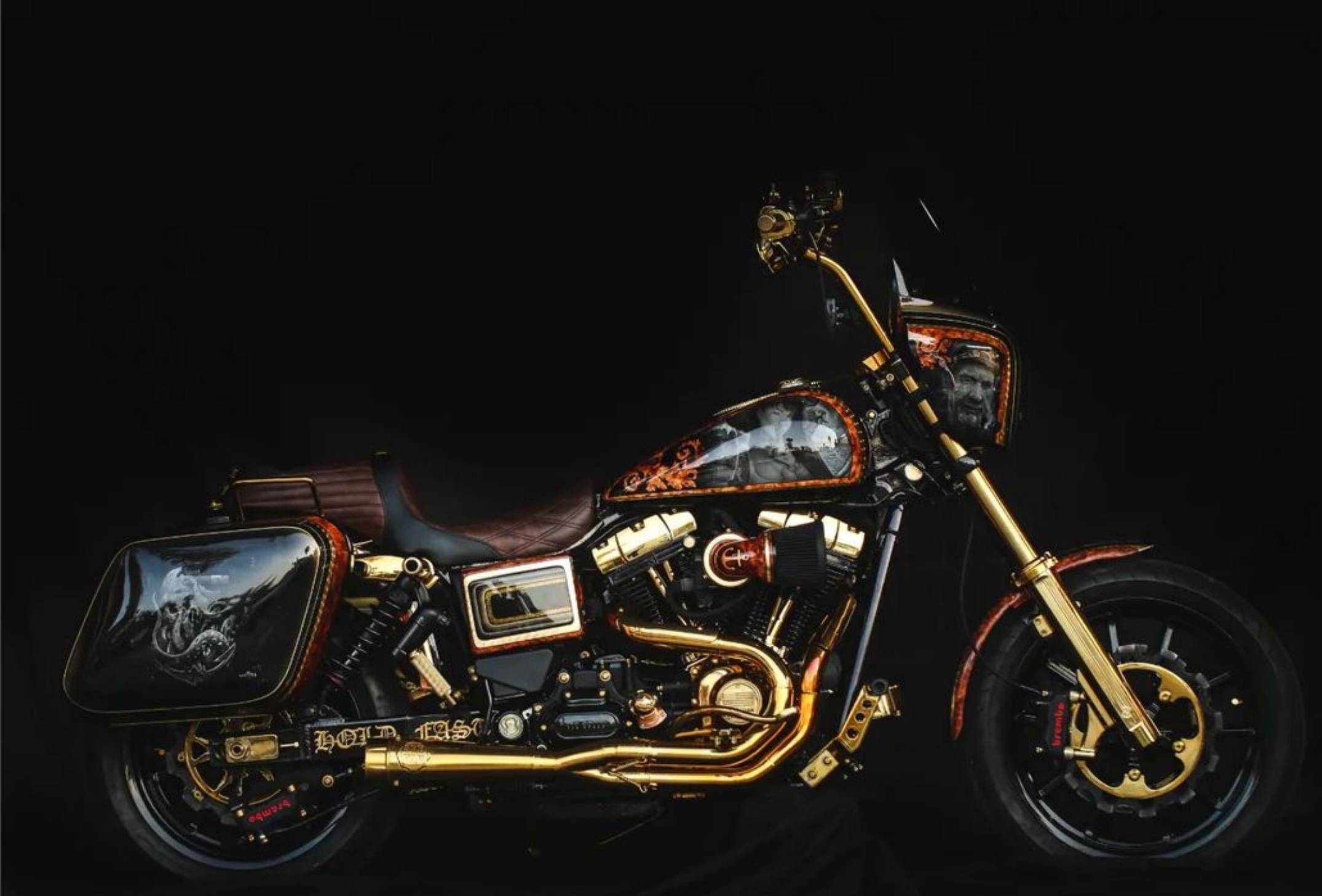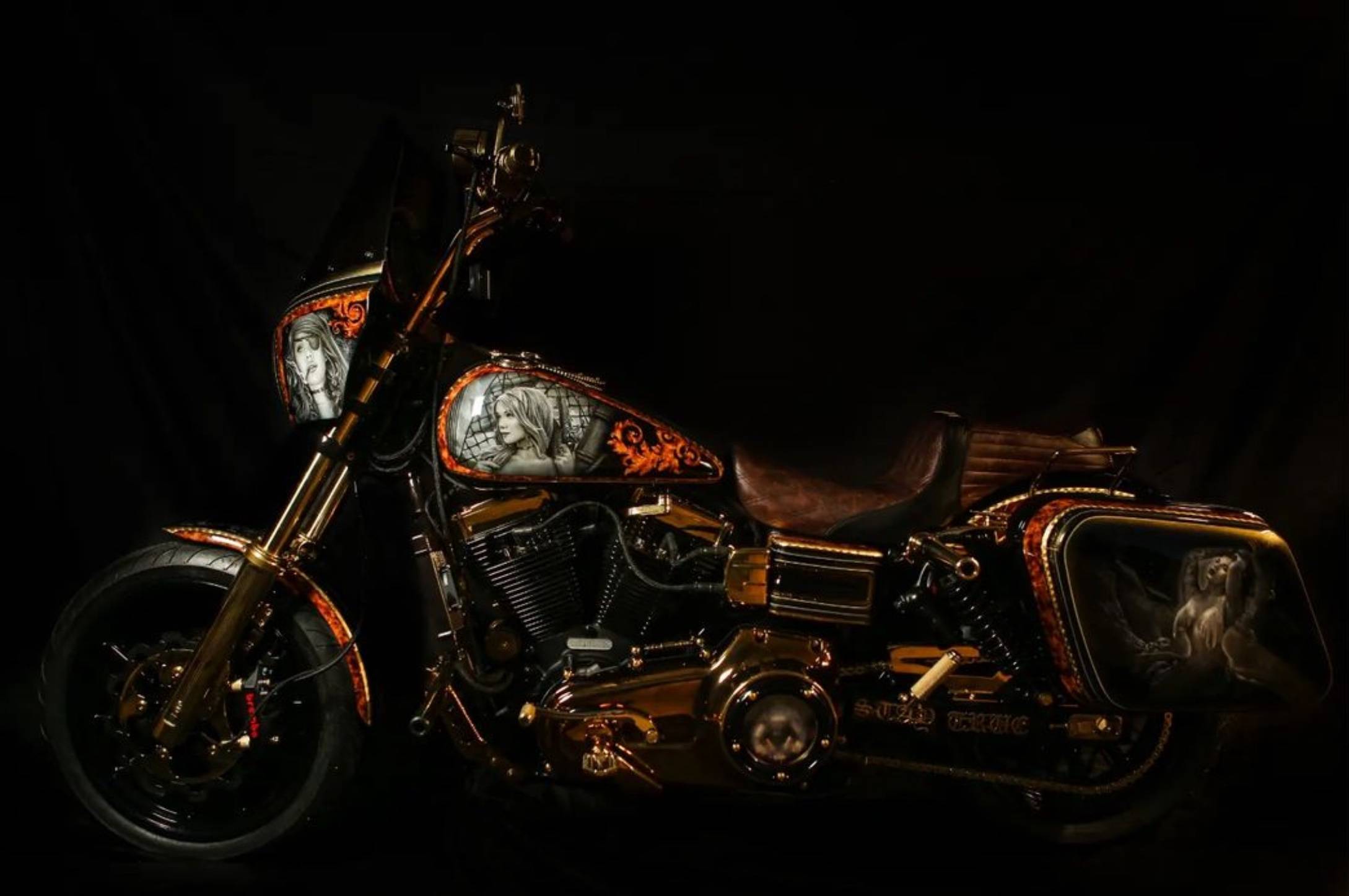 Pictured above is Hibbs' 2017 Dyna Lowrider. Hibbs has always been into grafitti and art (he made sculptures prior to working in welding), so he took to bike customization like a duck to water.
"I started customizing, and won Sturgis in 2020," Hibbs states. "That version of the bike I called FXDLS 2.0. In July of 2021, we went to the Bagger Race League. On the way back to the room, I was clipped splitting lanes going way too fast and wadded it up in the center divider. I almost lost my leg and had a serious blood and ankle infection. I fell into a serious rut in life, and I knew the only way out was to rebuild.
"Luckily, I had some good people and sponsors who helped me; so here she is, the FXDLS 3.0"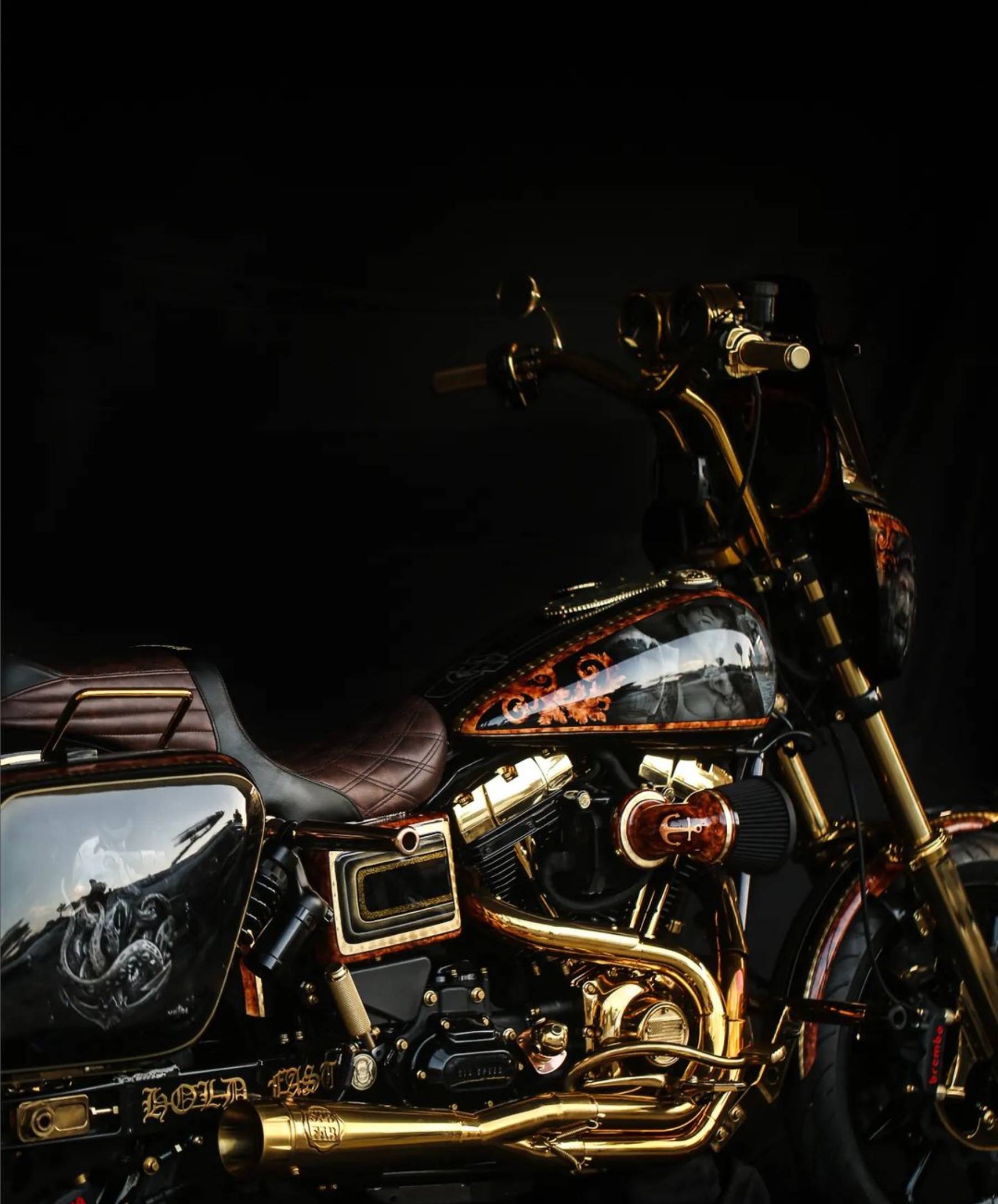 Hibbs' ride took a village to build, and would like to take this opportunity to thank the people involved in the process.
"Jeff at APC Powdercoating helped tremendously with frame wheels and miscellaneous parts," Hibbs explains. "The first and only powder coater I've ever used that was true on his word, and did an amazing job! Paul Lyndall of Lyndall Breaks was a huge help, thanks Paul!"
Furthermore, Hibbs points out 90% of his bike is Kern County, and the end product would not have been achieved without the help of all of his friends: Bryant, Jeff, Porky, Chad, Joe, Stephen and Four Eyes. It took many long nights after work to complete the ride within five months, just in time for the Roland Sands Design biker build off.
"It was exhausting and rewarding, and hopefully we will win!" Trevor exclaims.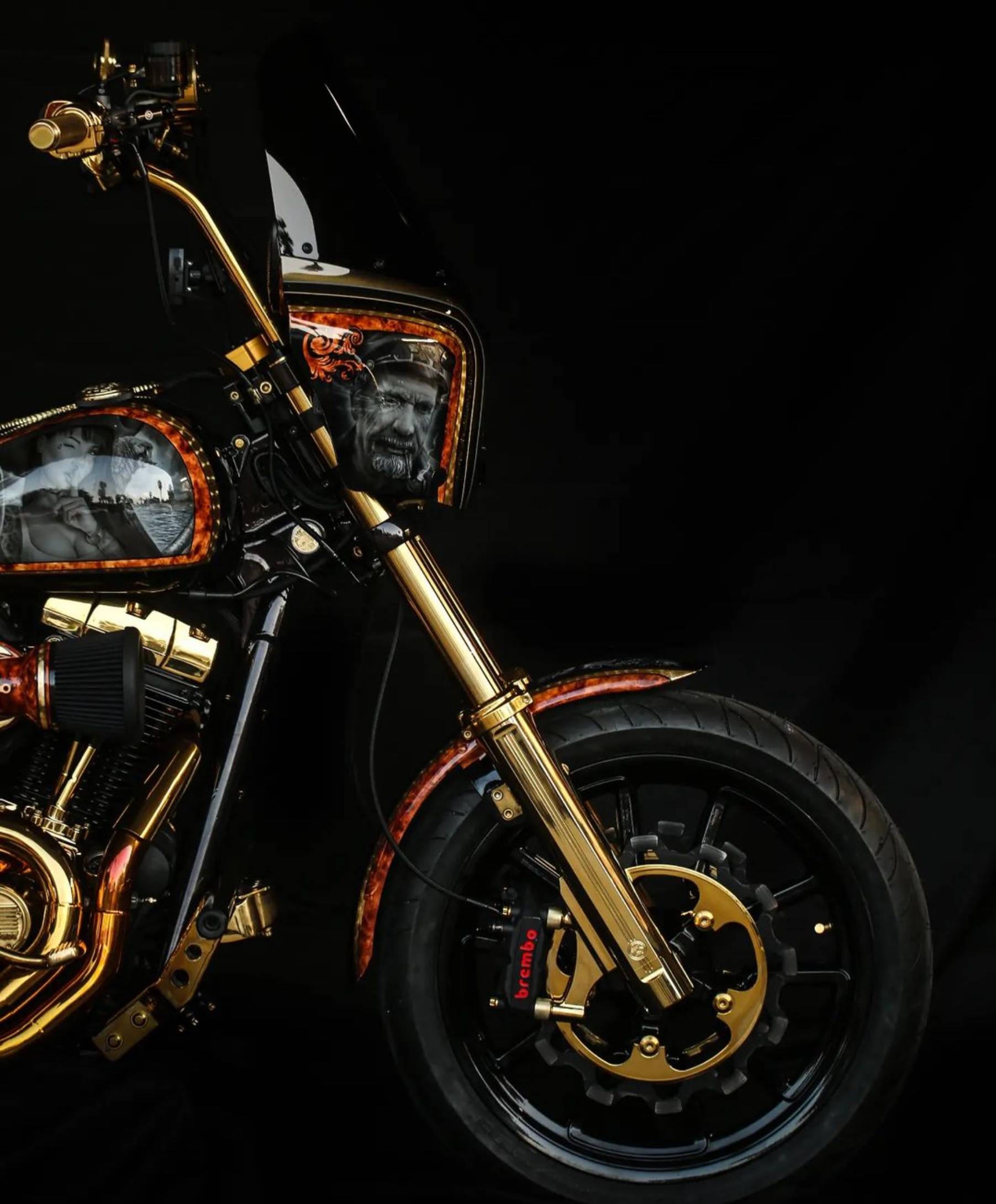 The FXDLS 3.0 is built with a wide variety of aftermarket parts. There are Lyndall Rotors, Brembo M4 Calipers and Master Cylinder, and the Swingarm is by Brocks Performance. Imzz products were also used, including an Imzz front fender, an Imzz T-Bars Crash Bar, an Imzz GPR Stabilizer and Top Tree, plus an Imzz Sputh Engine Stableizer.
"[I used an] Imzz Elite Full Fender Custom without the tail light so I had more room for the artwork," Trevor explains.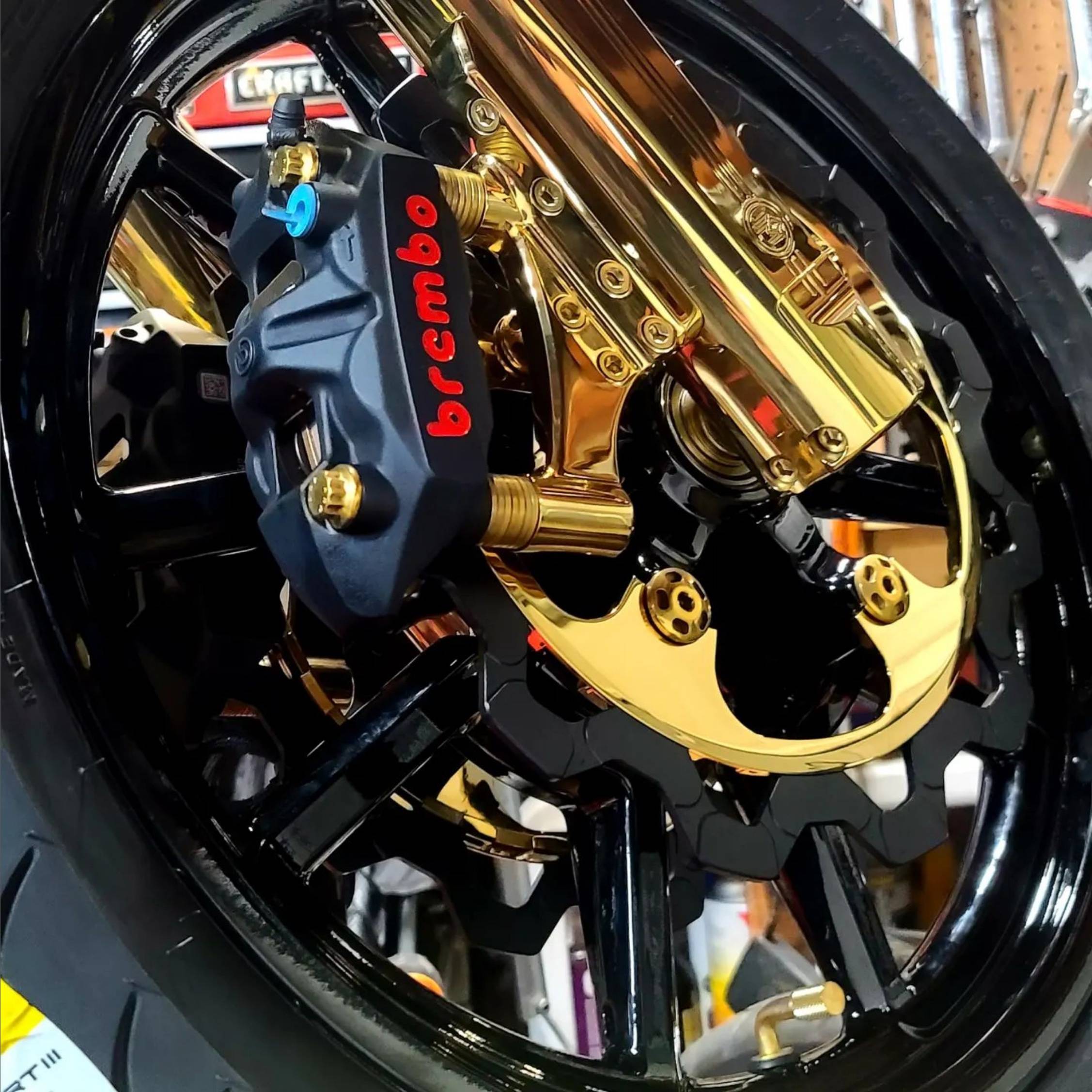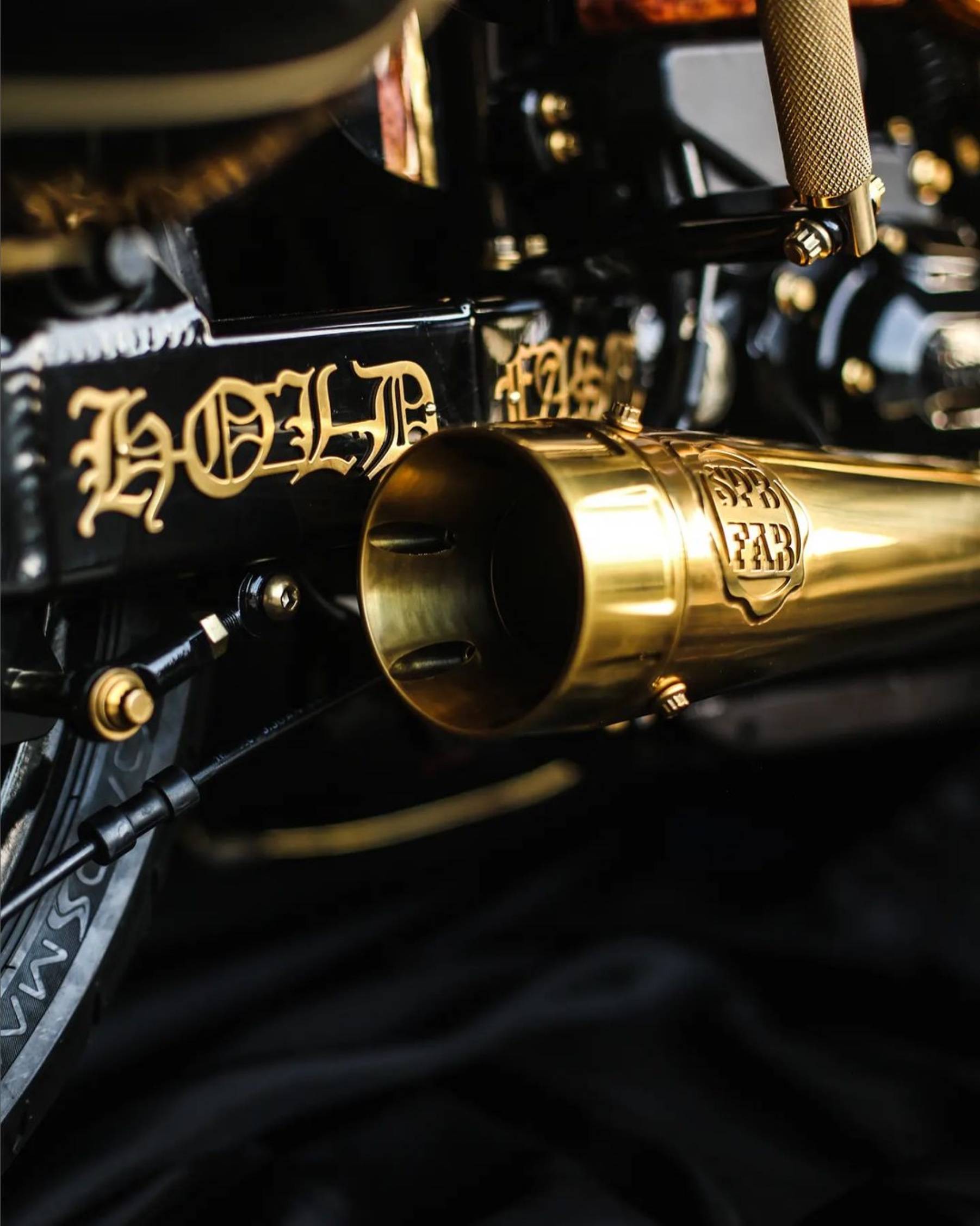 Trevor's bike features airbrushing and graphics by MrJoe83, and the base colors are by Kal Koncepts. His friend, Stephen Finish FX, added the gold leaf and pinstripes. As for custom fabrication, Trevor did the shock sliders himself.
"The shock sliders were a design I came up with," Trevor begins. "They are cannons, to follow the theme of an old pirate ship. I tried to make them on the lathe, but I called in a friend who works in a machine shop to help. He used a CNC to make them what they are now, and he nailed it with a cannon ball as a spacer."
Trevor also made the dash plate from solid brass; his friend Joey Mullen had a linzy engraver ready to put the lines down. Trevor then finished the Stipple with his dremel. Additionally, Trevor made the caliper spacers on his buddy Steve Hendrix's lathe.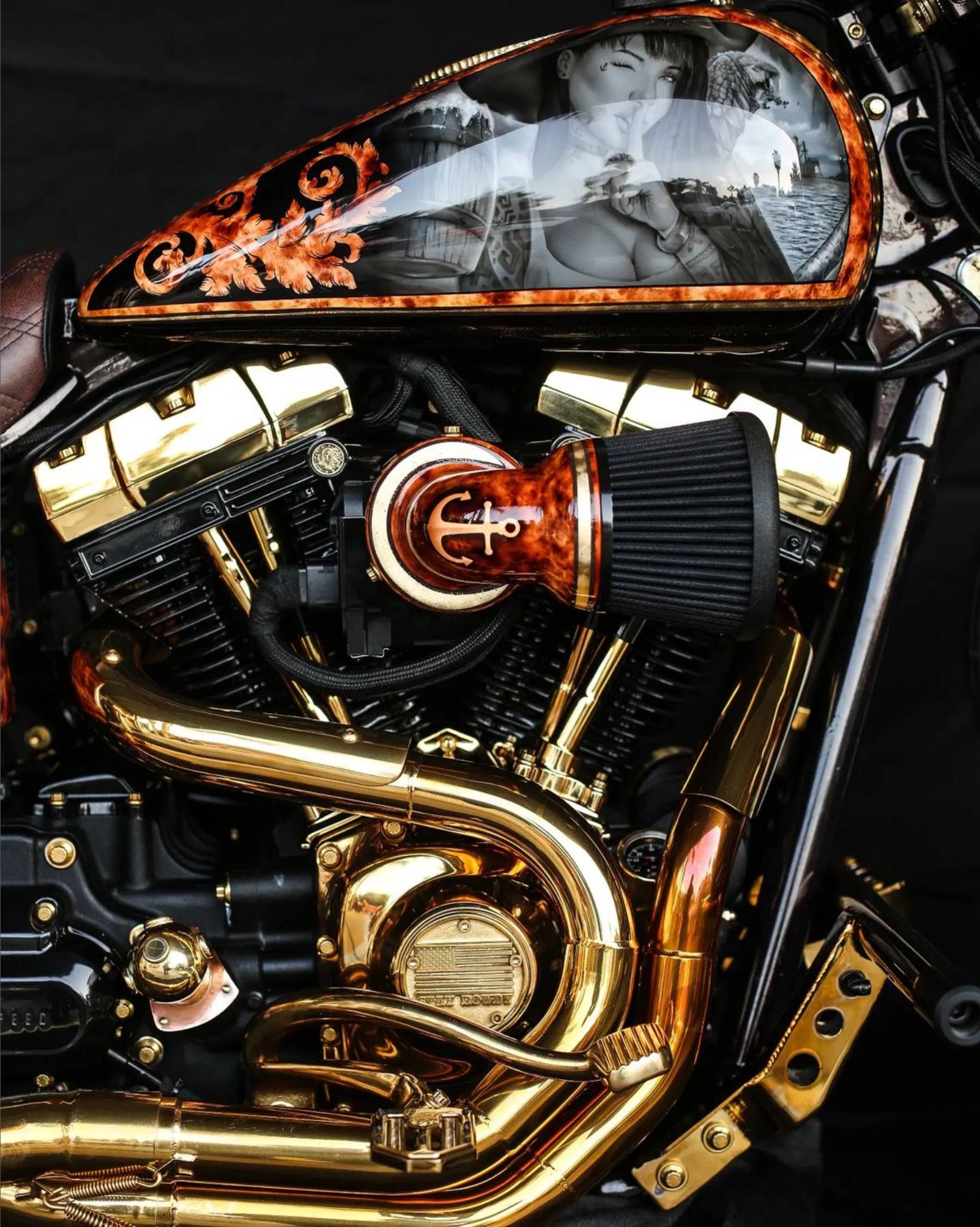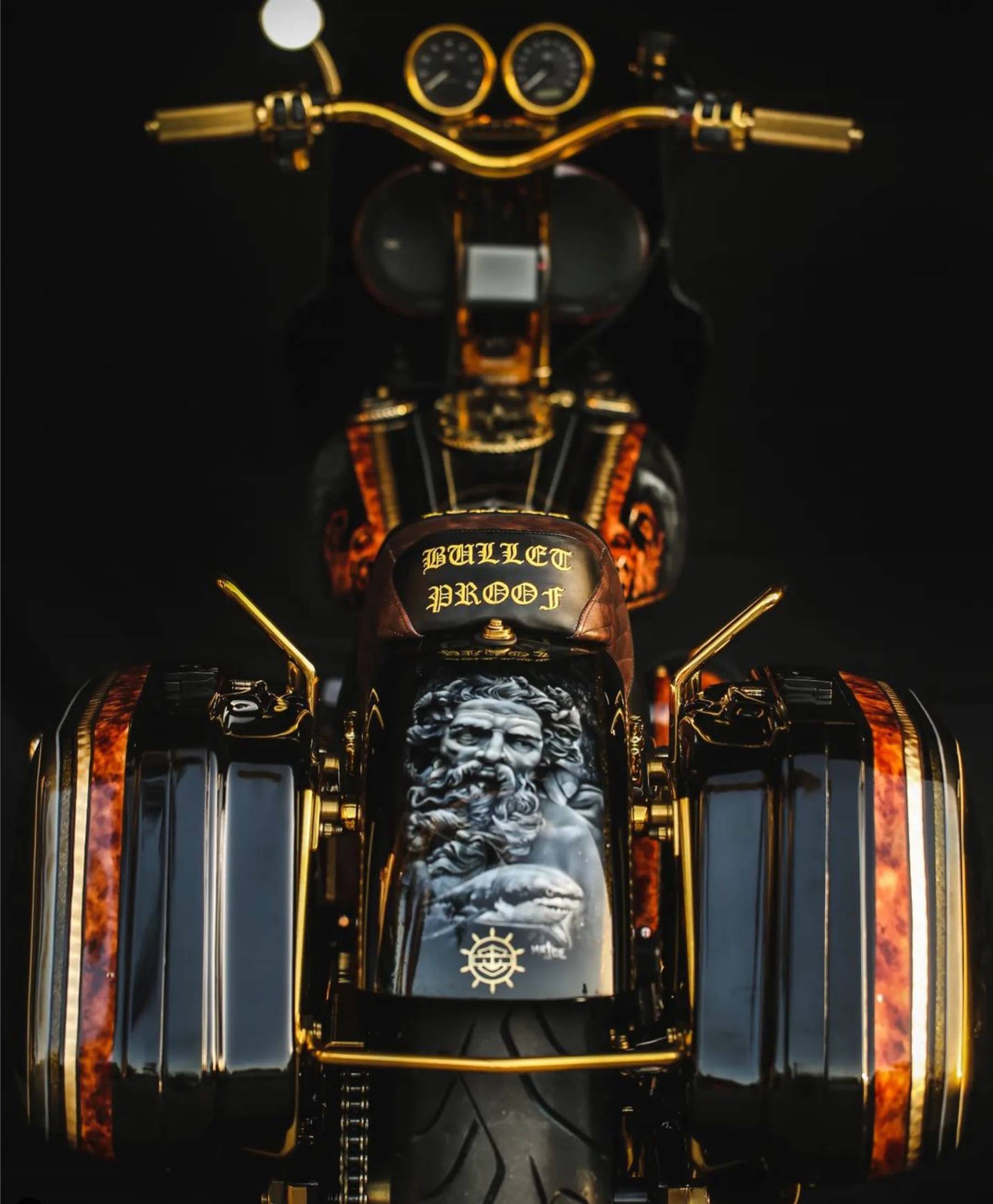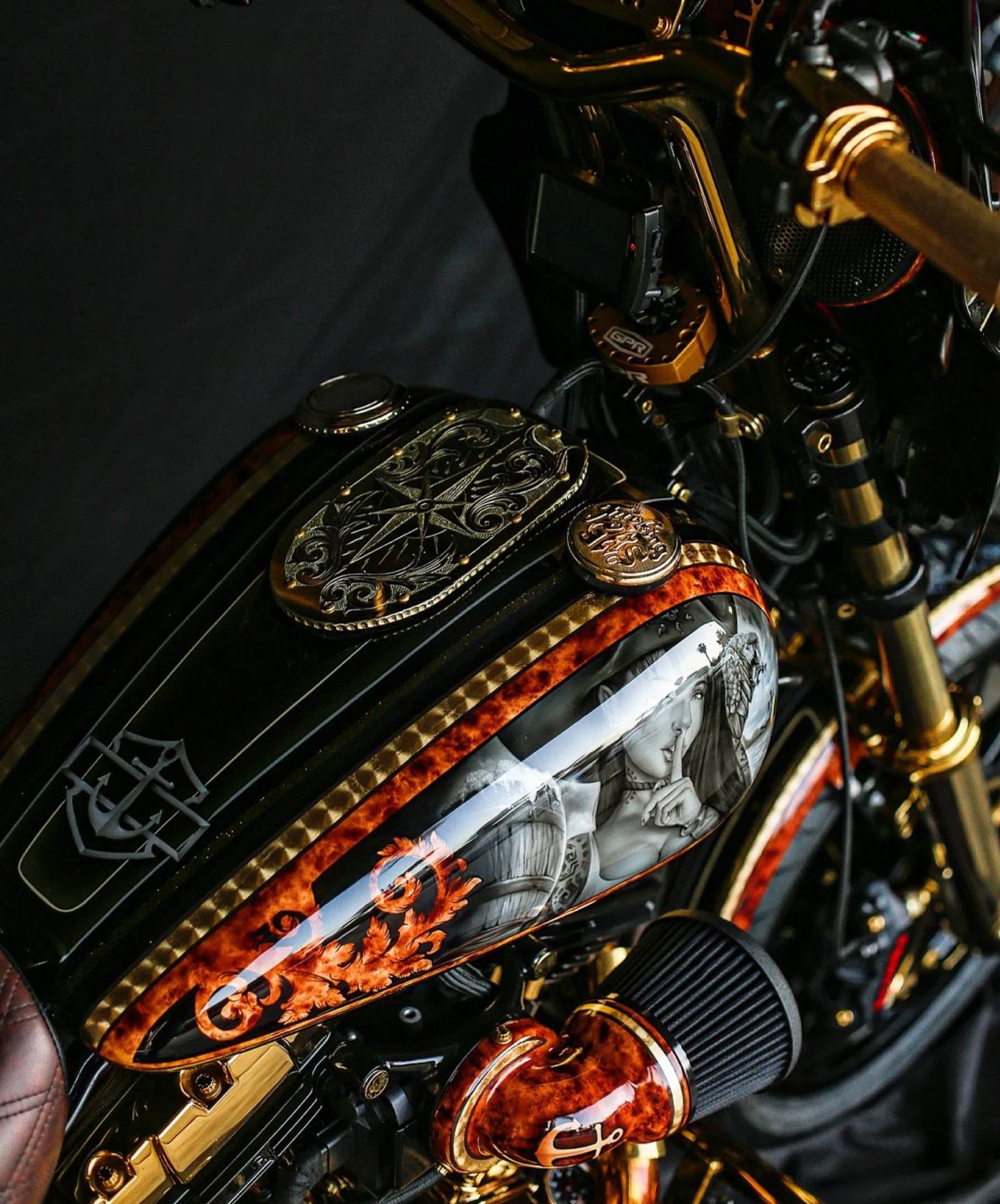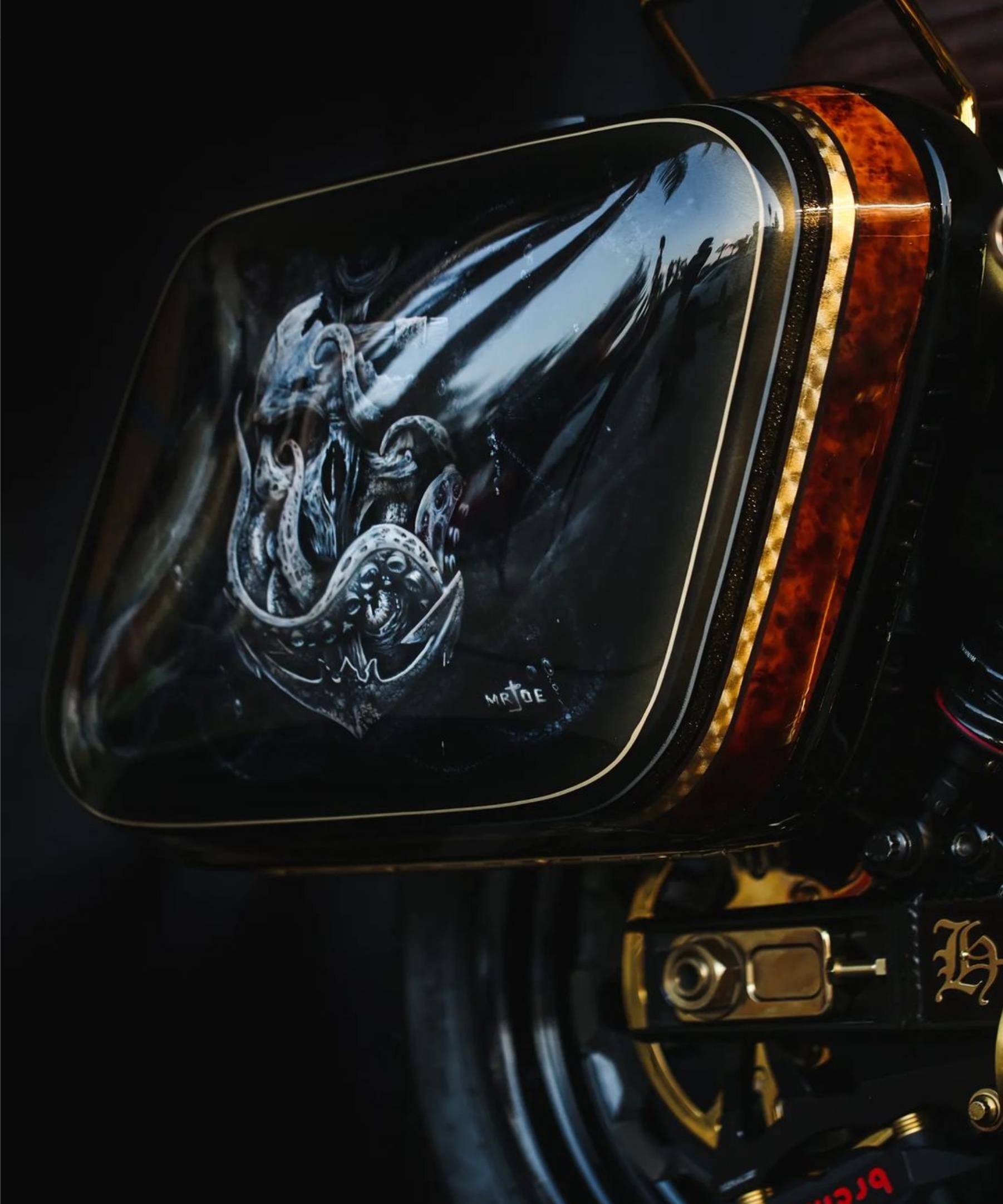 "Hearing it start for the first time," Trevor answered when asked about his favorite part of the building process.
Photo Credits: @bulletproofwelder @bikercave
Recent Posts
This years Gunstock Hill Climb during Laconia Bike Weeks was insane …

Trevor Hibbs had no idea just how far his 2017 Dyna Lowrider S would take him. He works …

Hey its Dorian (@dorianmphoto) from Deadbeat Customs, I took a ride o …