For five consecutive years, the Twin Rivers Chopper Campout has brought together hundreds of folks for a weekend long blowout in the mountains of North Carolina, filled with motorcycles, great people and some of the best times you can have without getting arrested. A lot of grass roots type events fizzle out before reaching the five-year mark, but TRCC is still going strong, with its no-nonsense laid-back attitude that keeps people coming back year after year.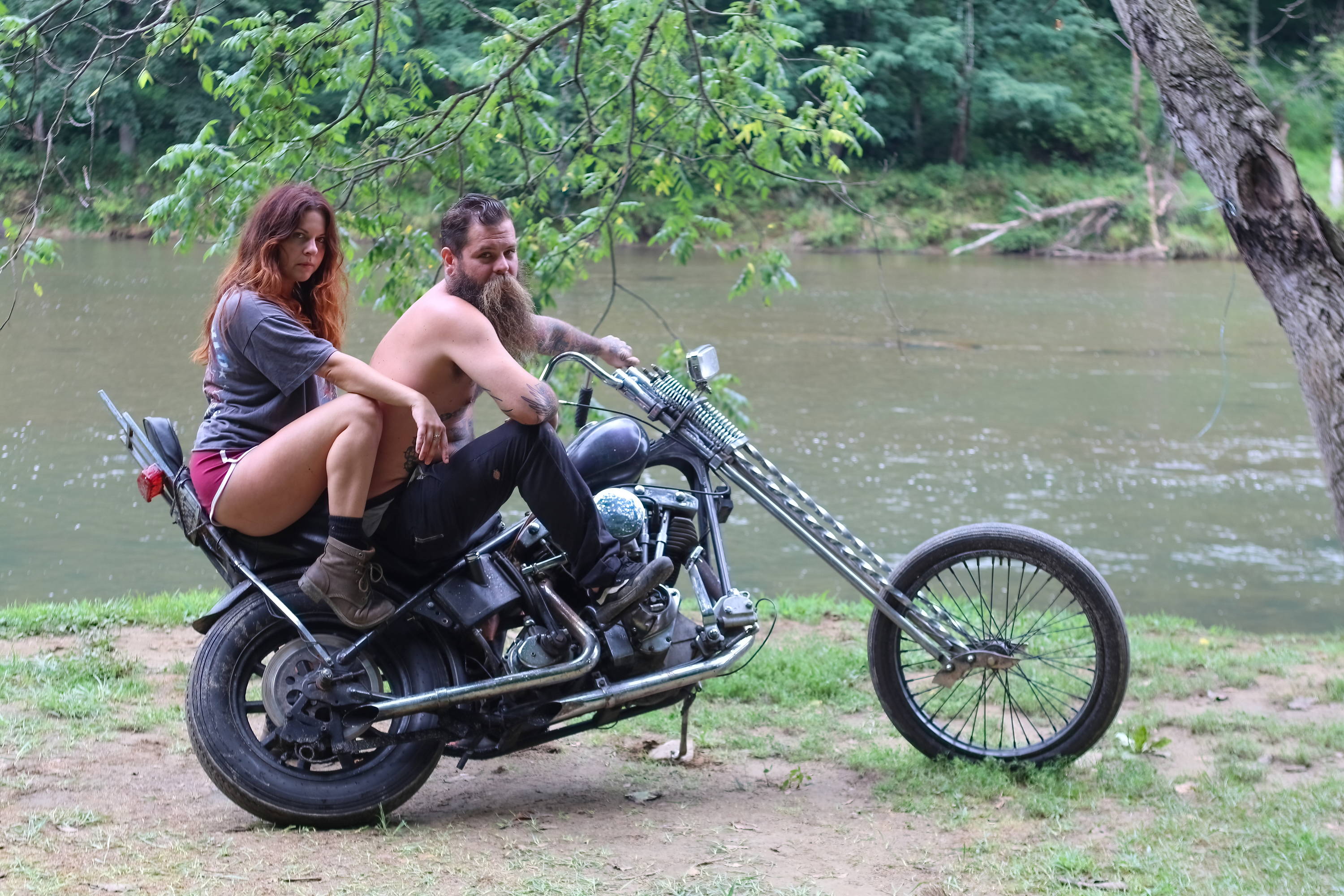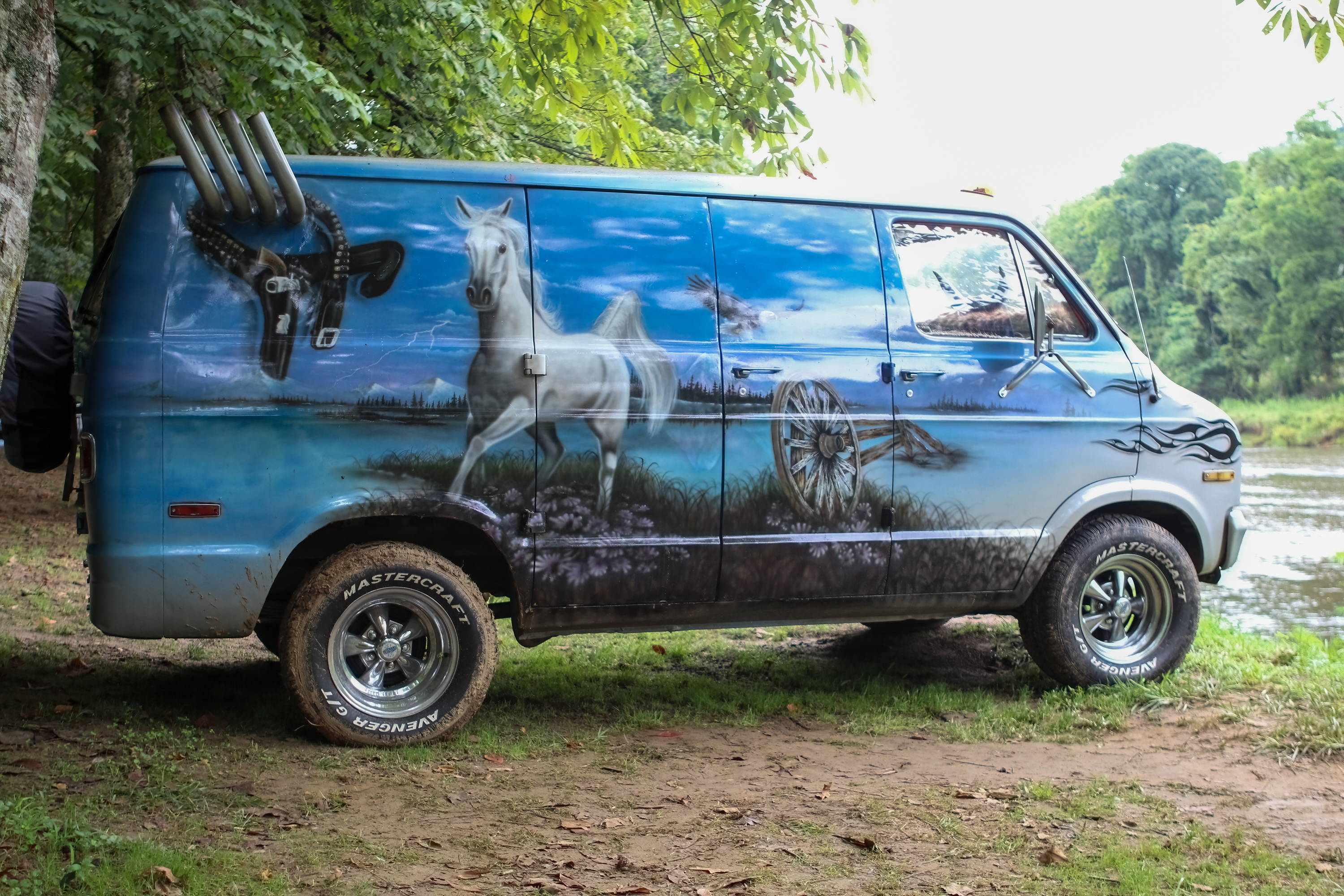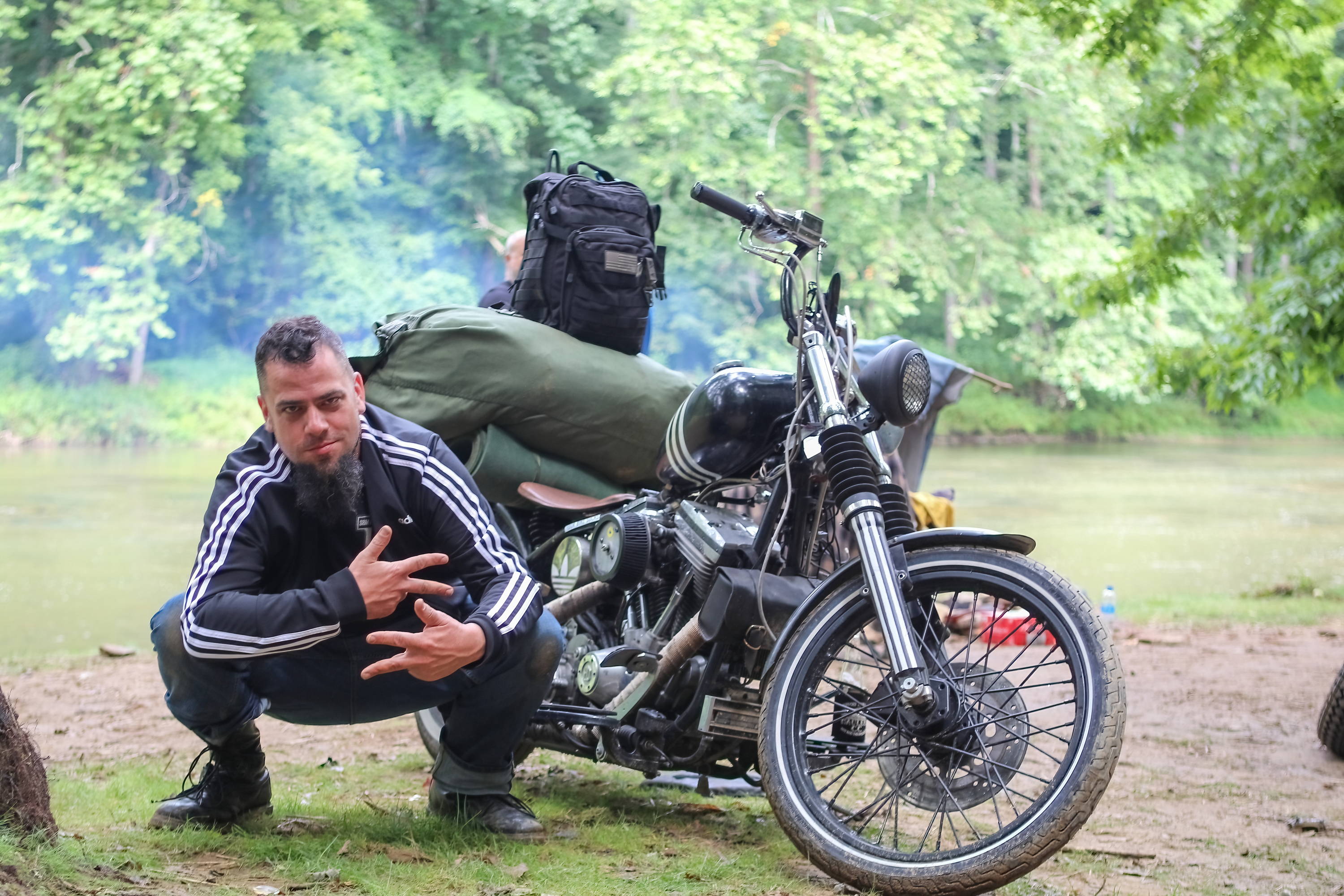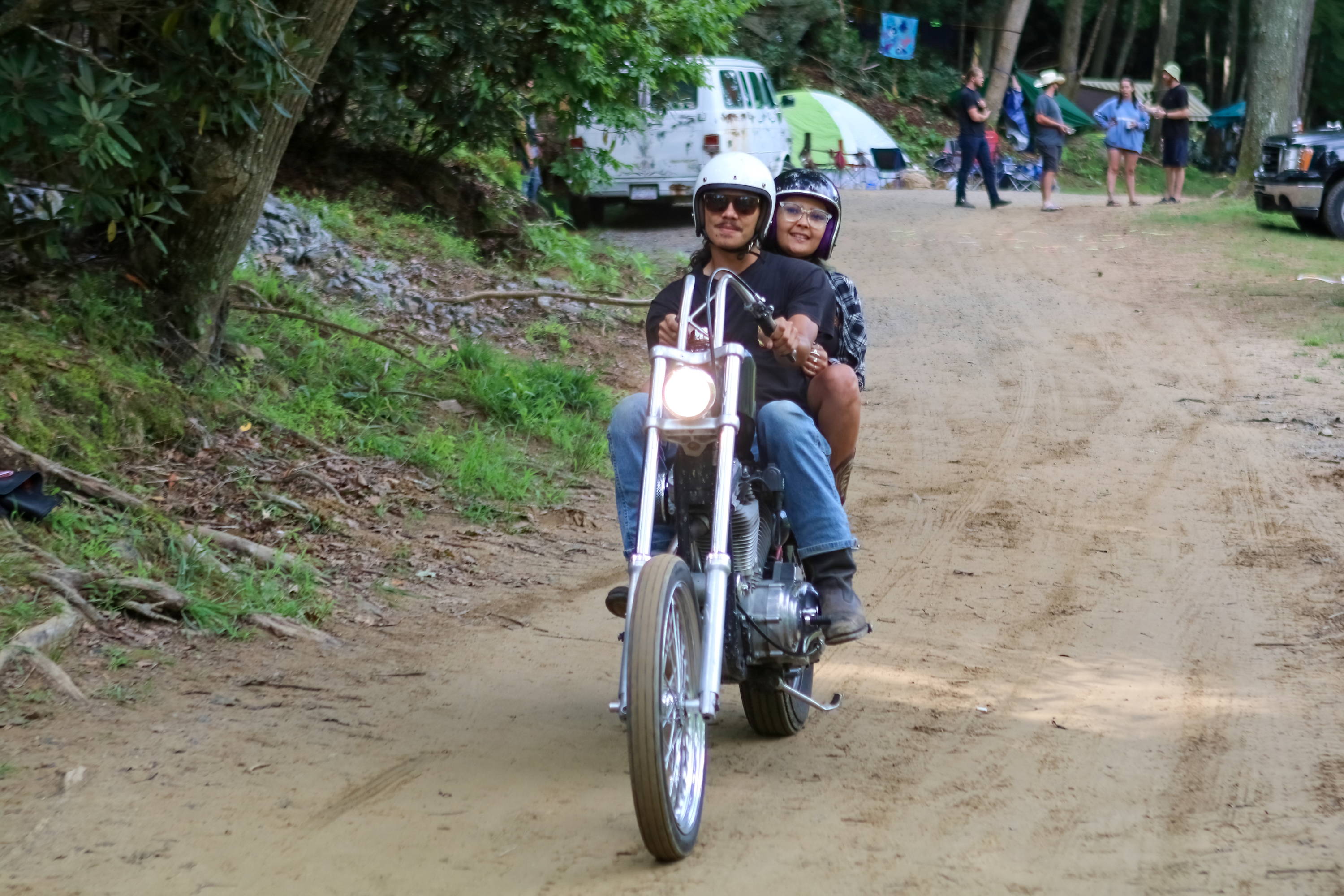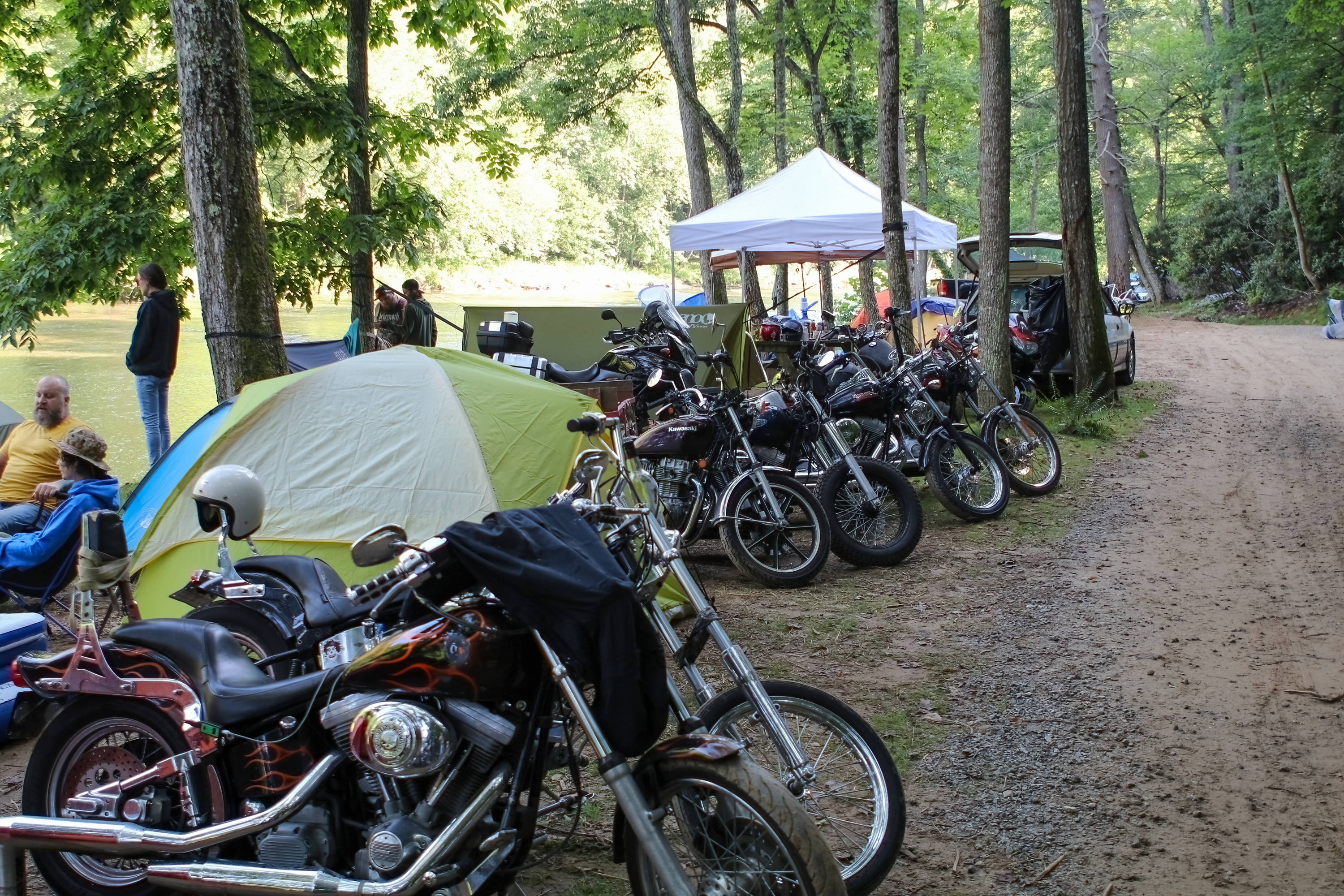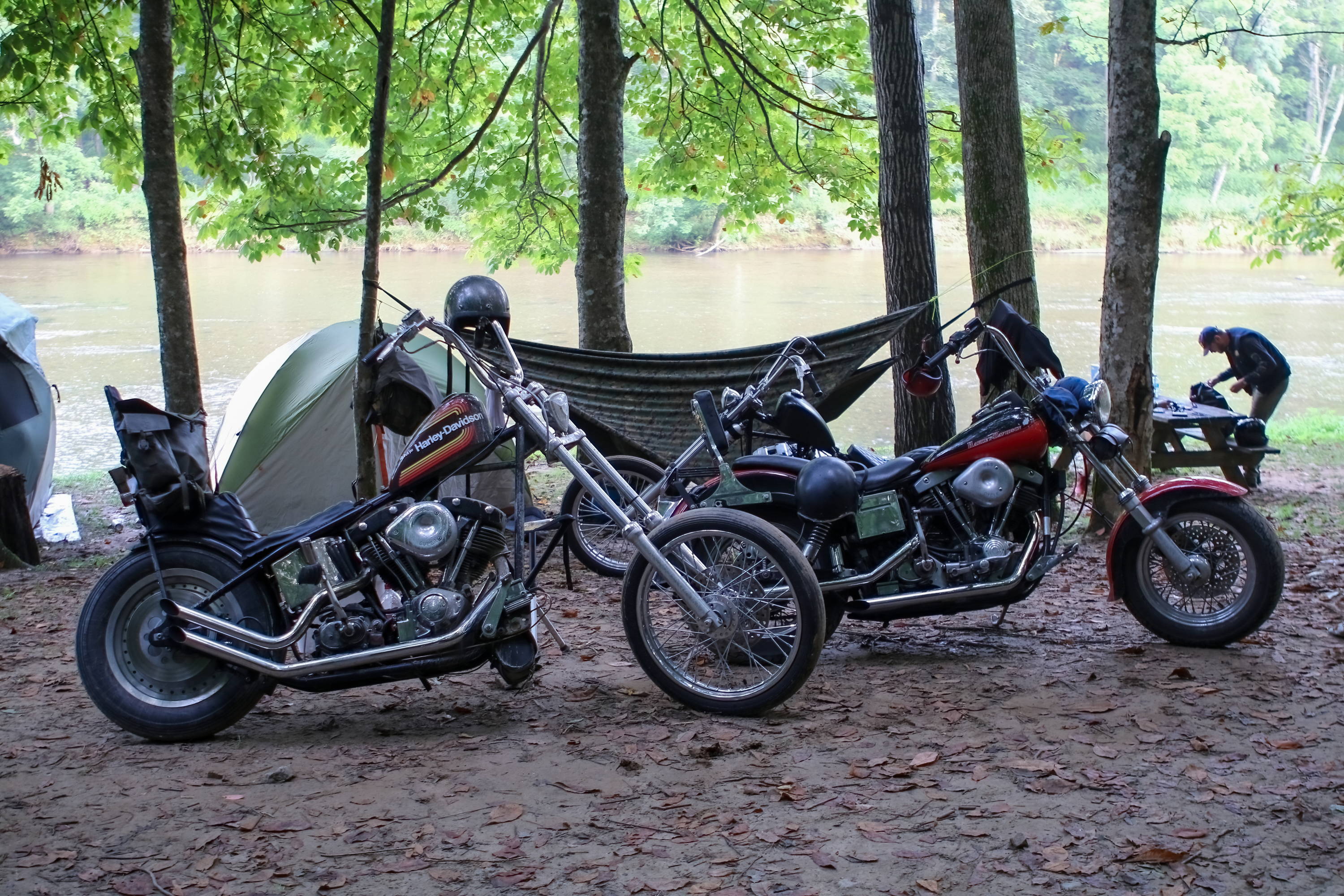 ---
Taking place right on the banks of the New River, it's one of the few motorcycle campouts where you routinely see choppers riding through a campground loaded down with both river rafts, cases of beer and people in not much more than a pair of flip flops…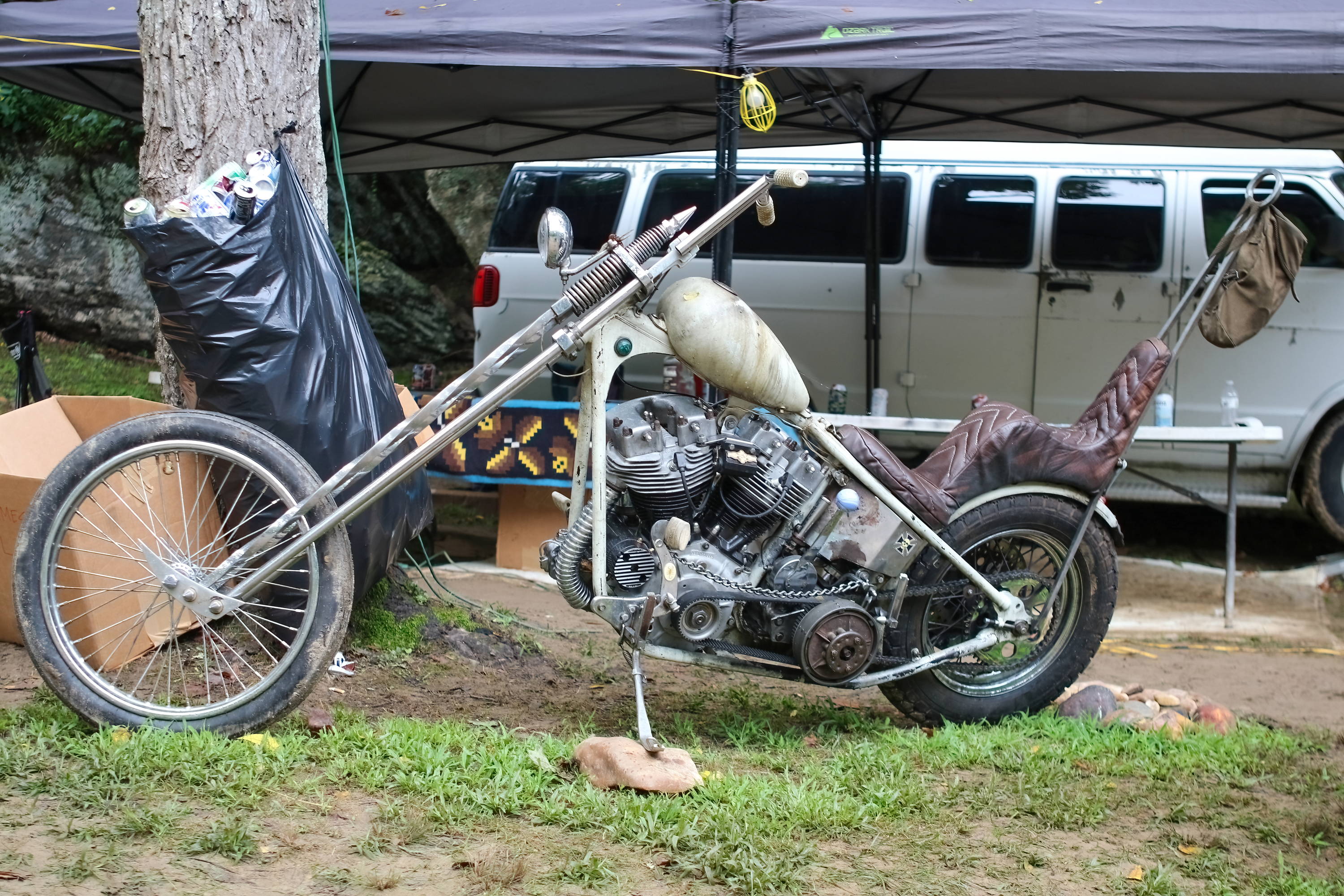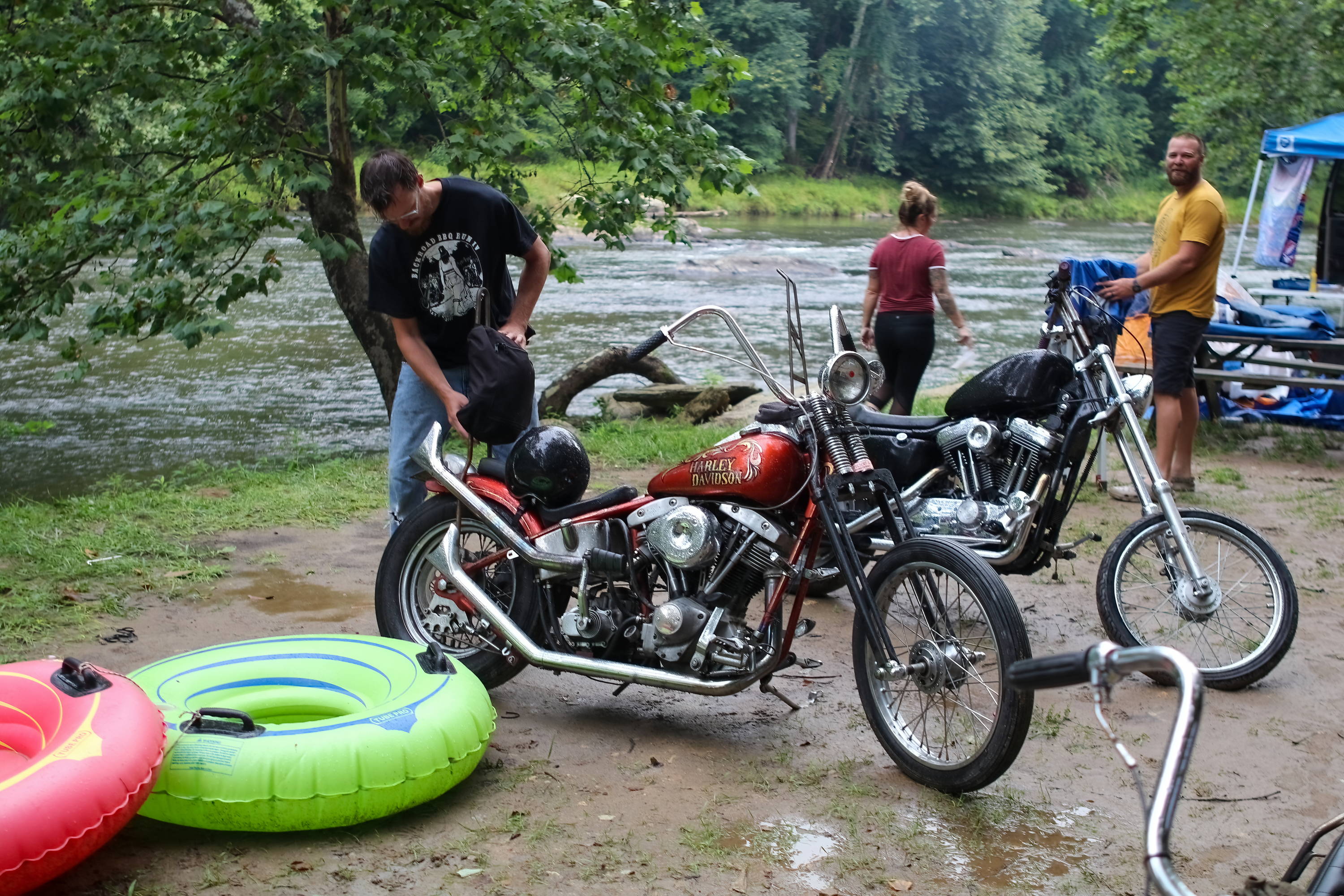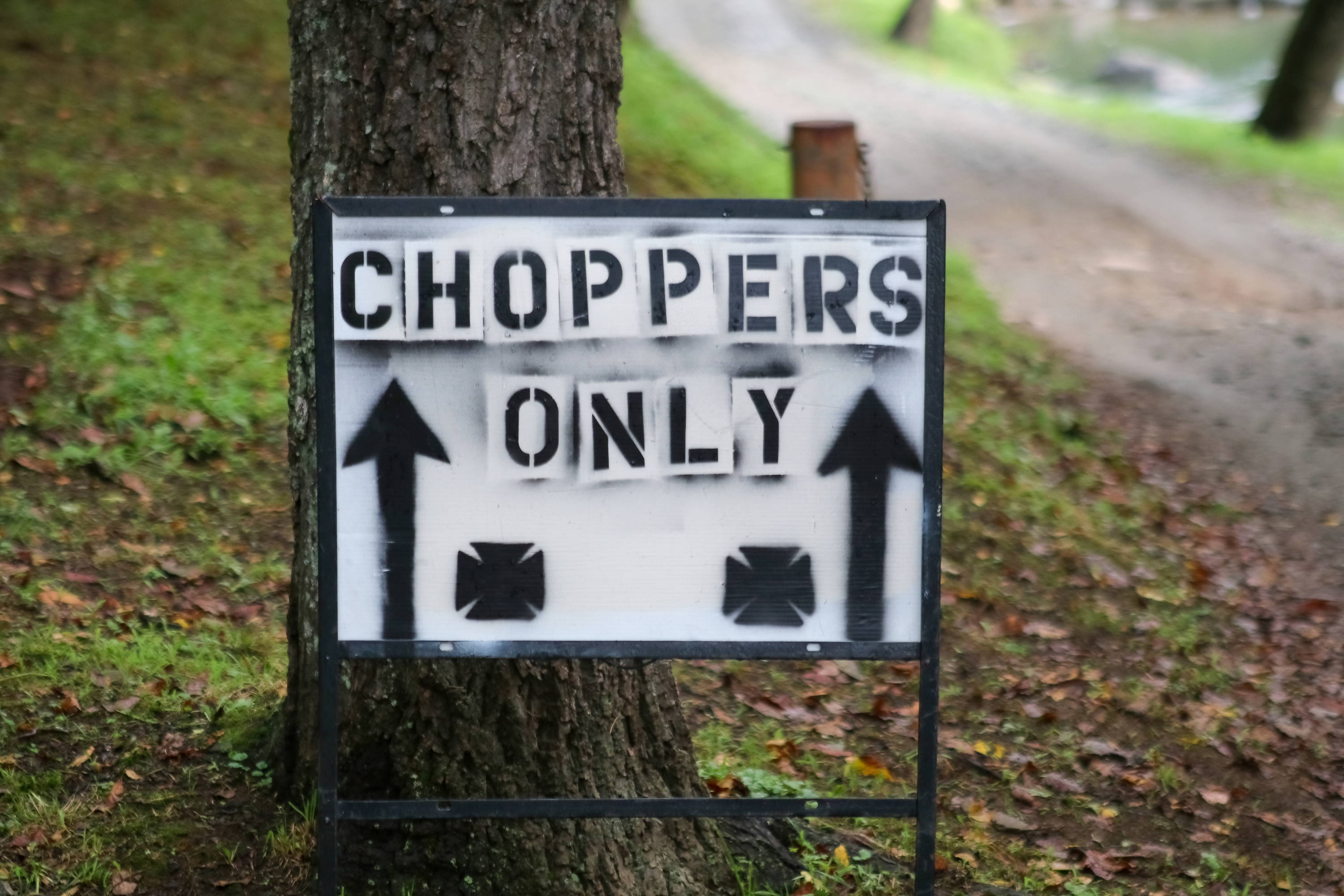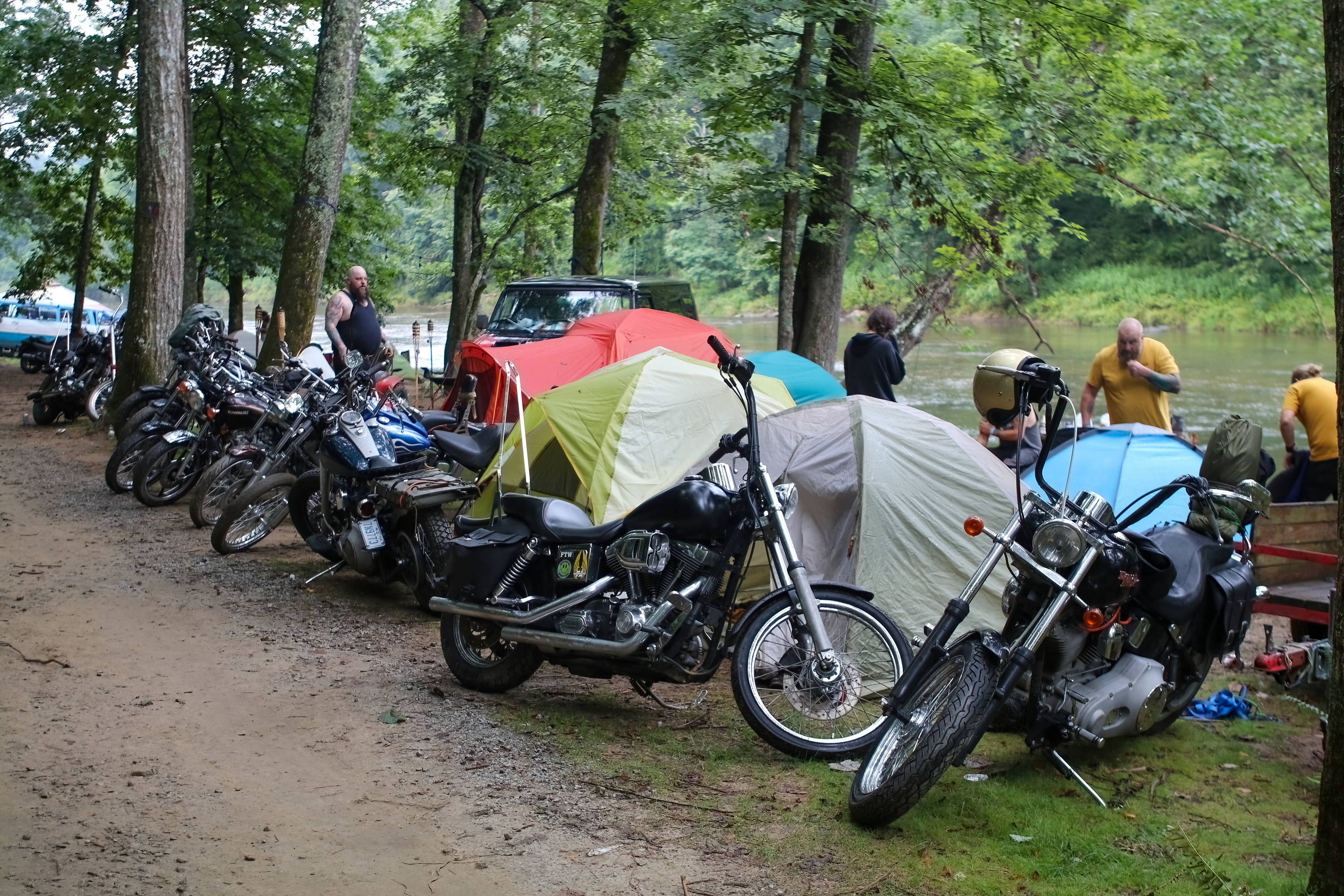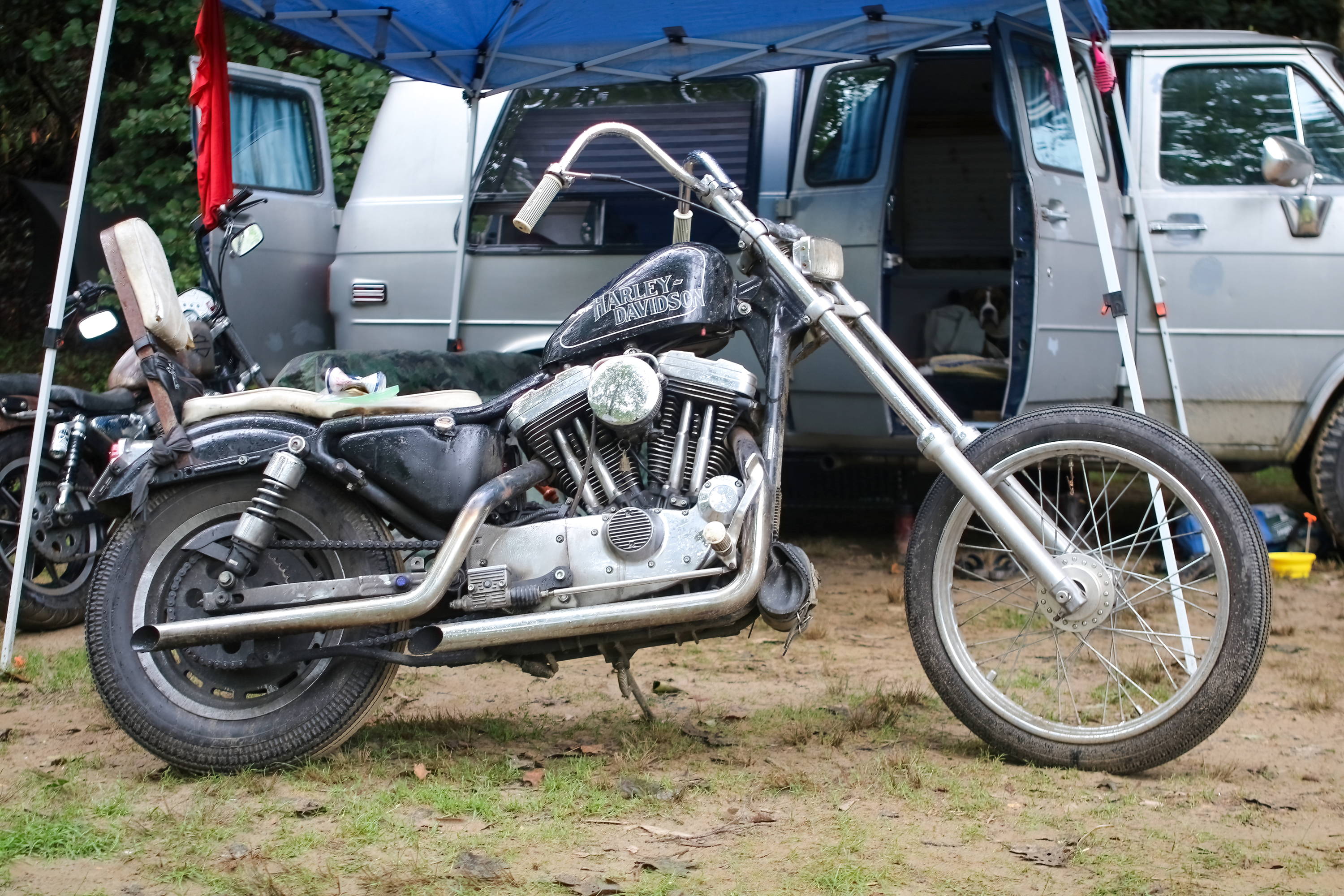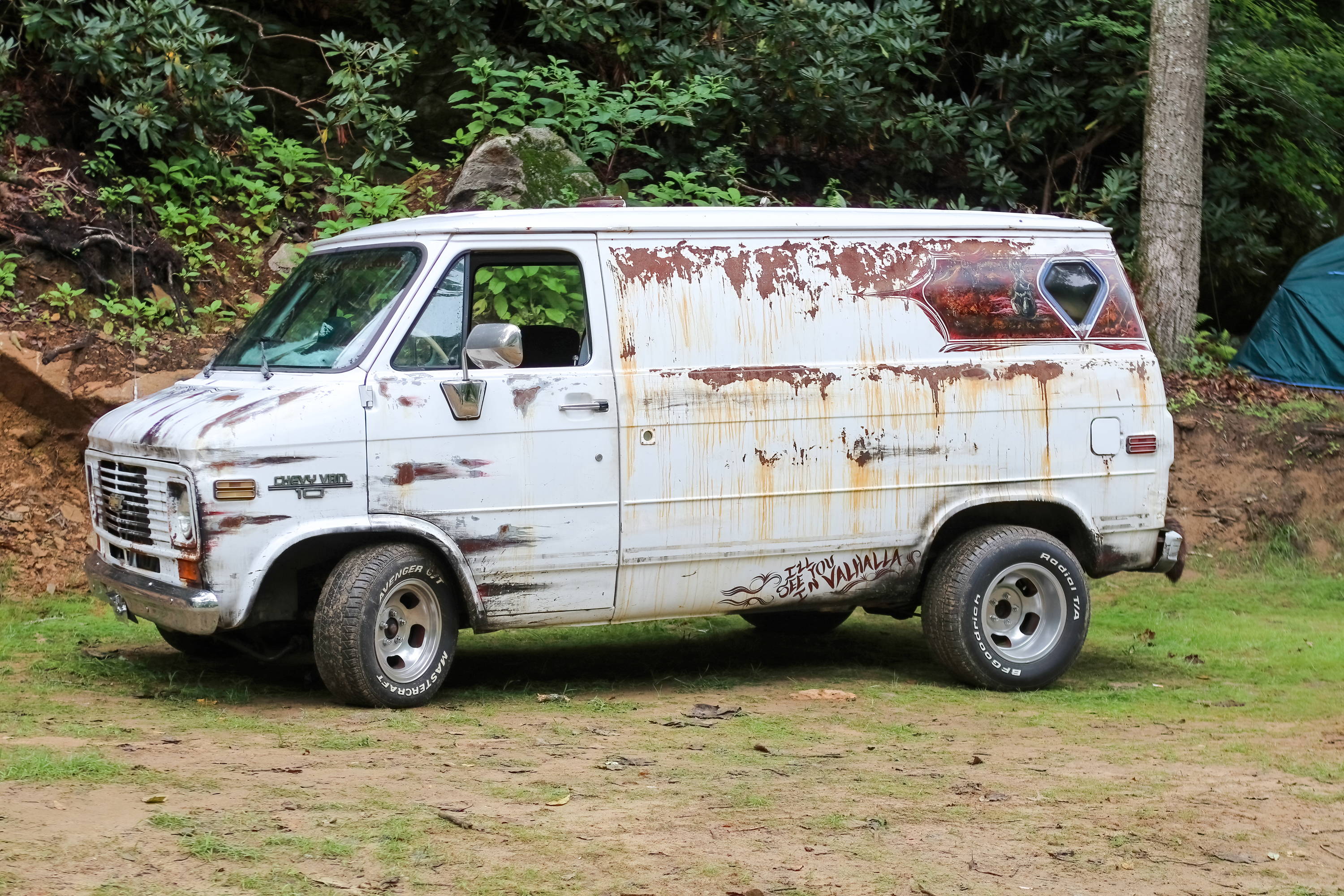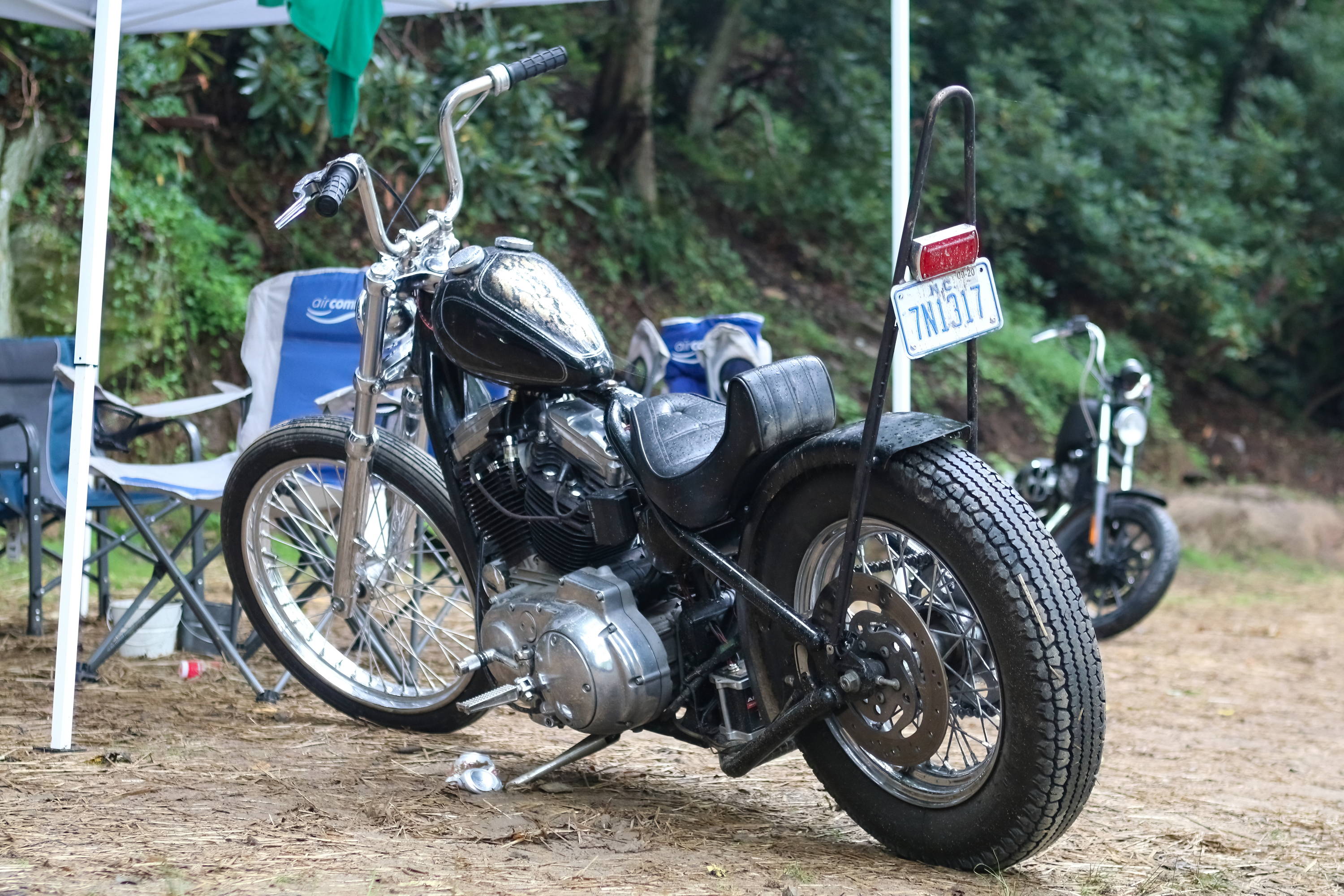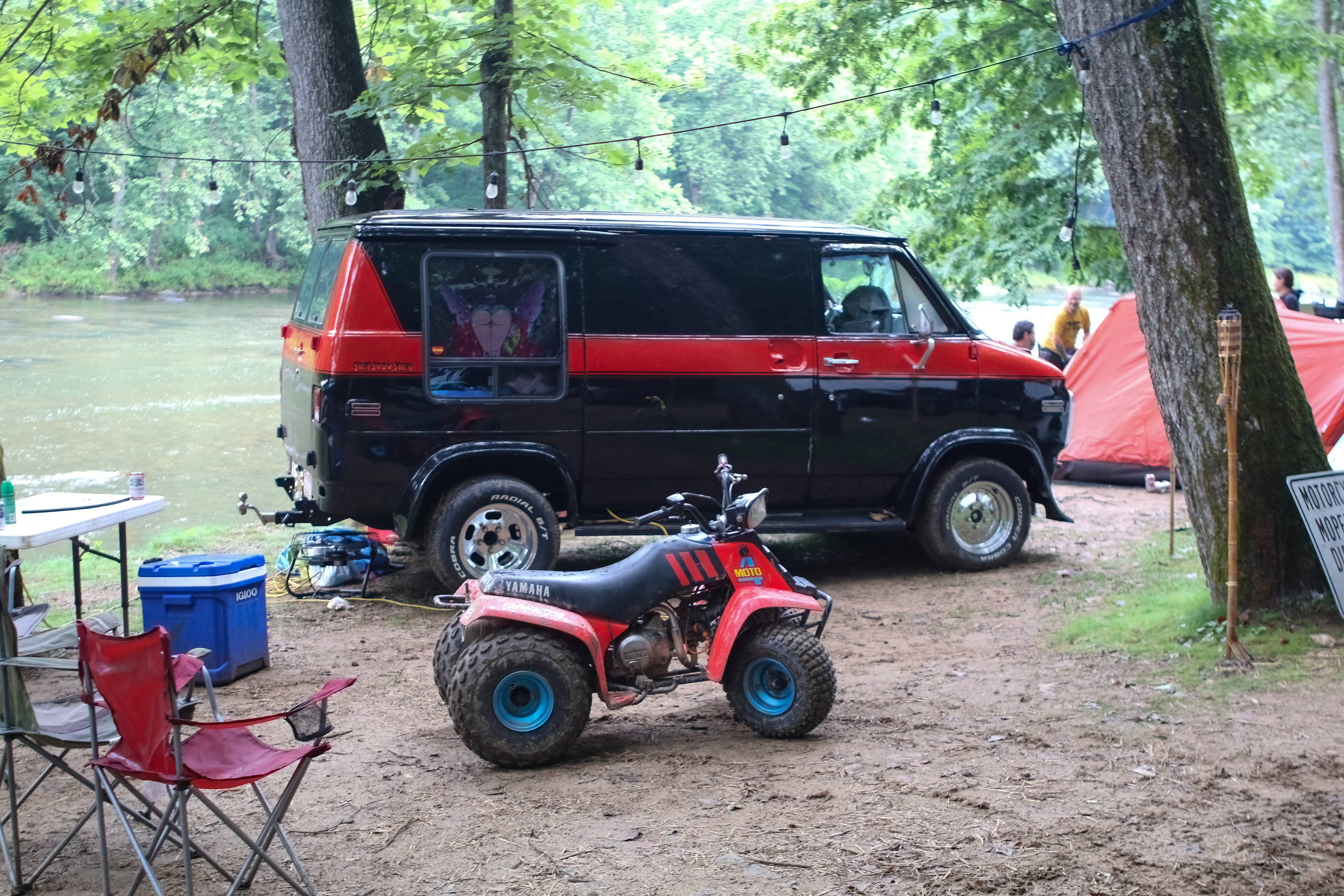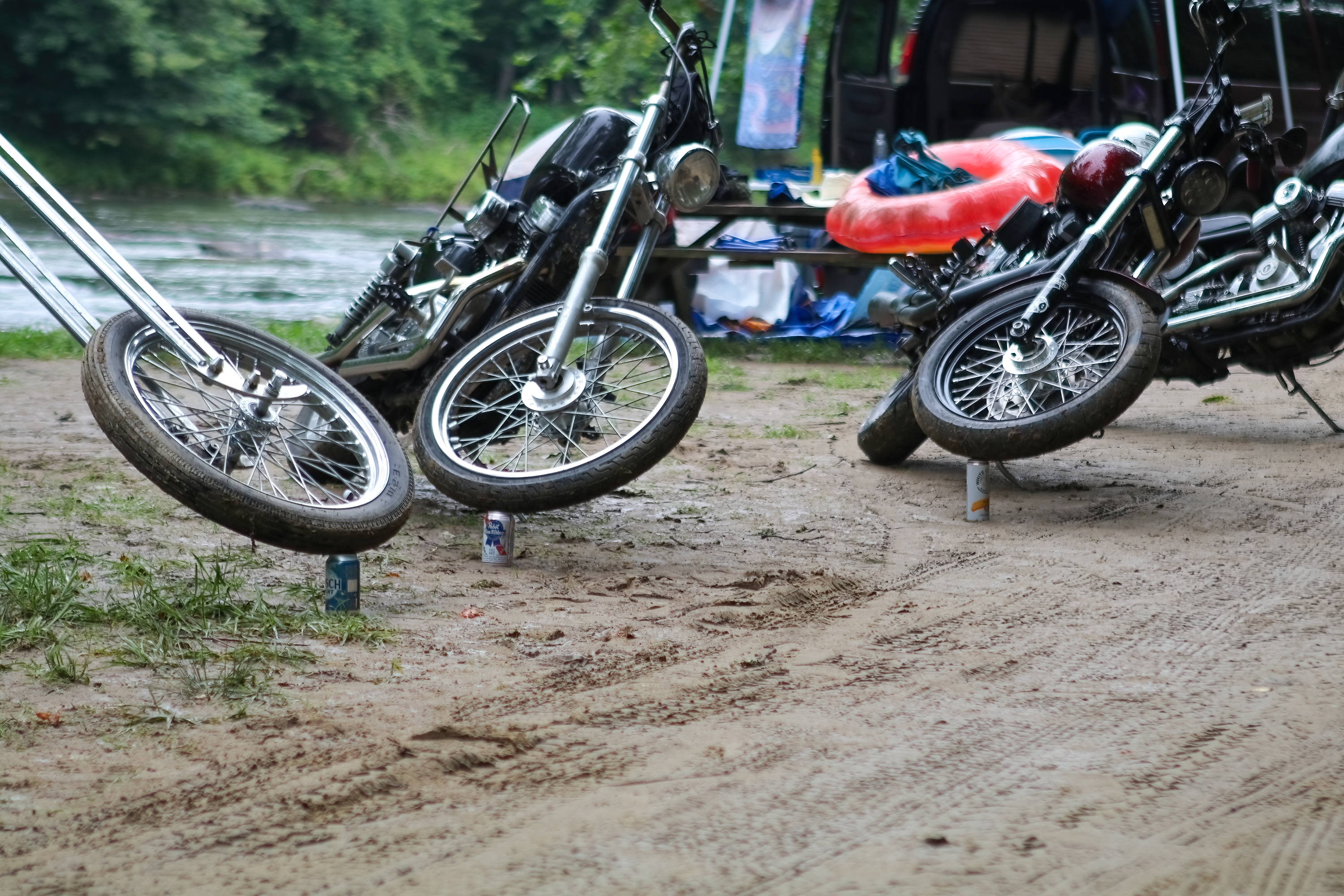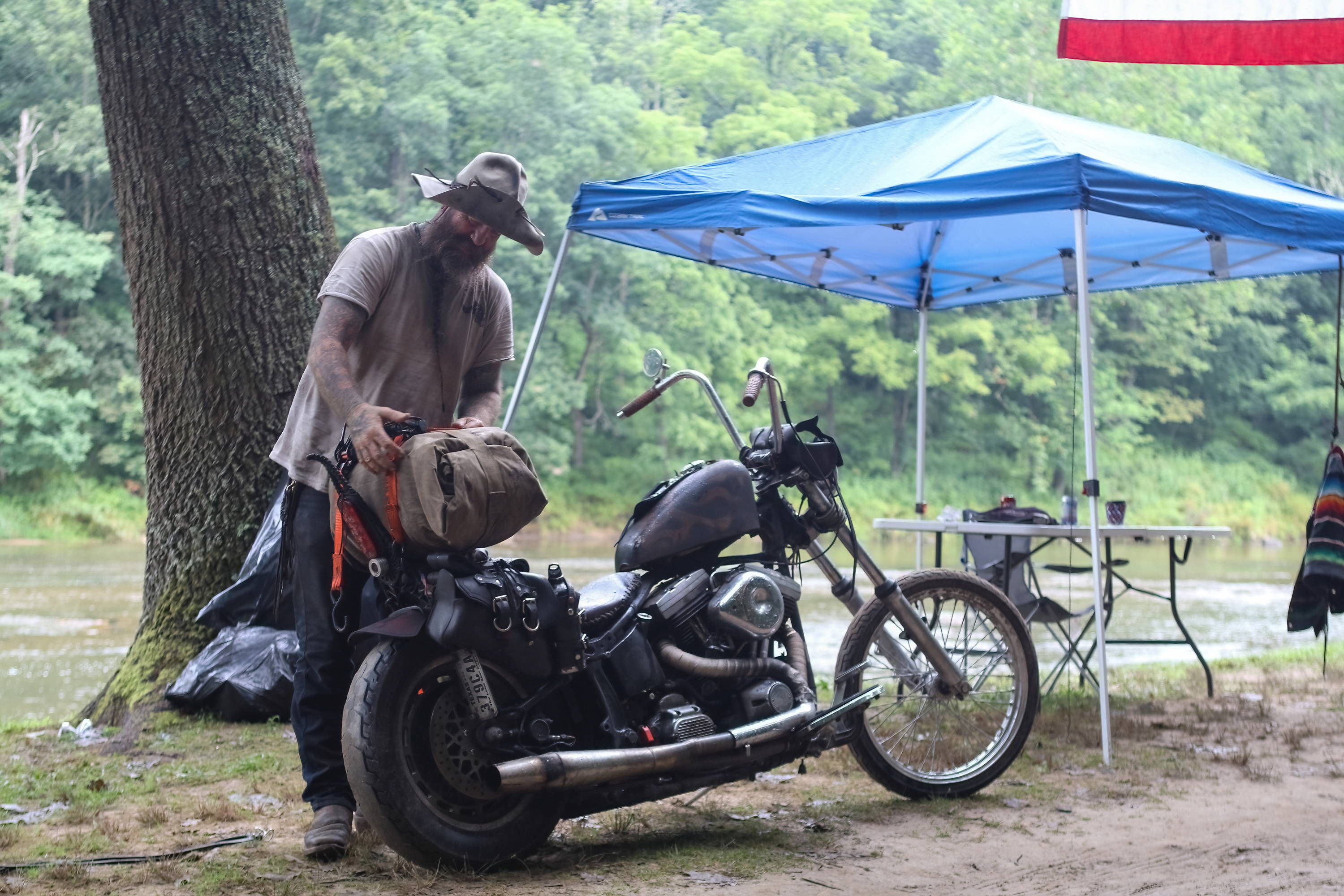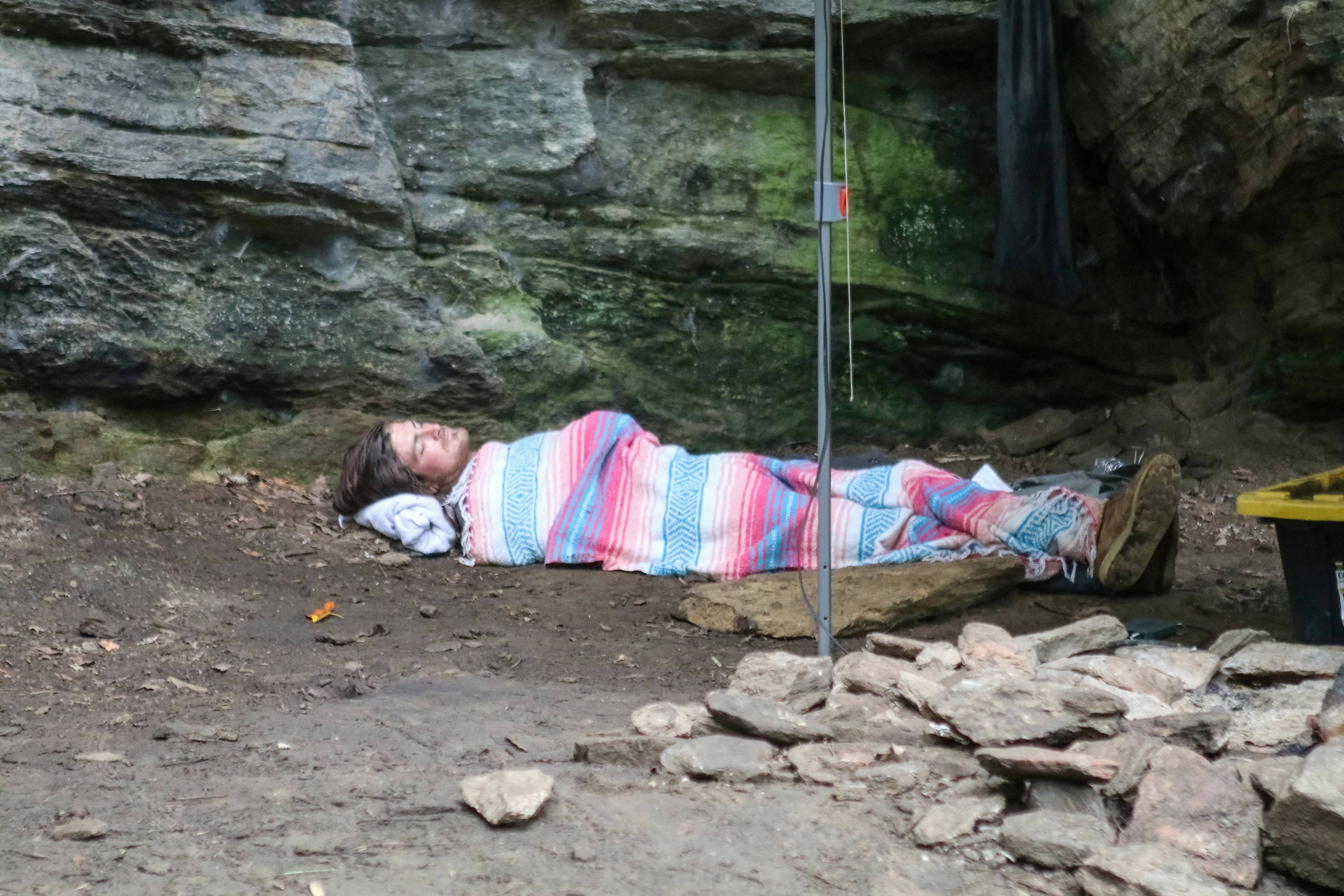 ---
Just getting to the campground is an experience that you'll find yourself talking about every time someone mentions going to the TRCC as it can be equal parts terrifying and exhilarating depending on the road conditions. Not only is it a rock-strewn single track with the river on one side, a shear rock face on the other and includes a blind curve, but it is also occasionally 6" underwater.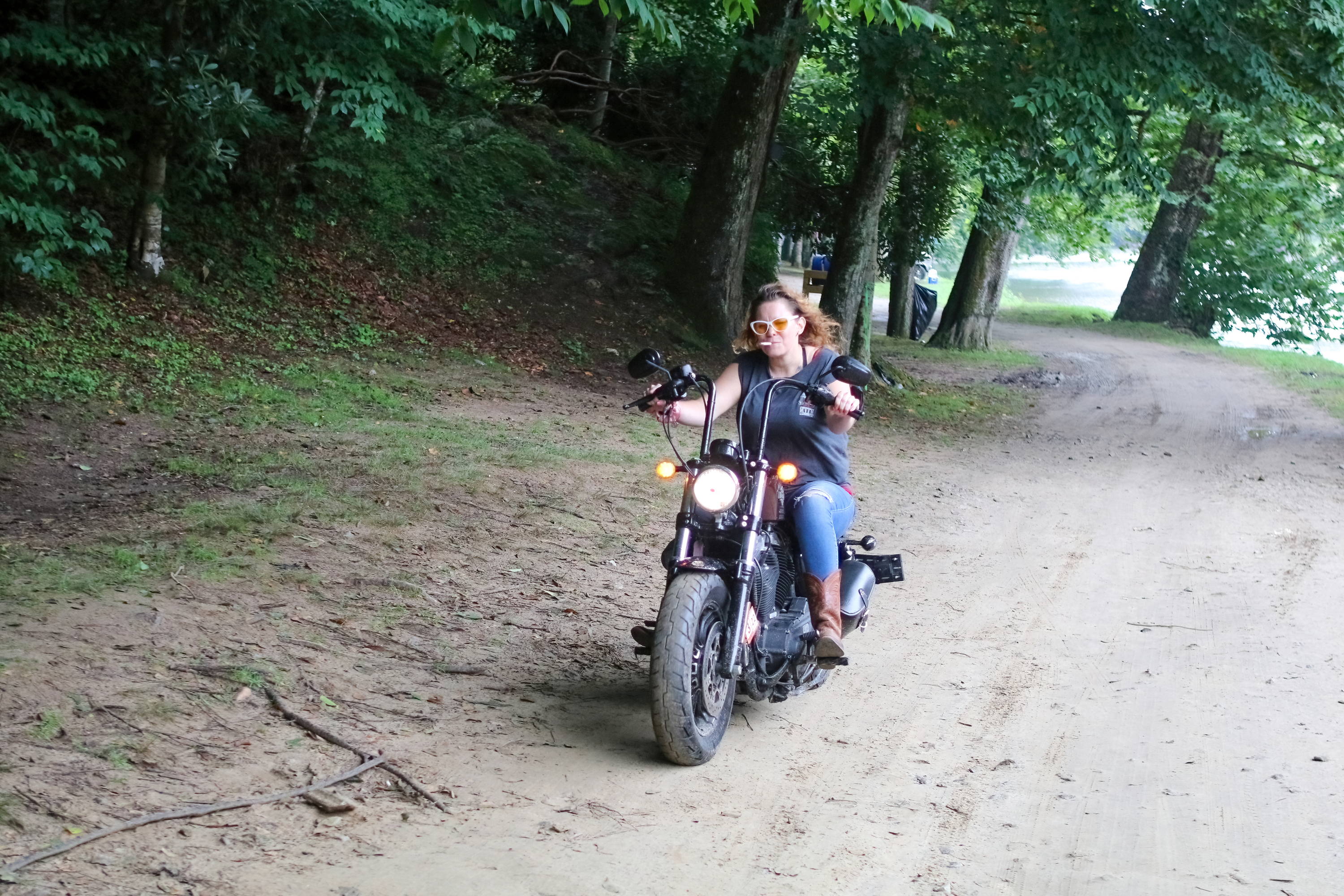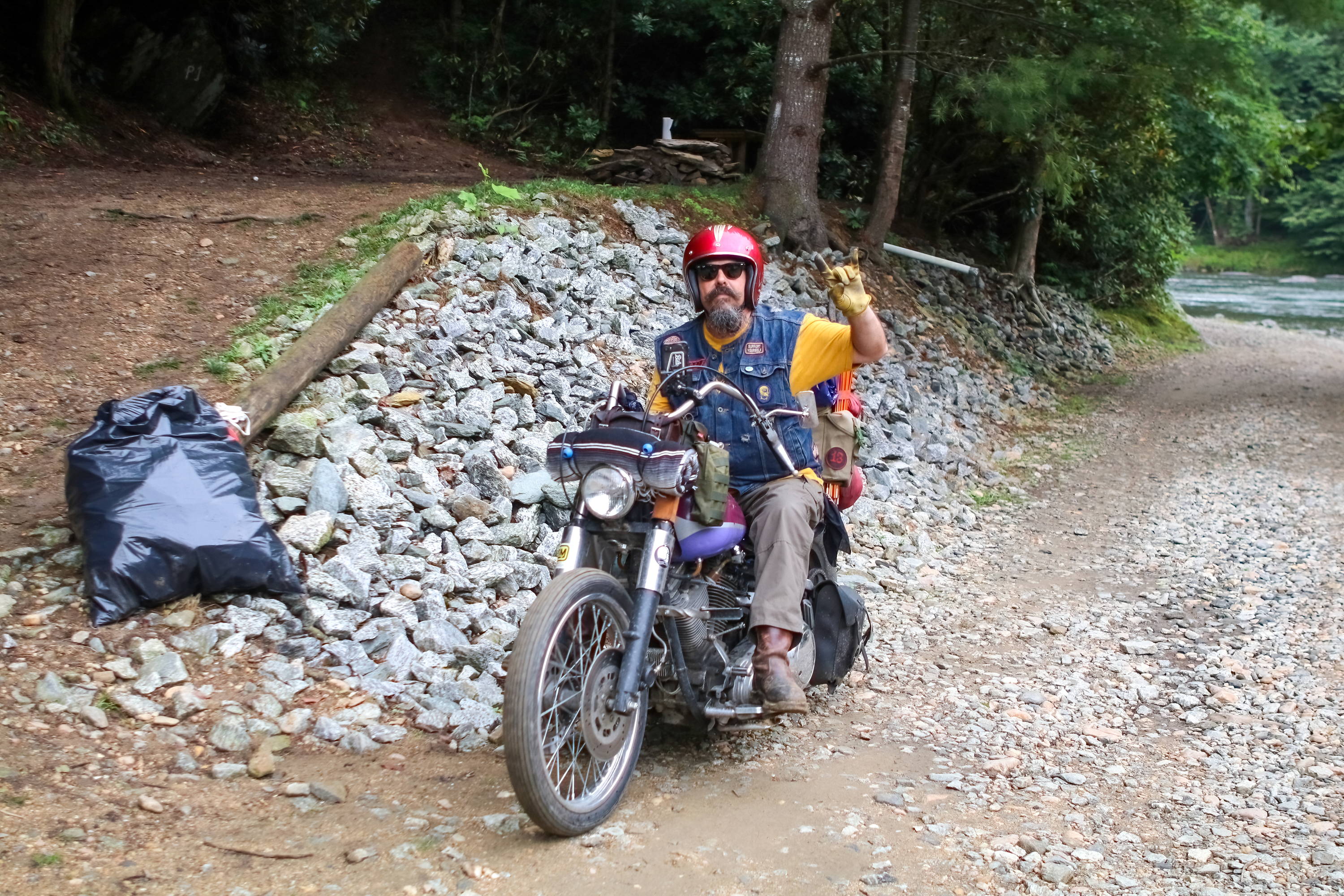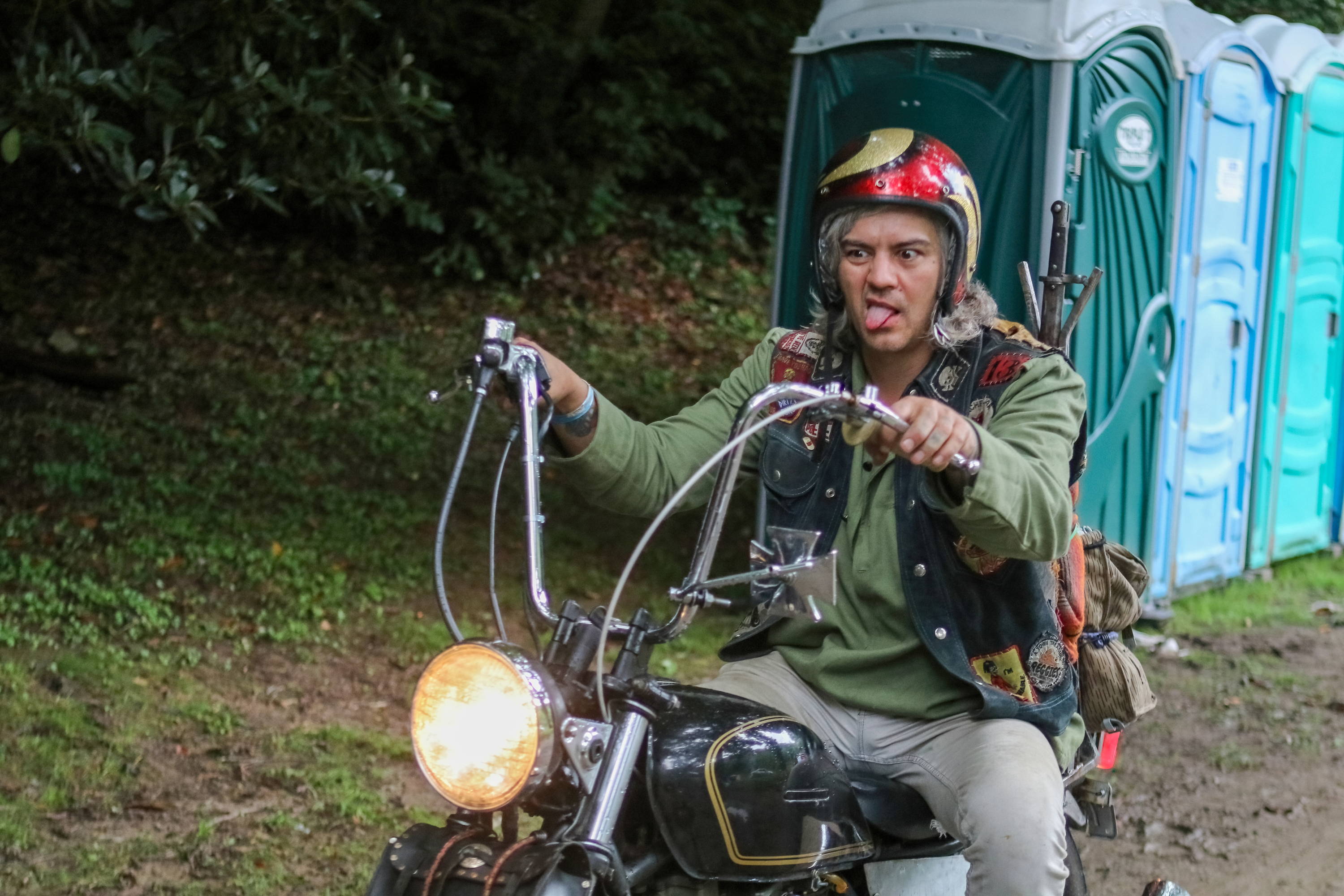 It's doable on most bikes, but when a food truck starts rolling towards you and you have to decide between hugging the cliff or getting wet in the river, things start to get a bit dicey, especially if you are running a foot clutch and points.
---
This year I managed to blow off work on Friday, so I rolled into Crumpler, NC right after lunch. As I rounded the last bend in the hell road, it looked like I had just stumbled onto the set of a Mad Max movie. There were vehicles of every description pulled off to the sides of the road, tents and hammocks strewn haphazardly around the campground and throngs of people milling around in everything from full leathers to bikinis.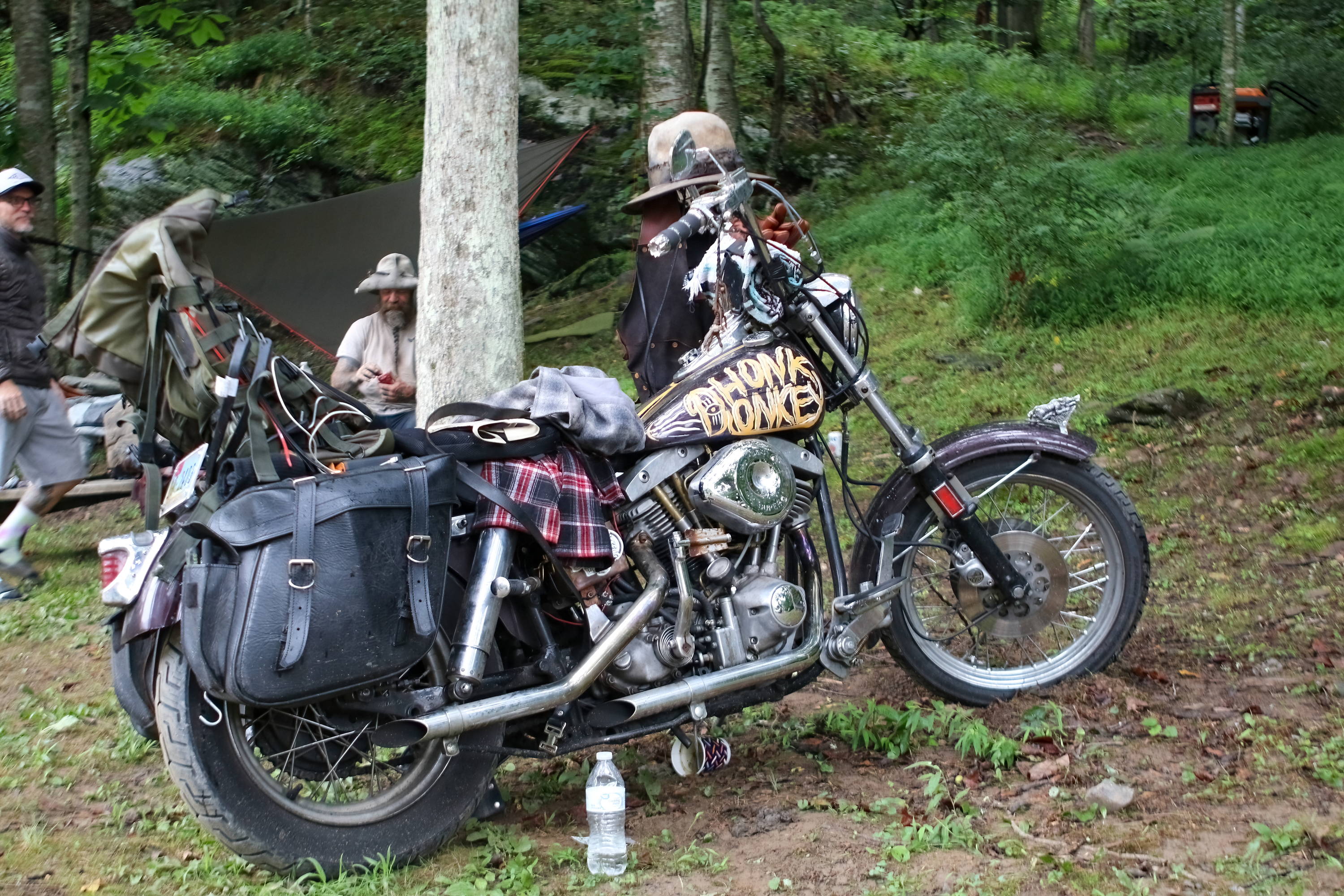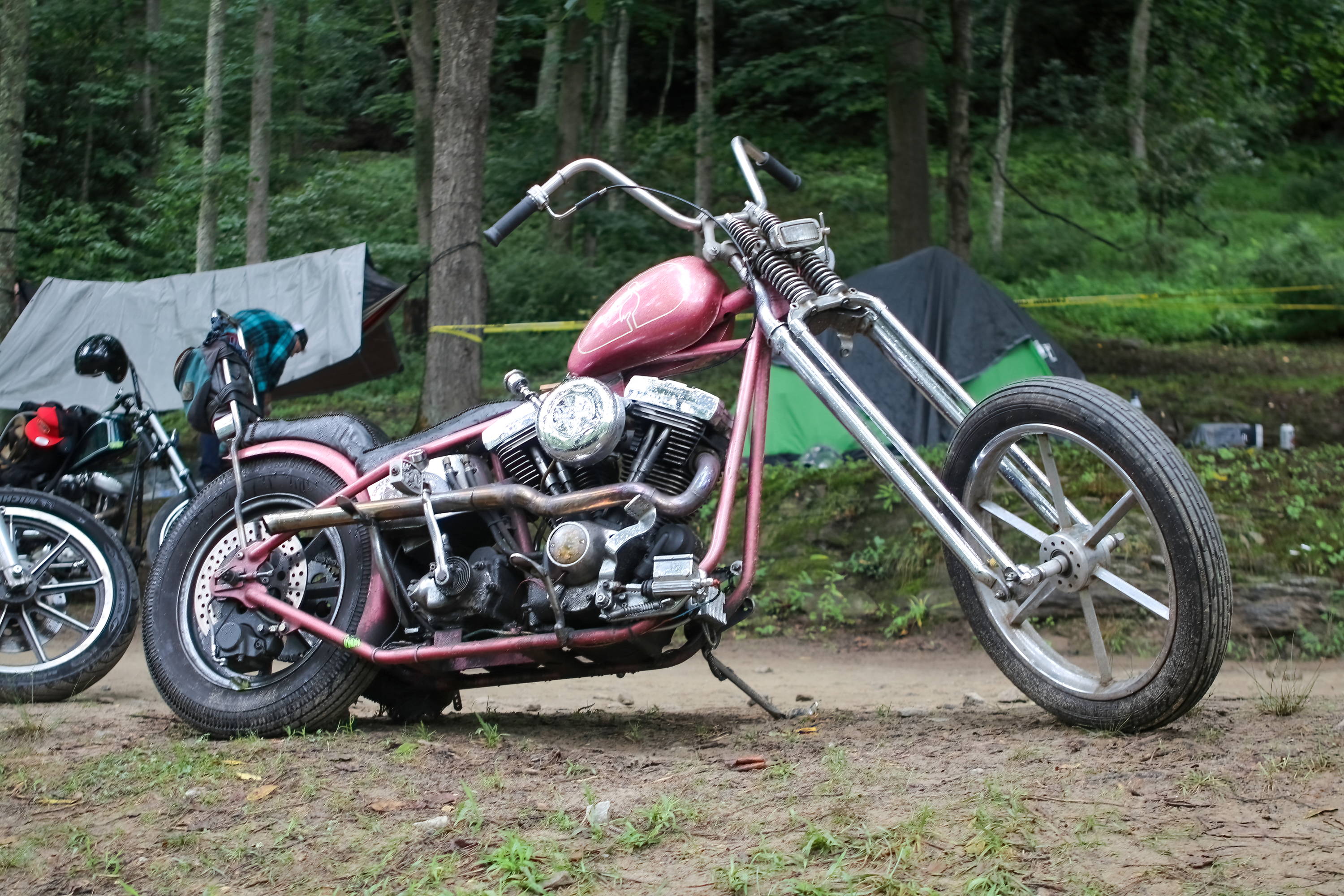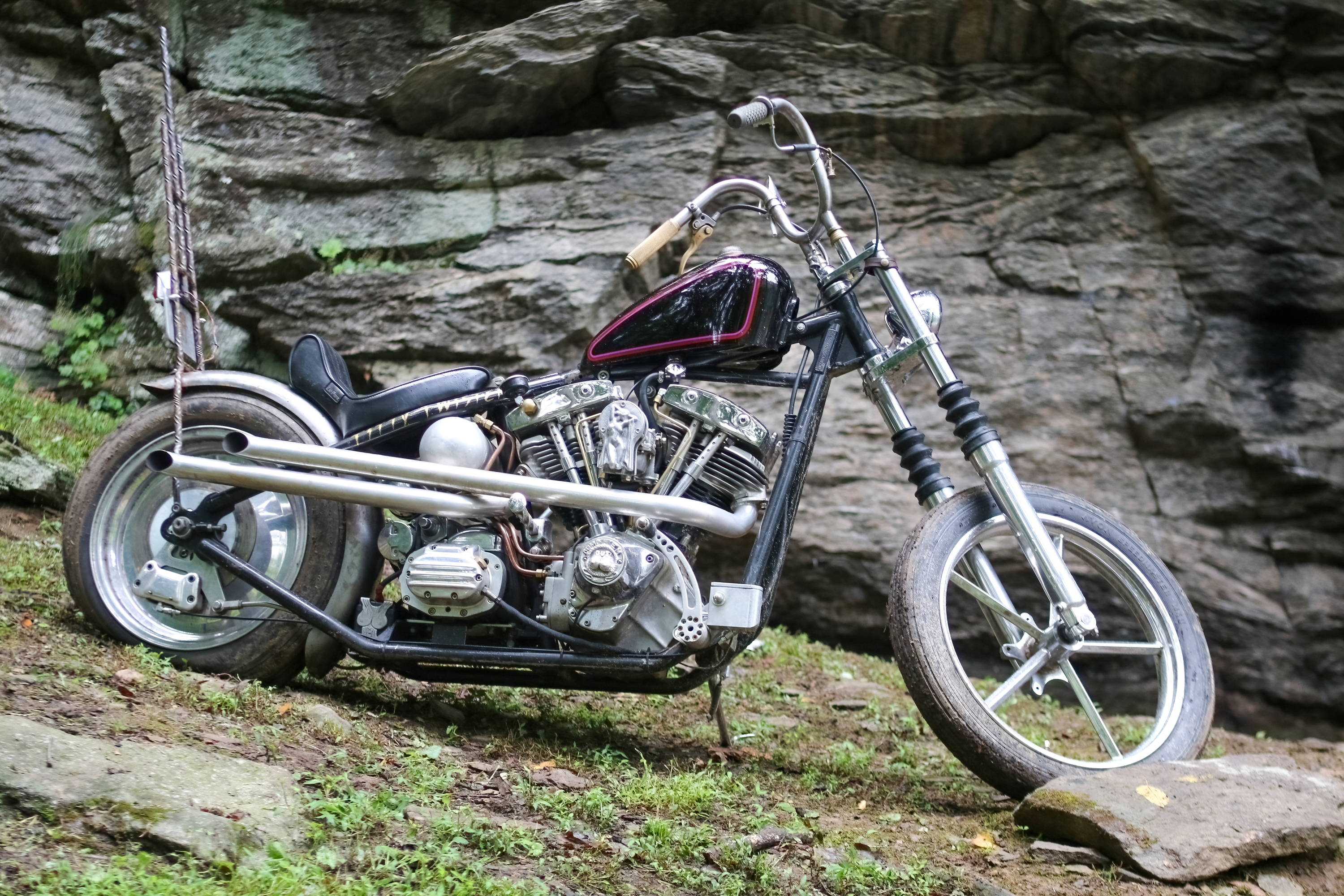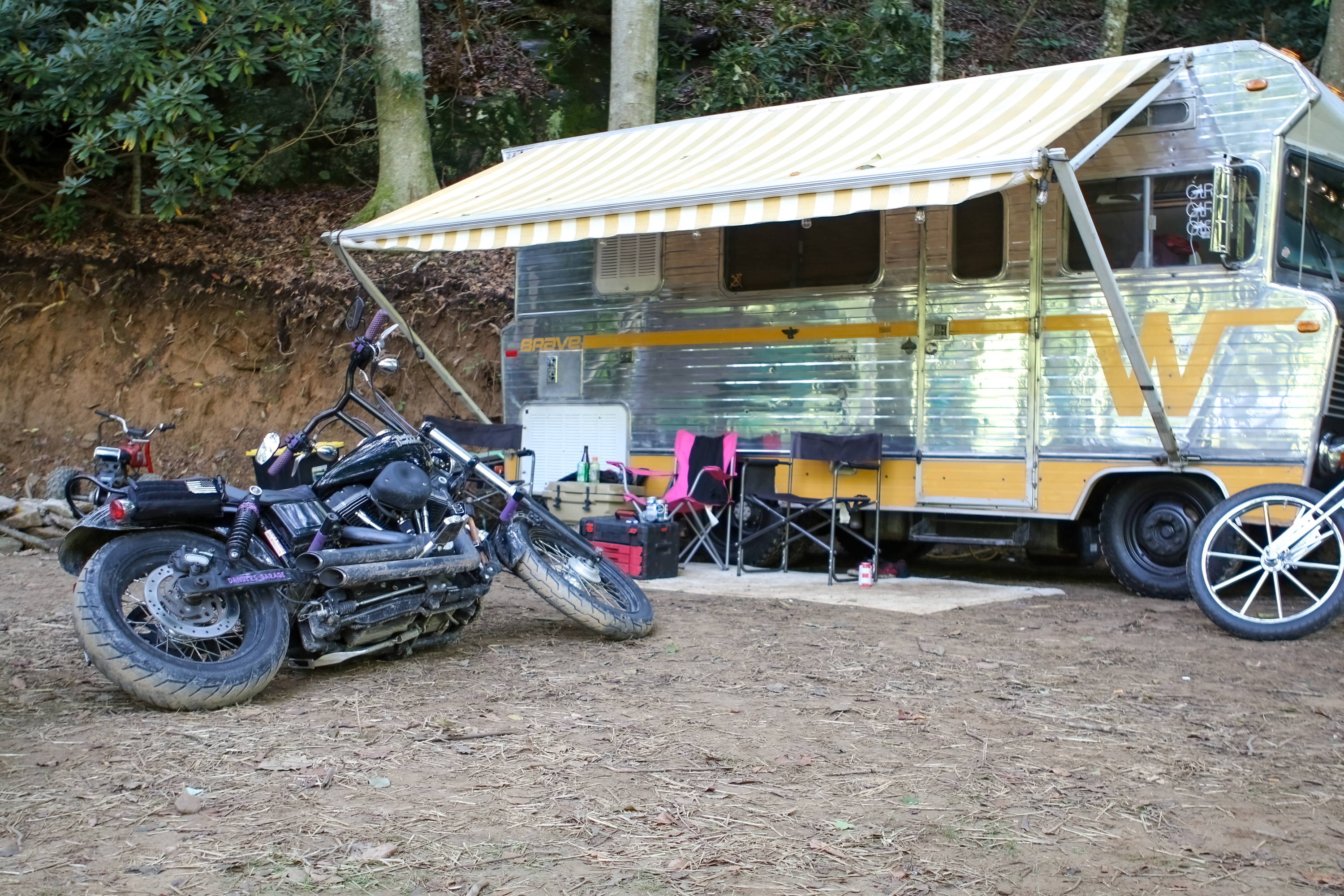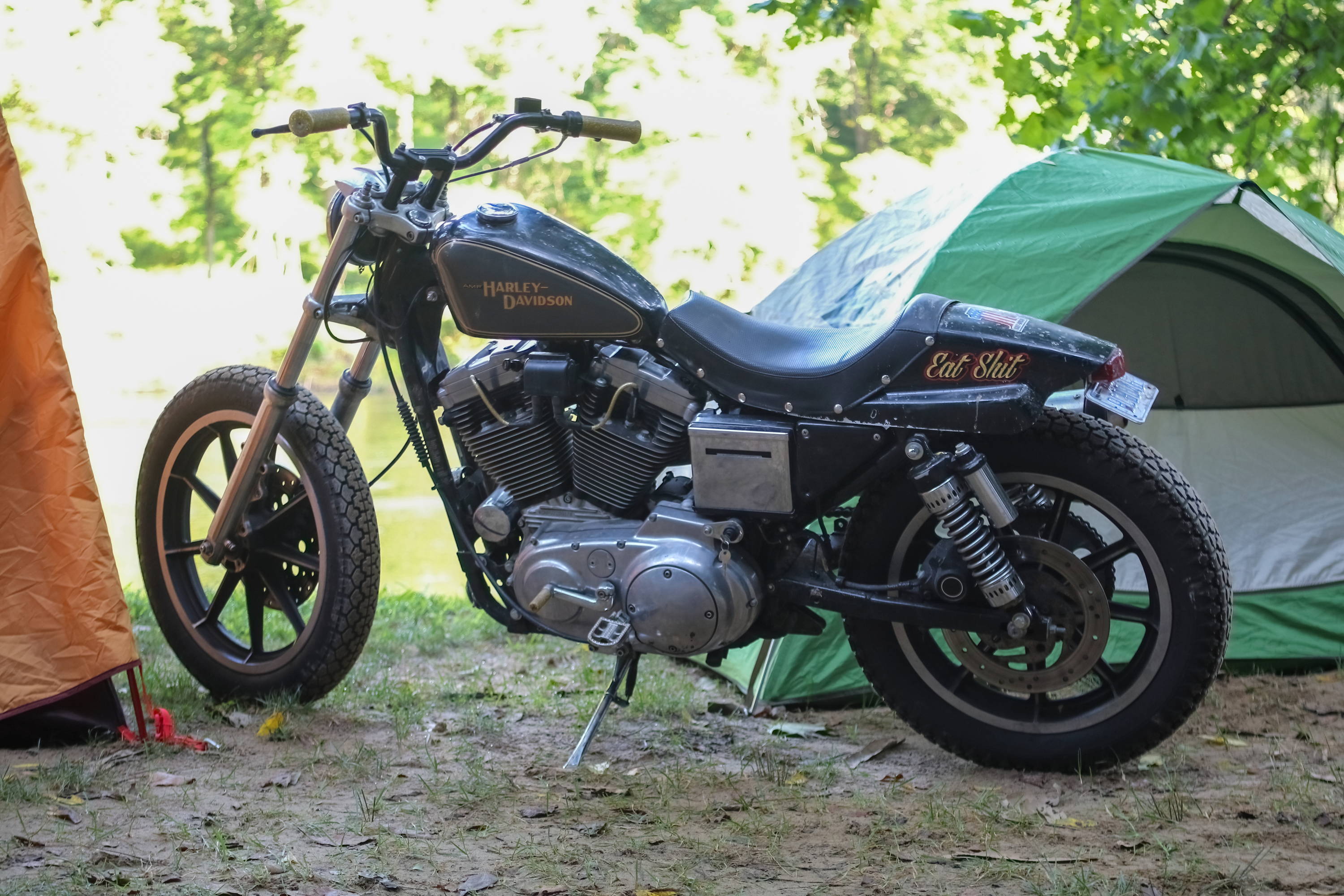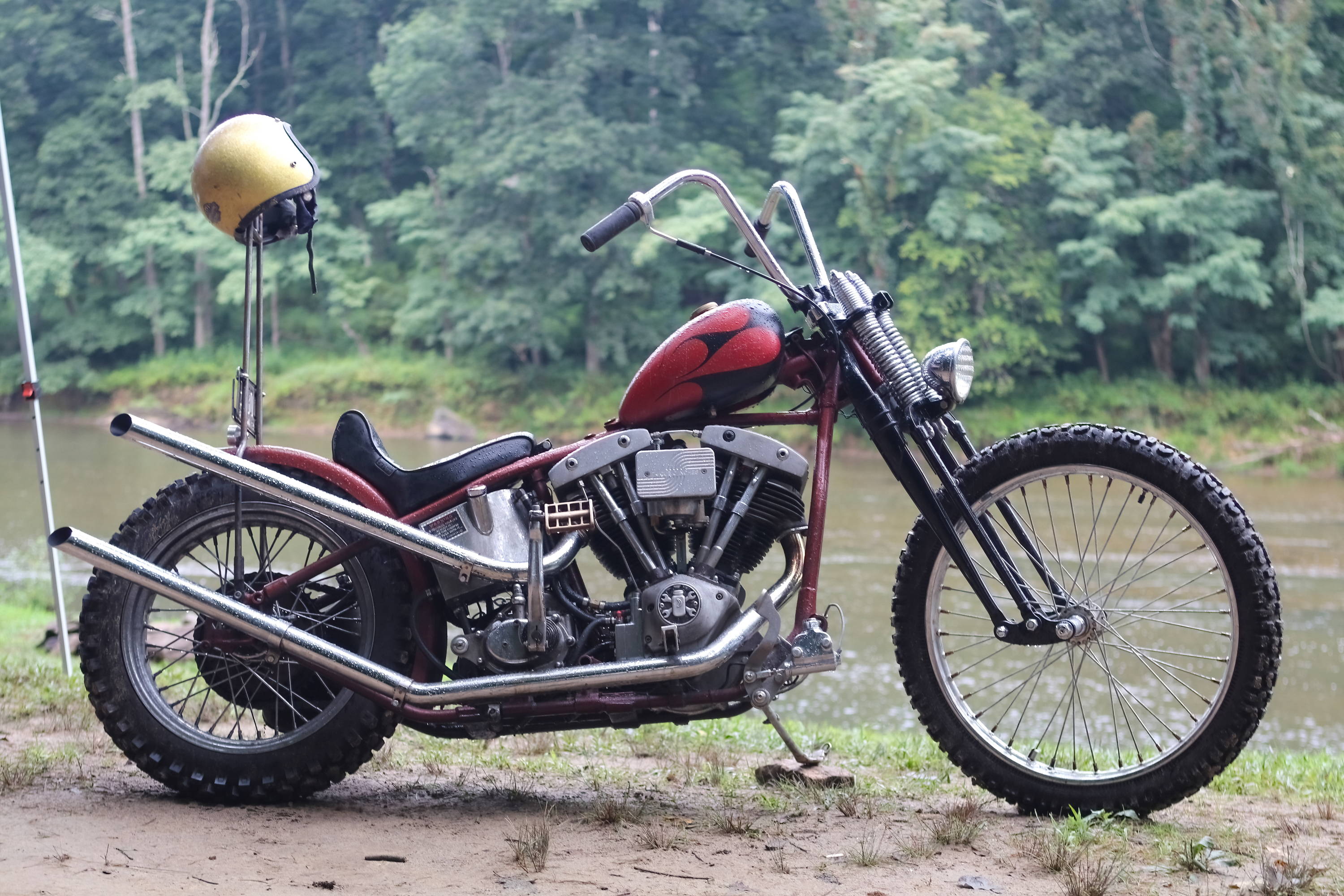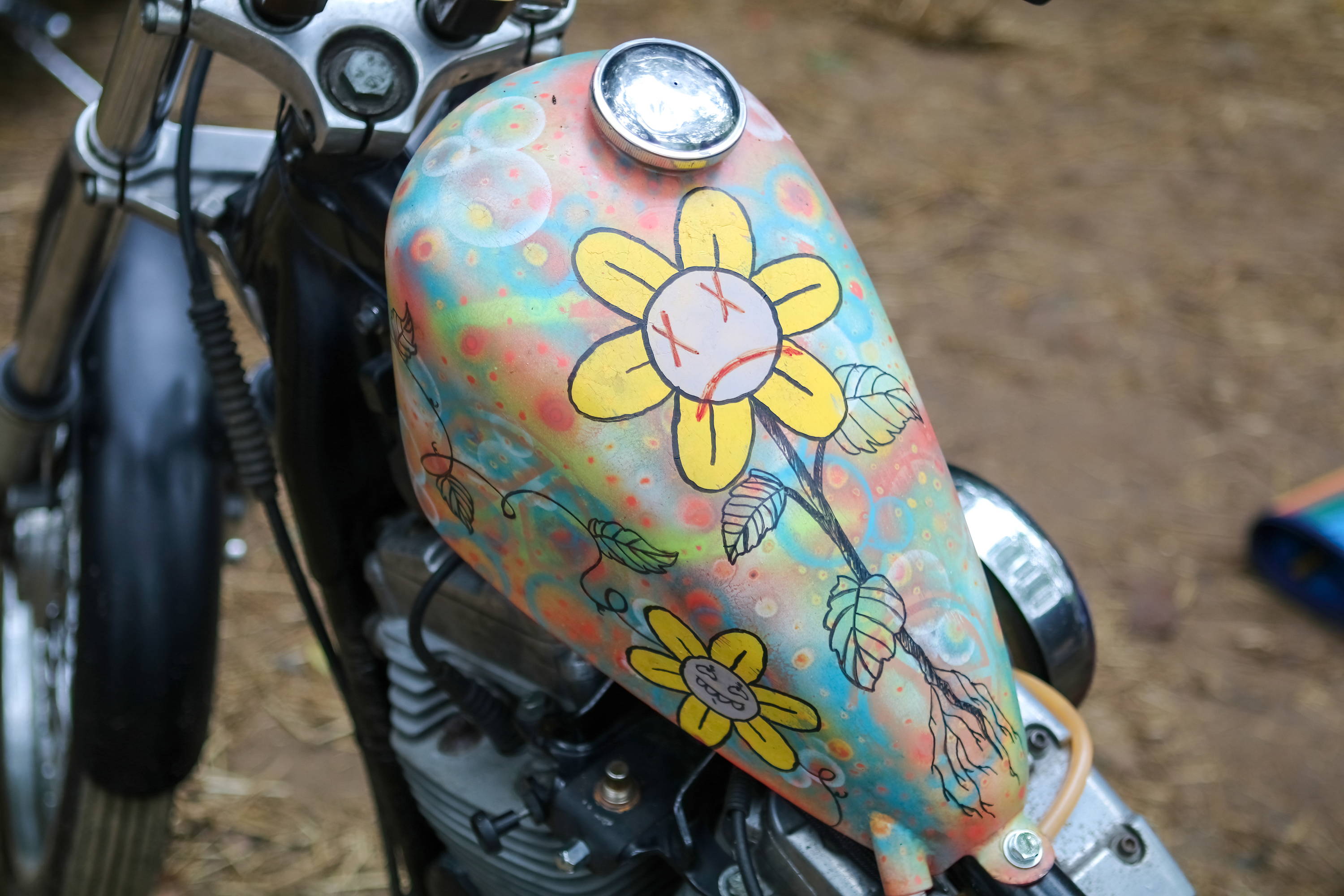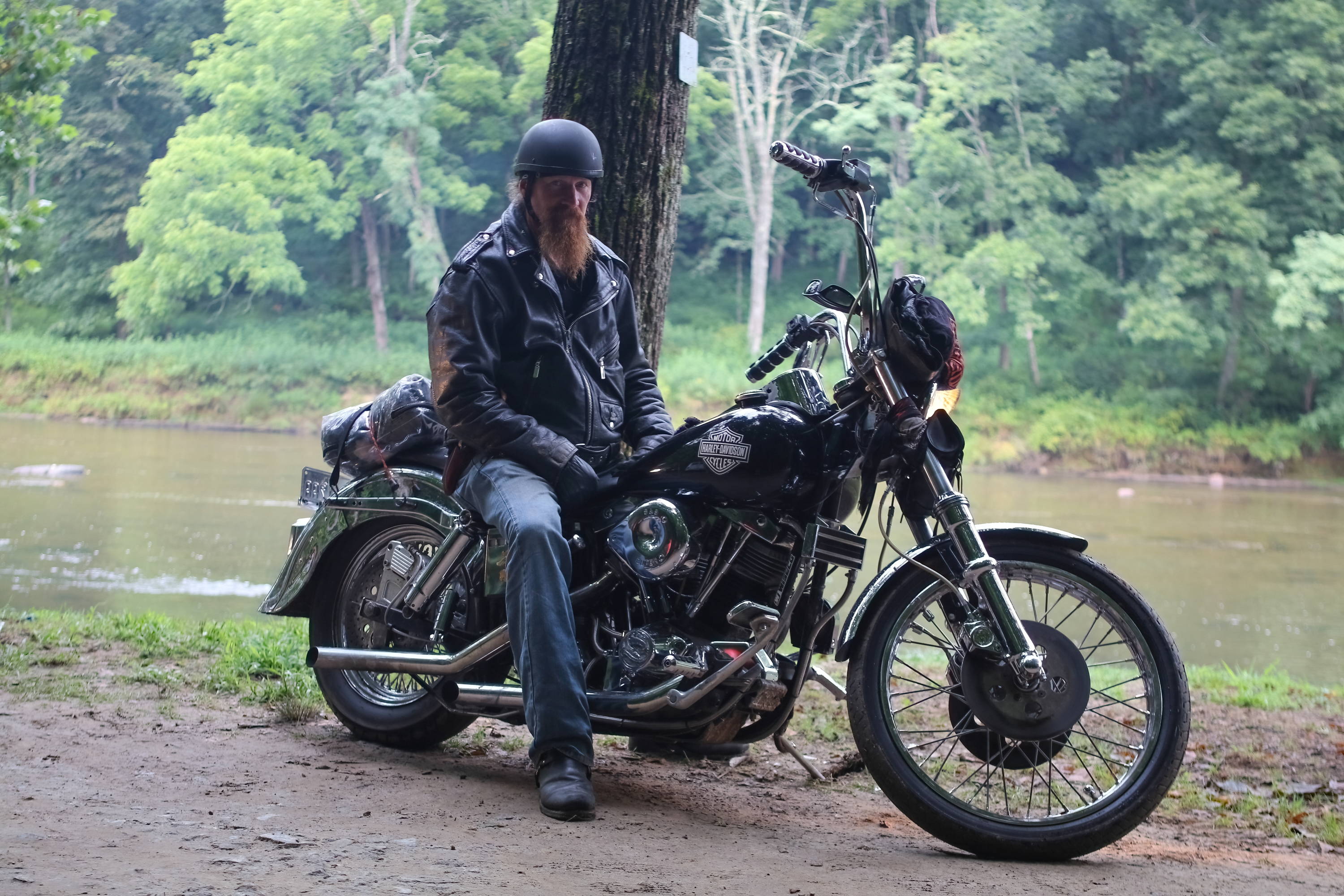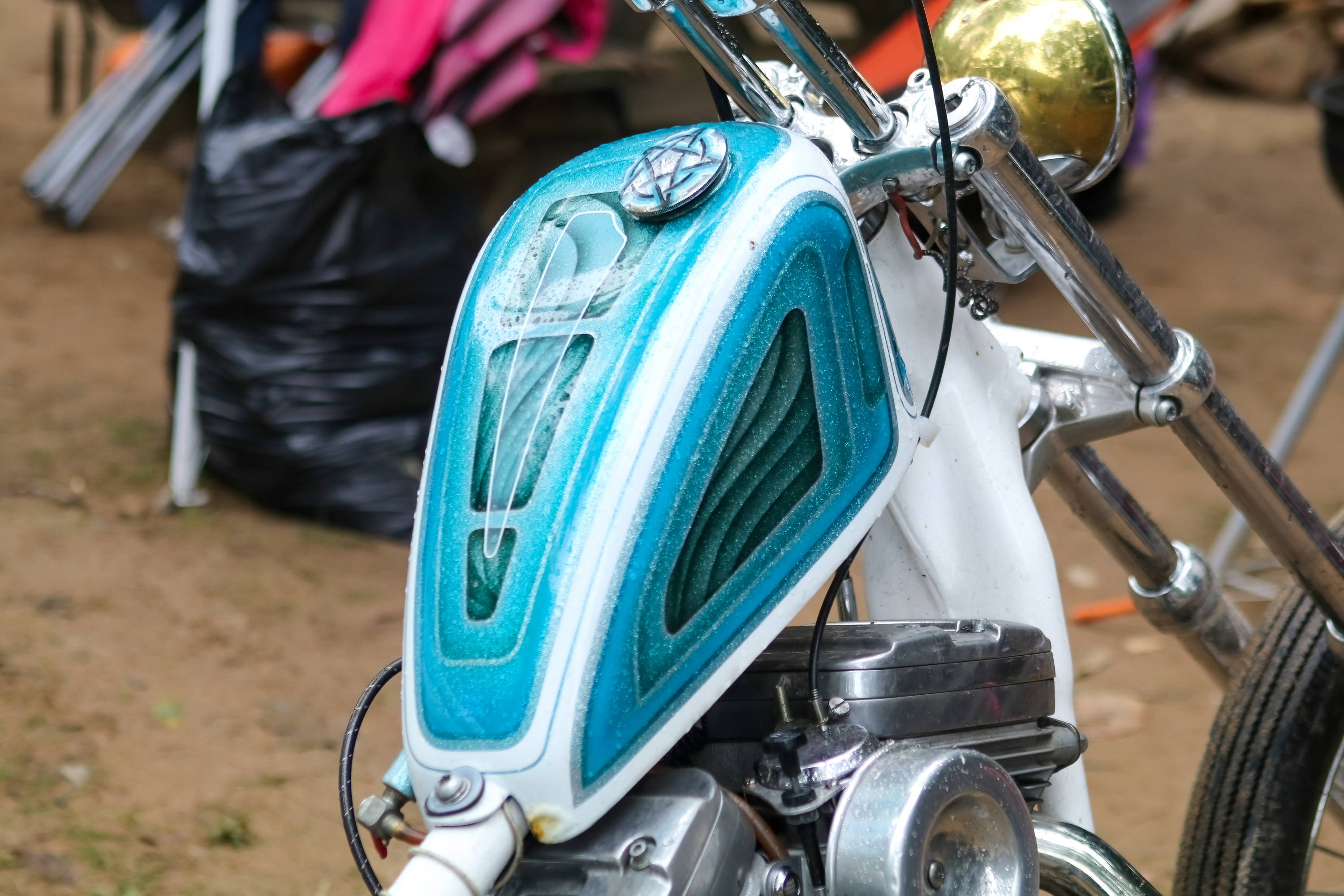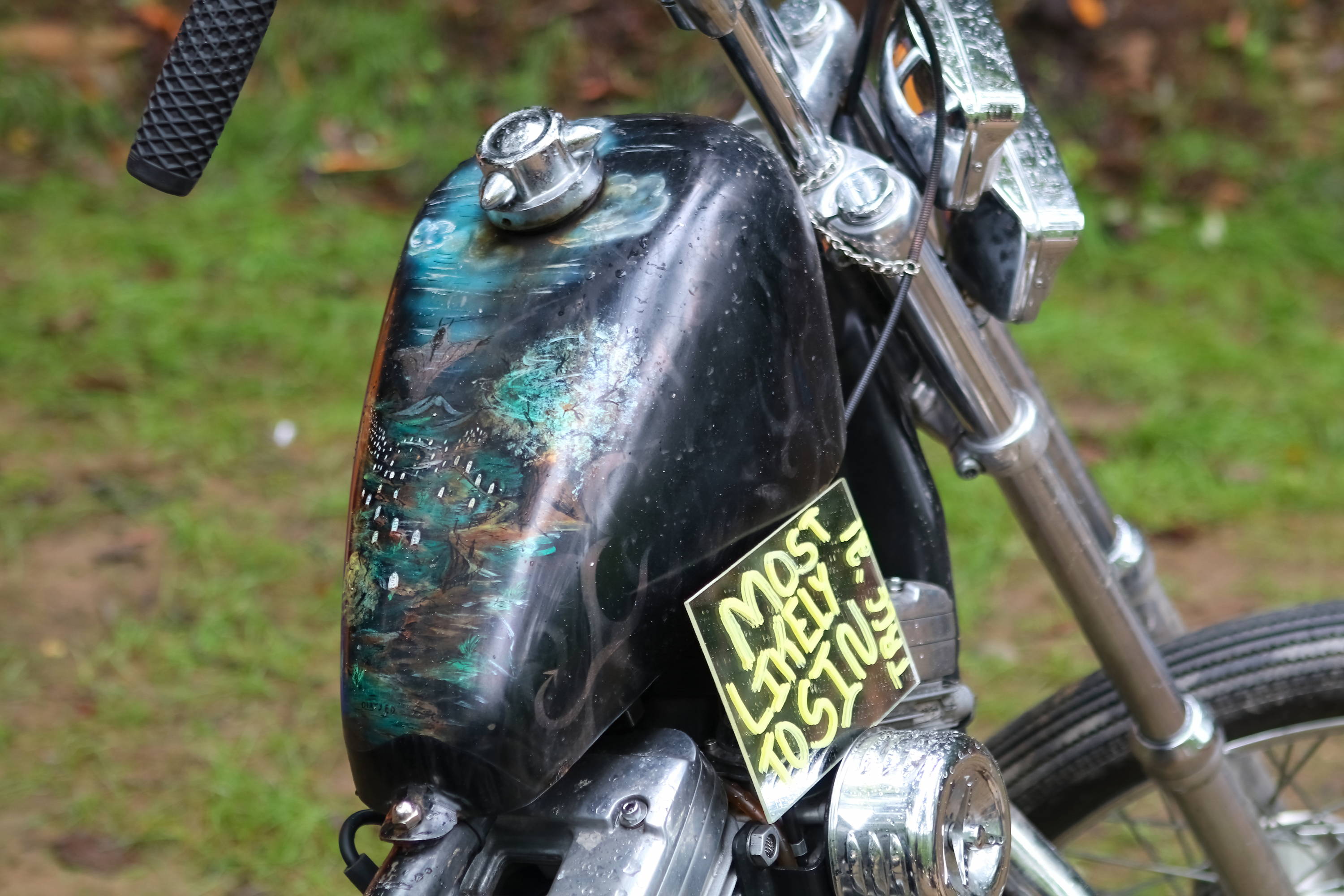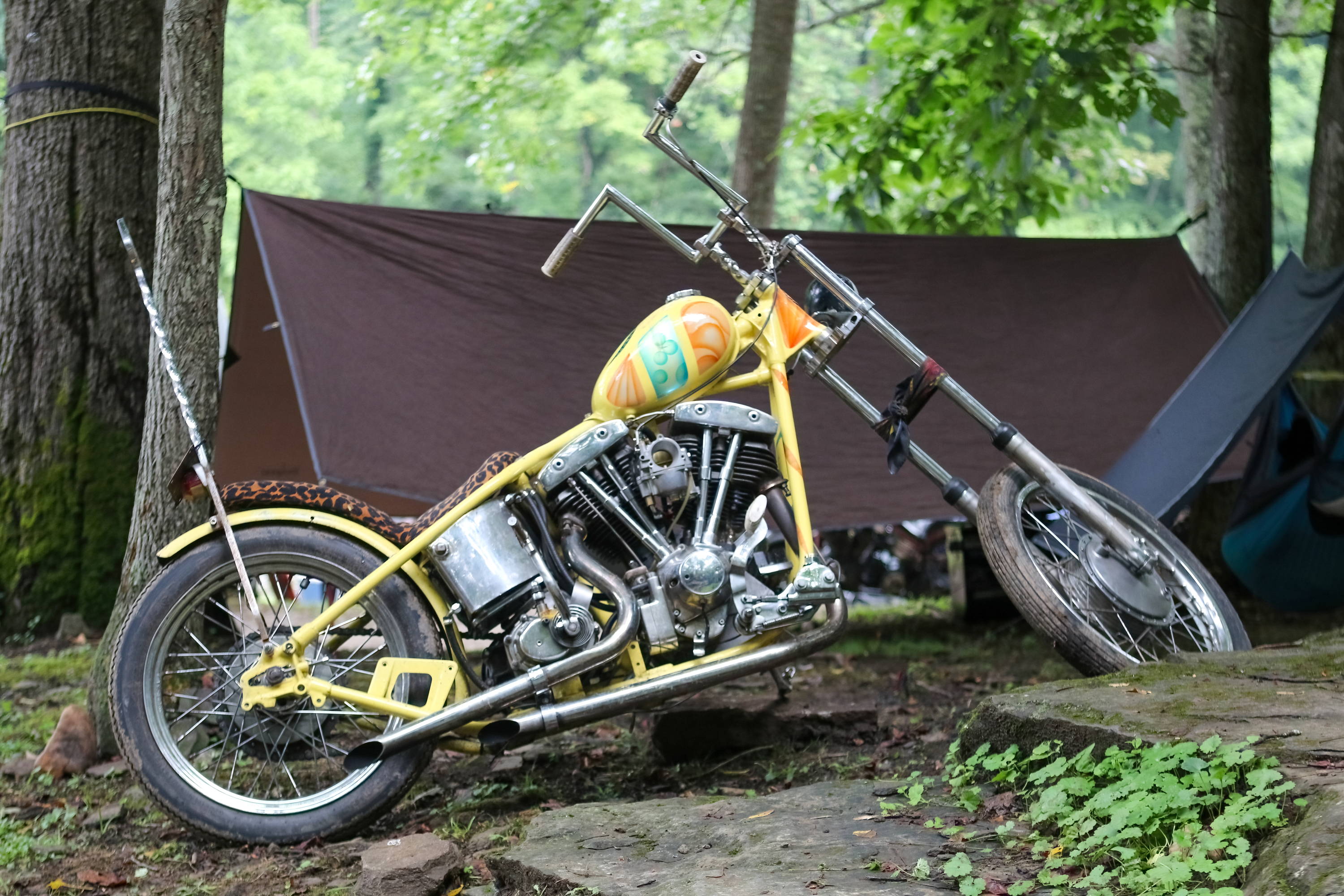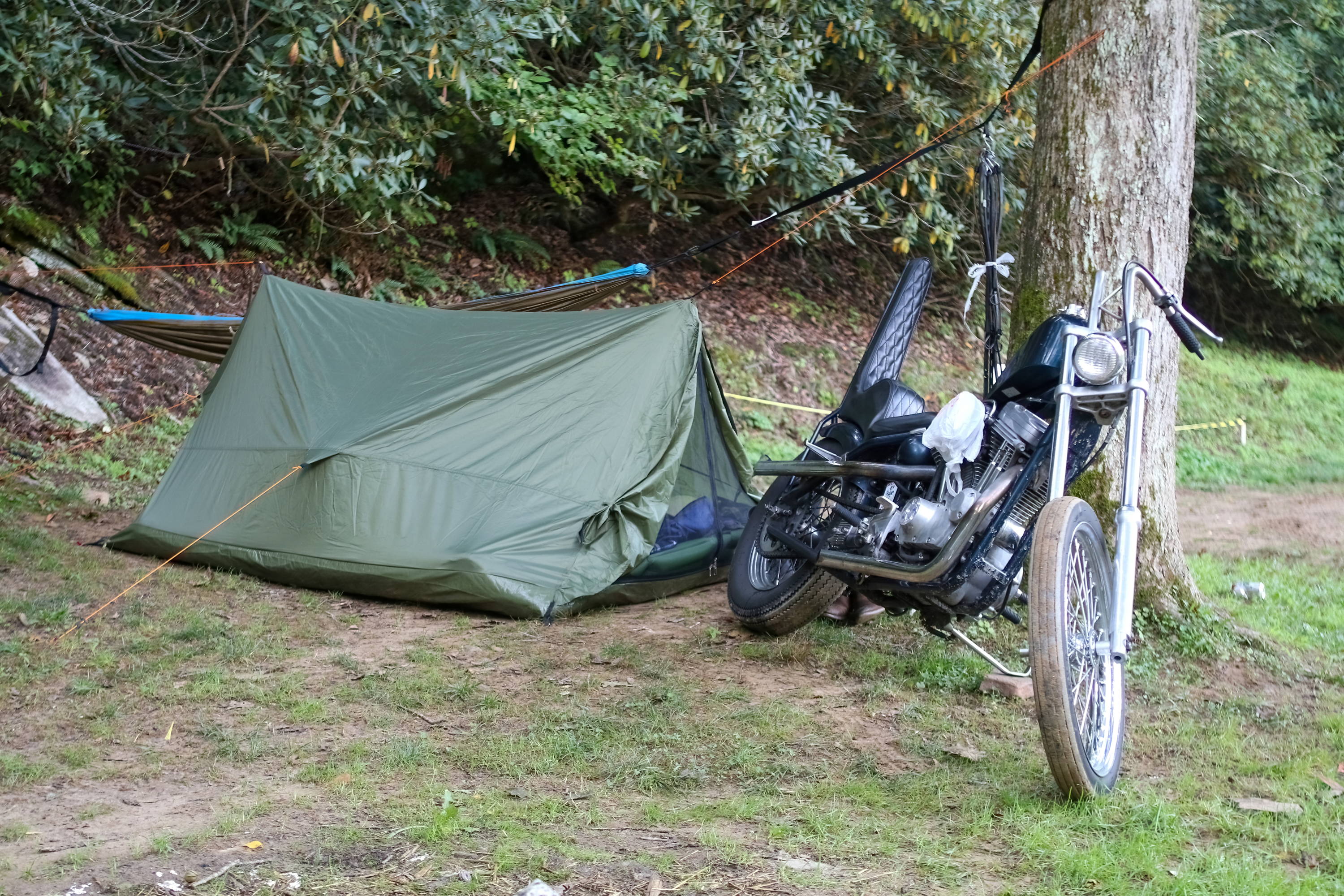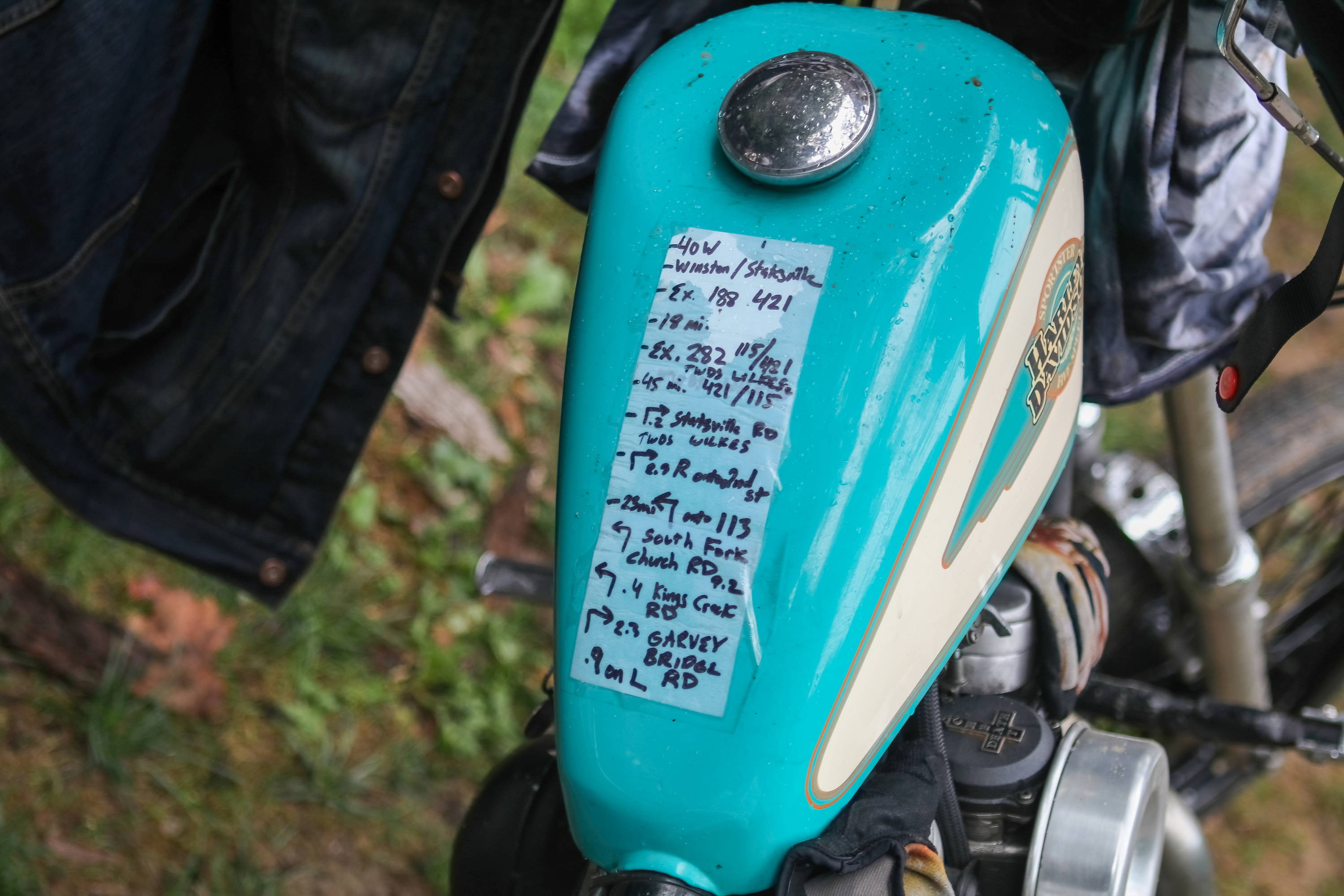 As I was trying to take it all in, I heard some cheering coming from the river as a UTV plowed through the water delivering people and beer to a rocky outcrop known as "Dude Island".
---
From there, things only got wilder as the afternoon faded and the sun went down. A large cliff face on one side of the campground, which everyone calls the "Rave Cave", soon became the focal point for the usual biker mayhem as the music cranked up and the bonfire was lit.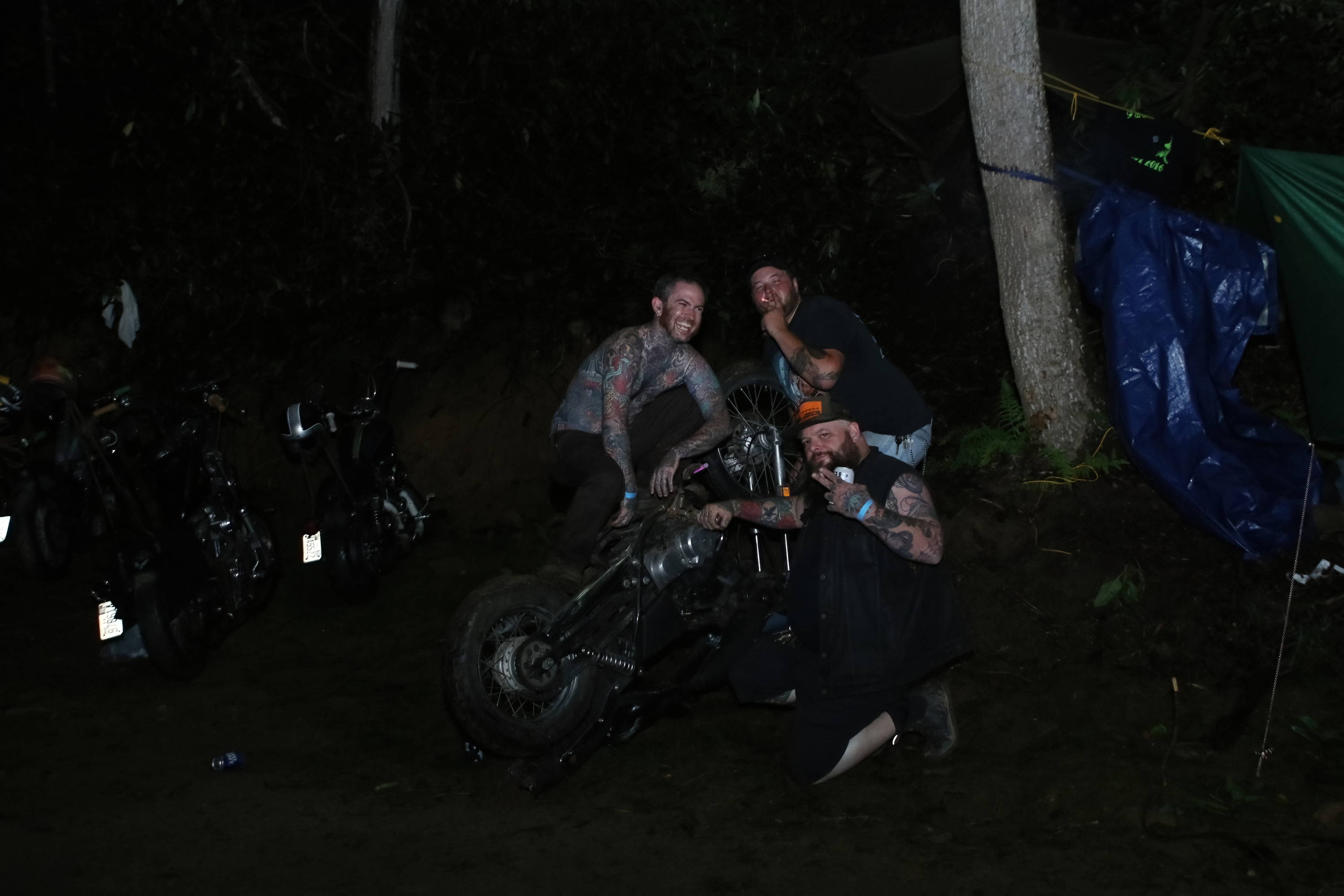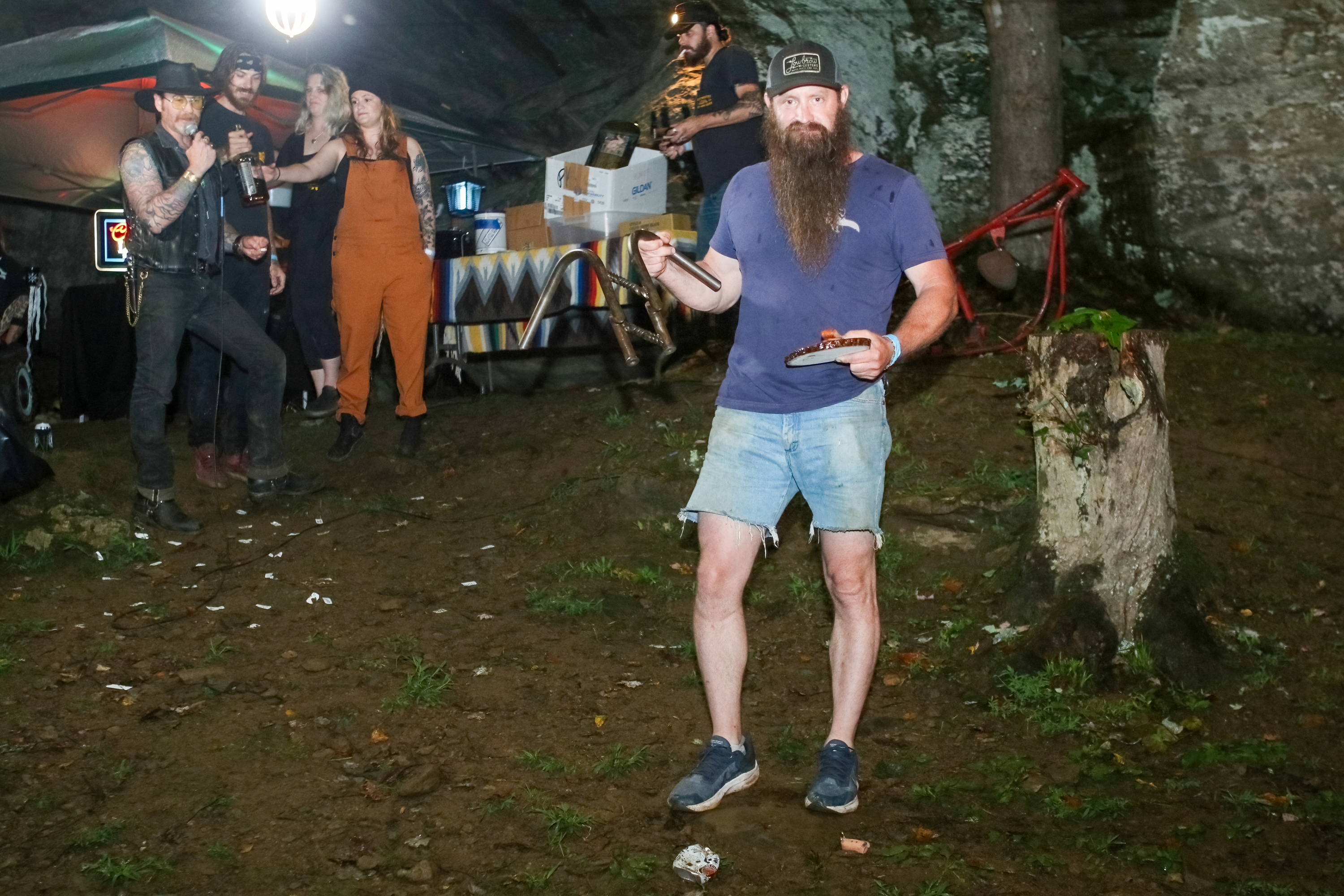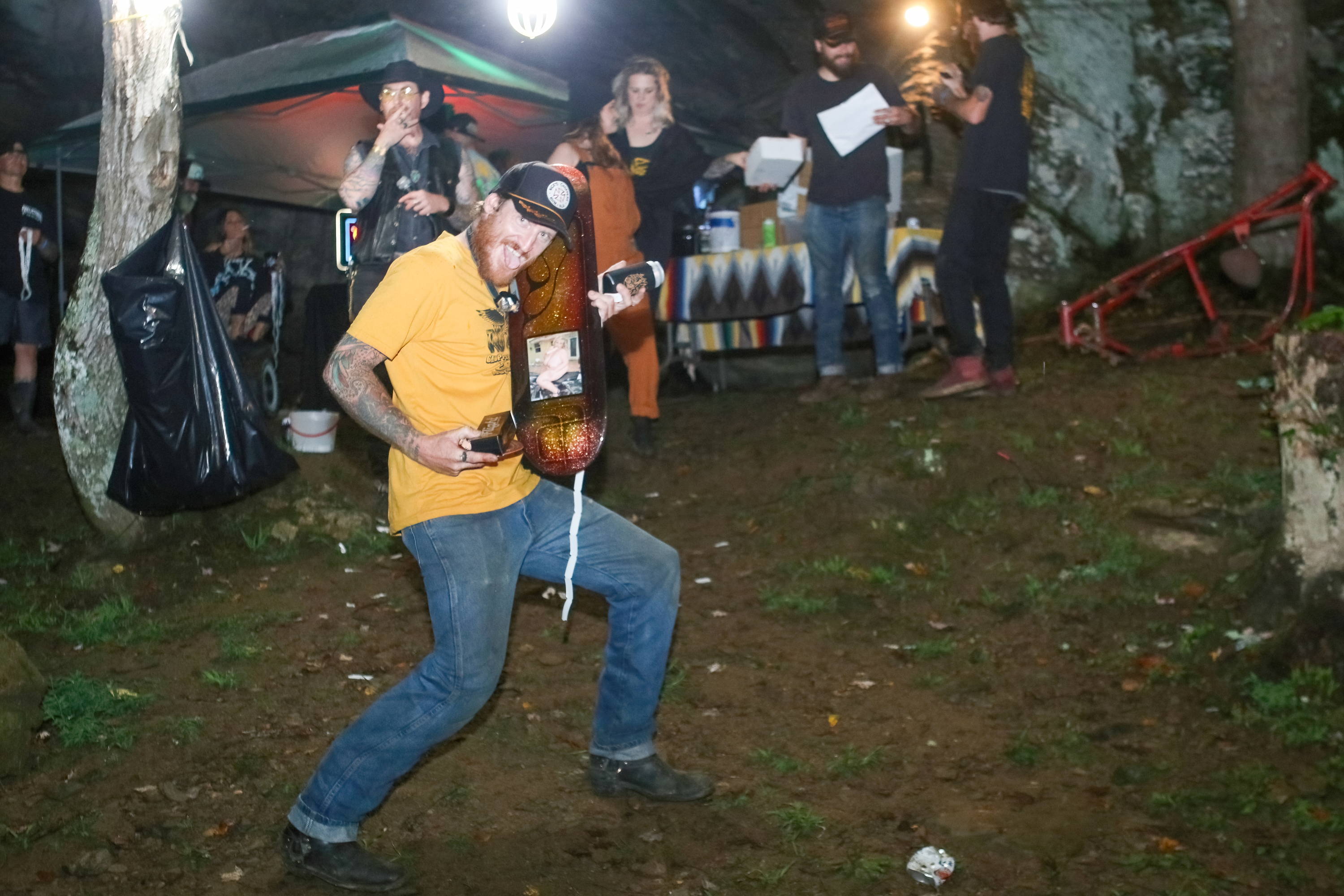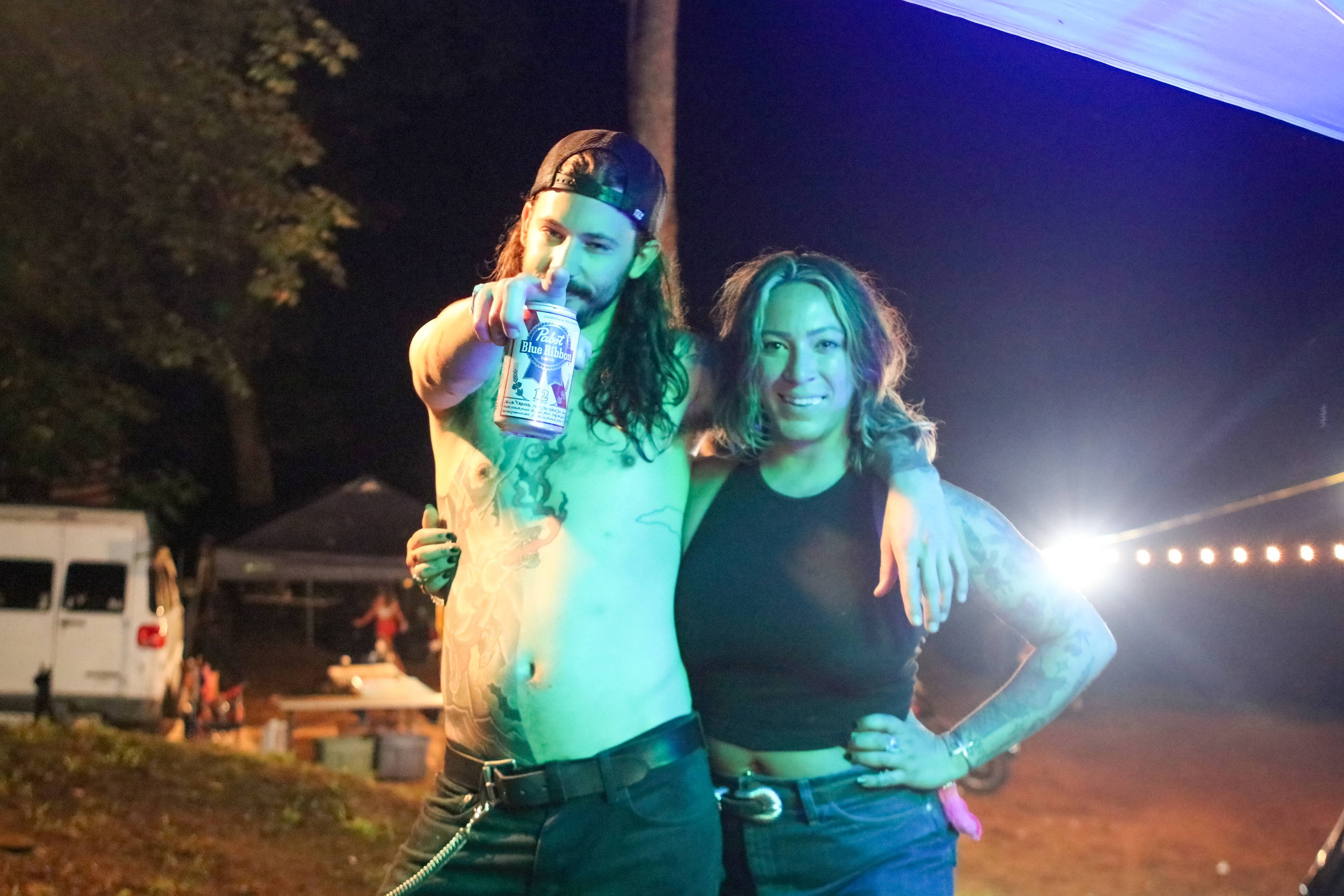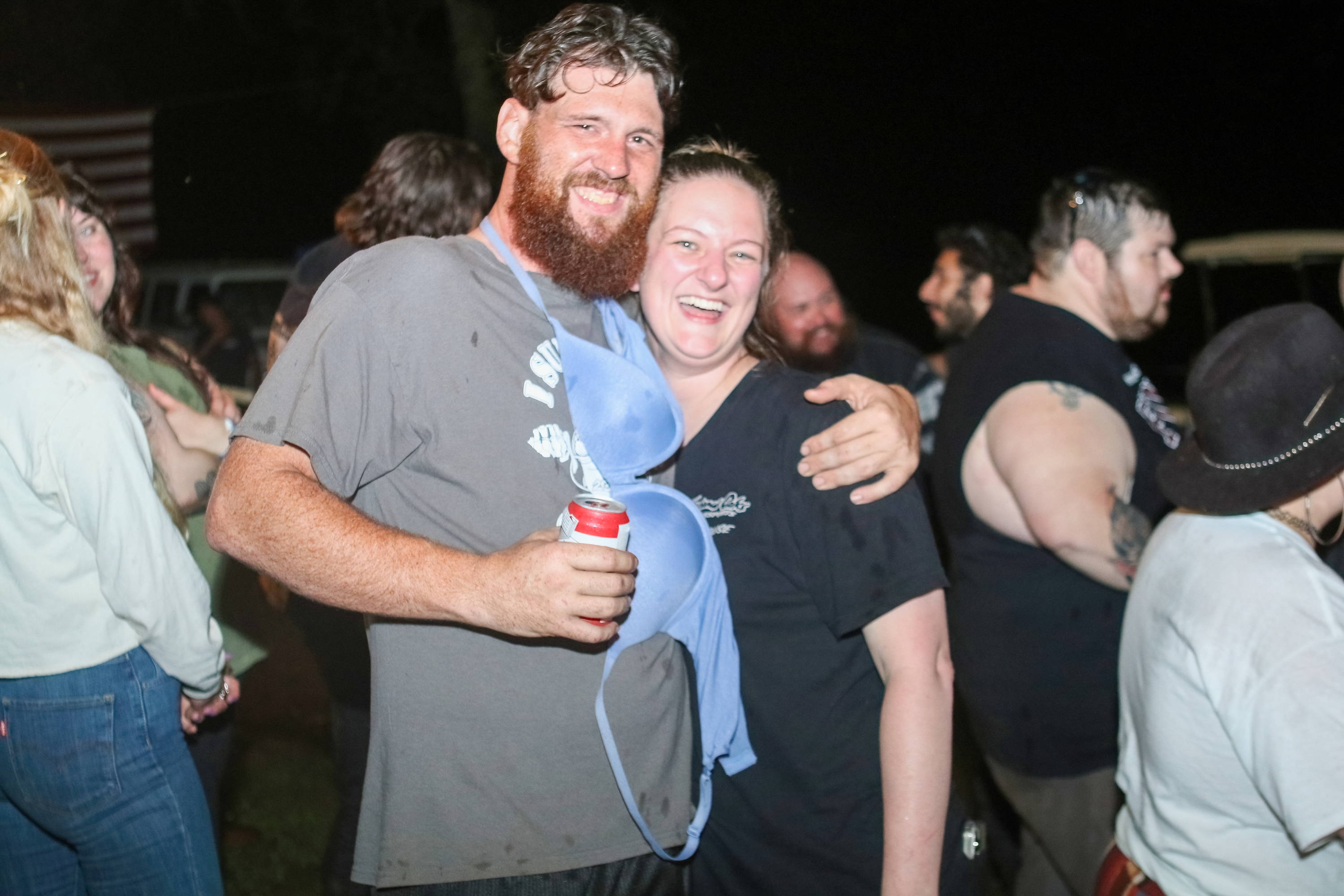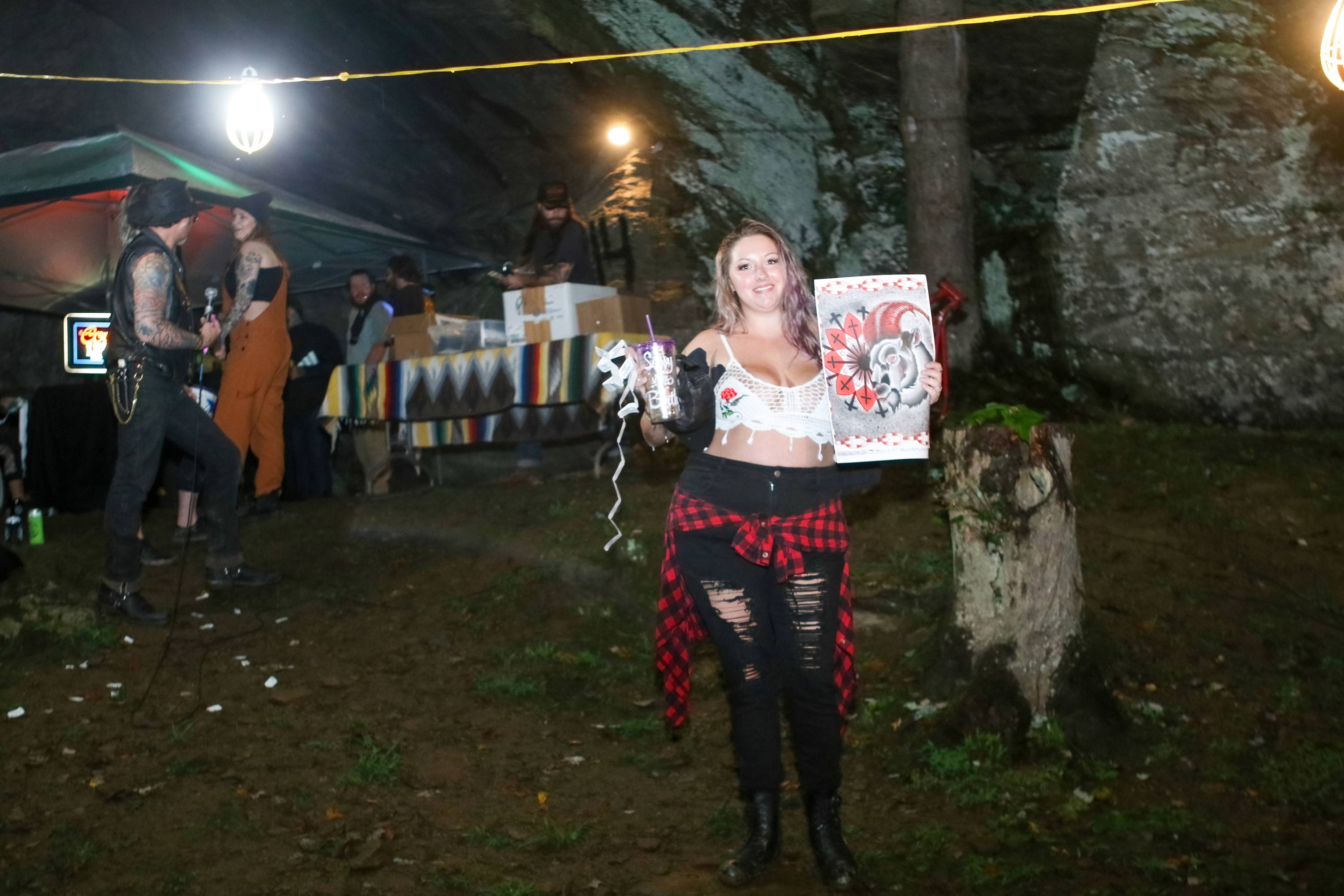 It wasn't long before bikes started pulling up to the cliff and were cranking out burnouts that blanketed the river with rubber-tinged smoke and had people hacking up little chunks of Dunlop tires. This carried on well past midnight with smaller gatherings spread across the campground as people wandered around looking for cold beers or just seeing who was still sober enough to hold a conversation.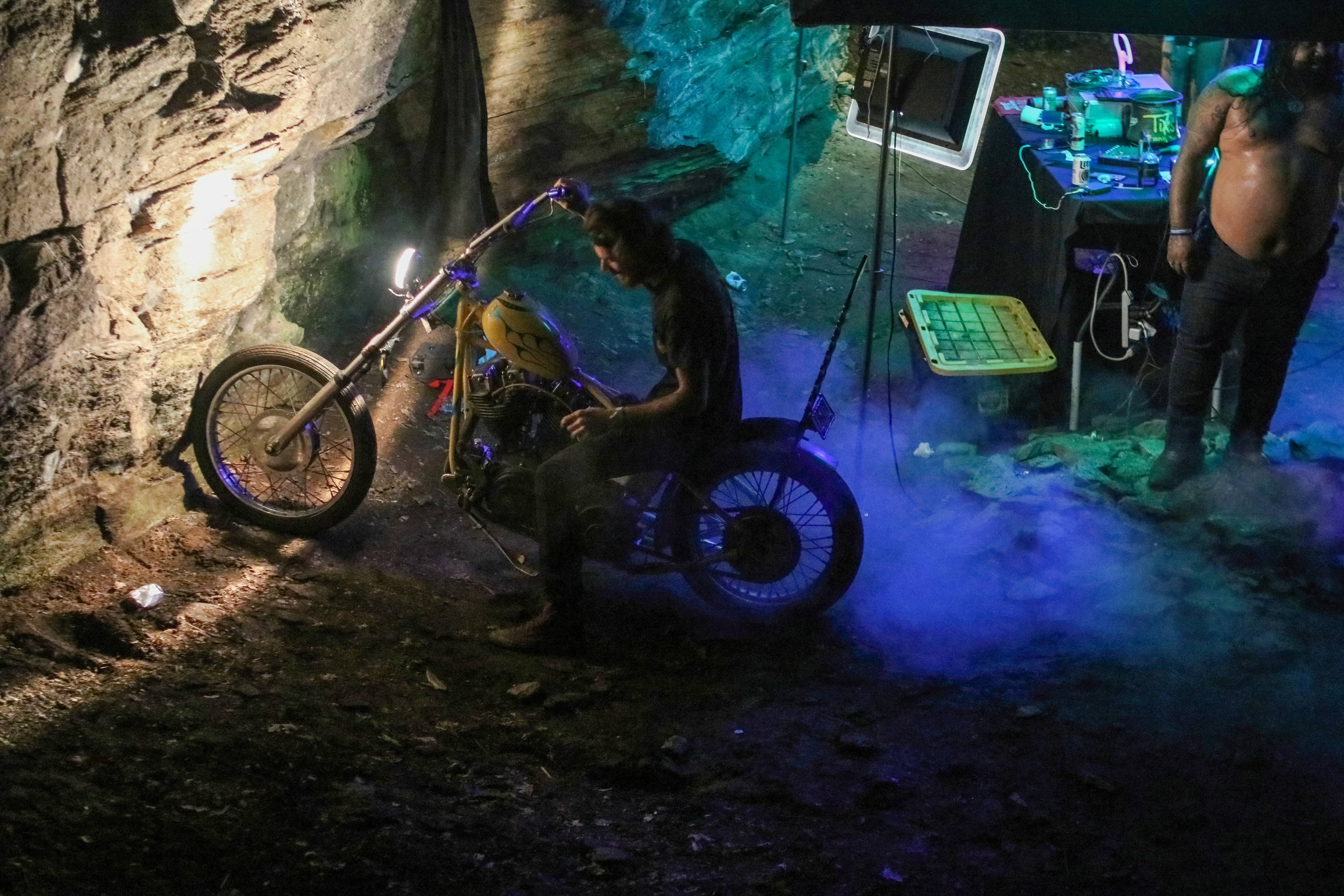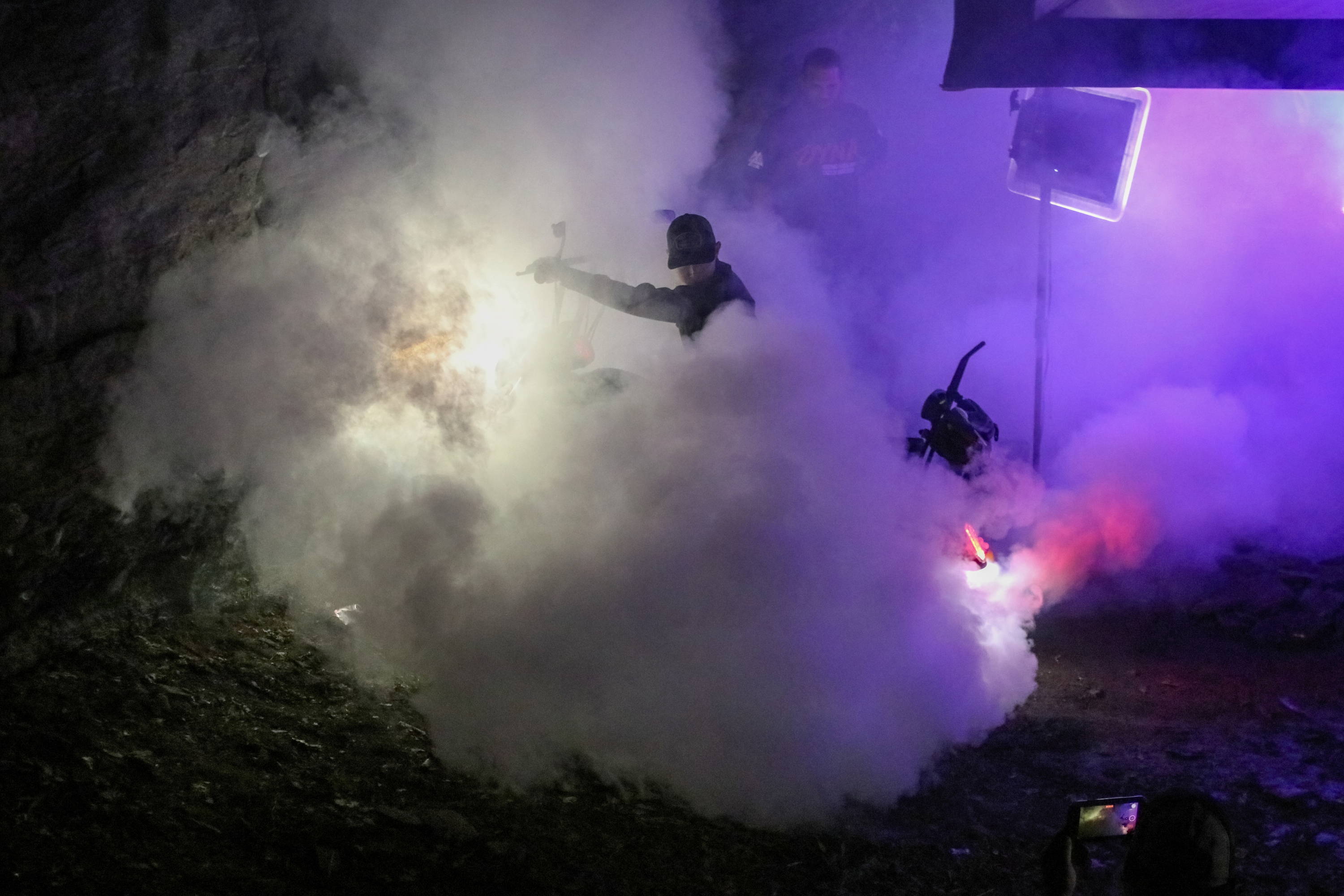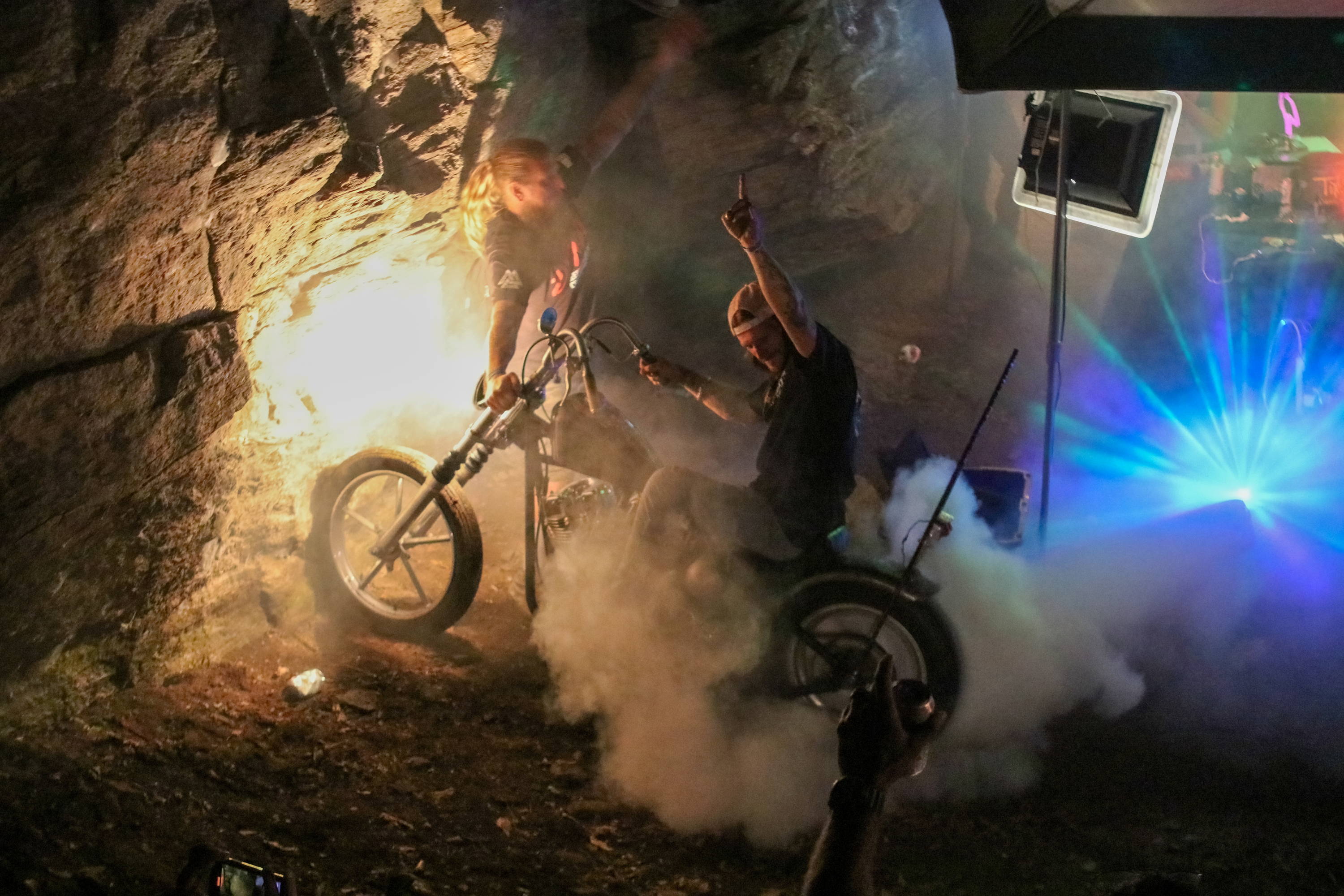 ---
Saturday morning came as a bitter surprise to many as more than one tent had been "soiled" after a hard night of partying. Still, after throwing on a clean pair of britches and drinking a few cups of coffee, most everyone was in good spirits by mid-morning.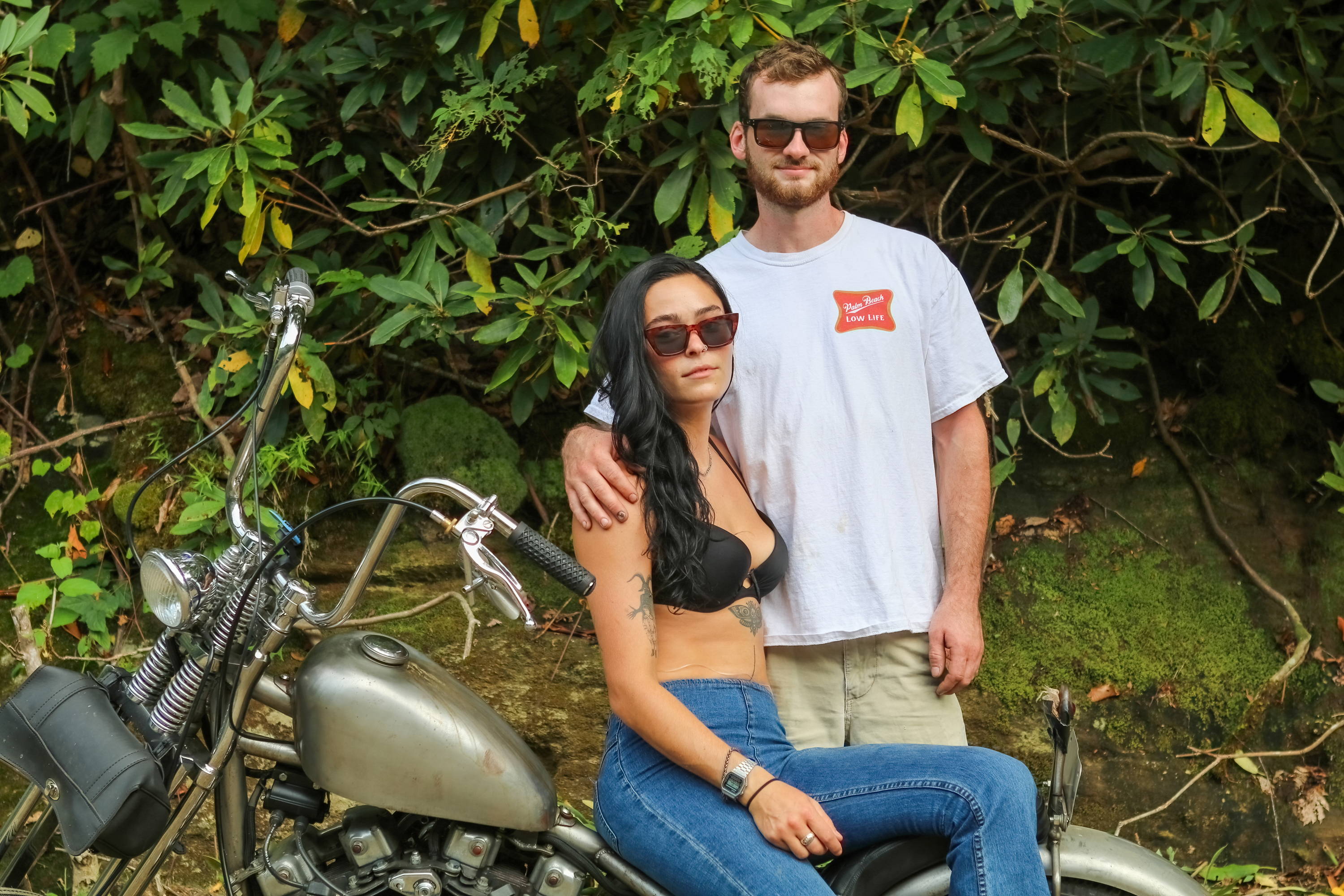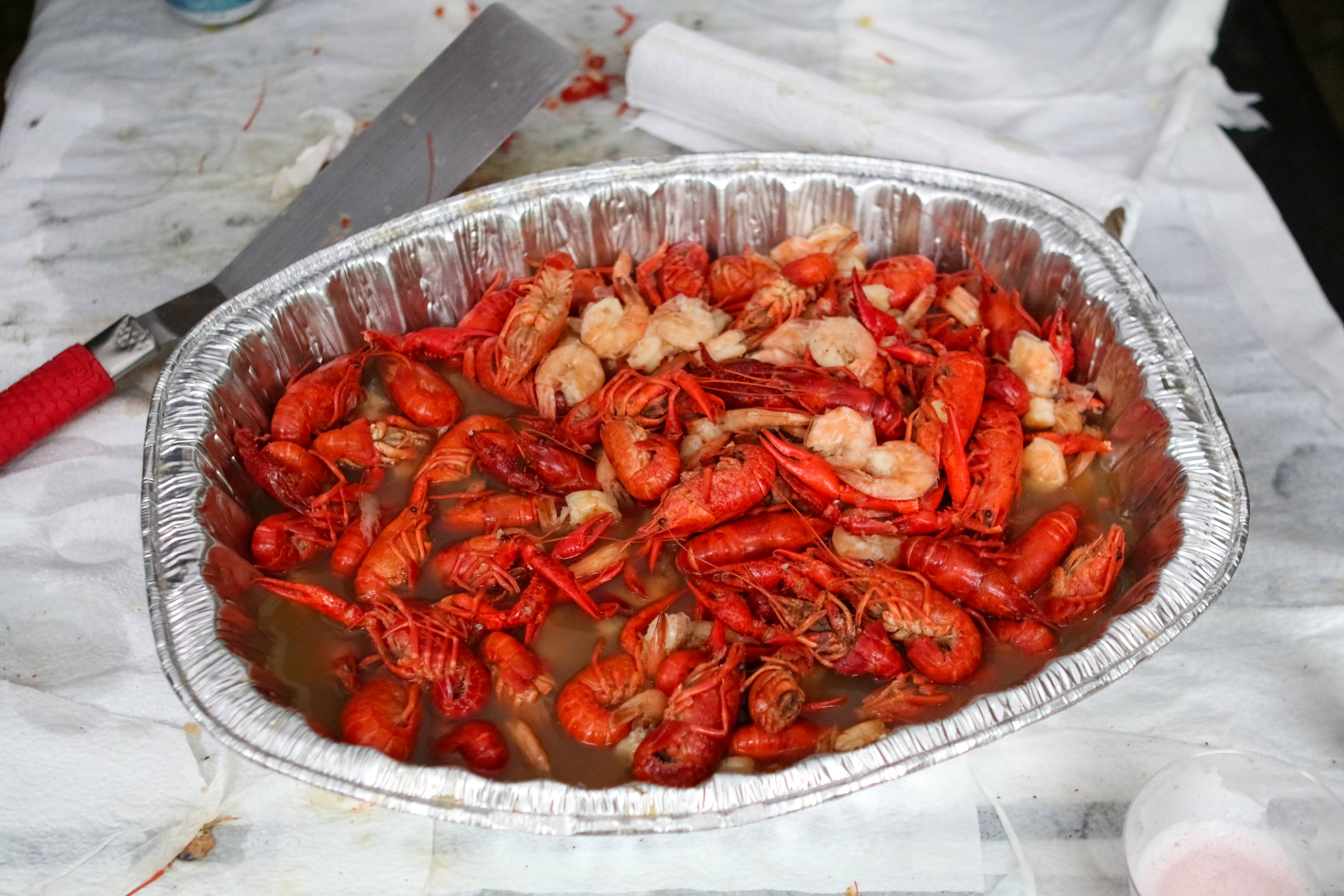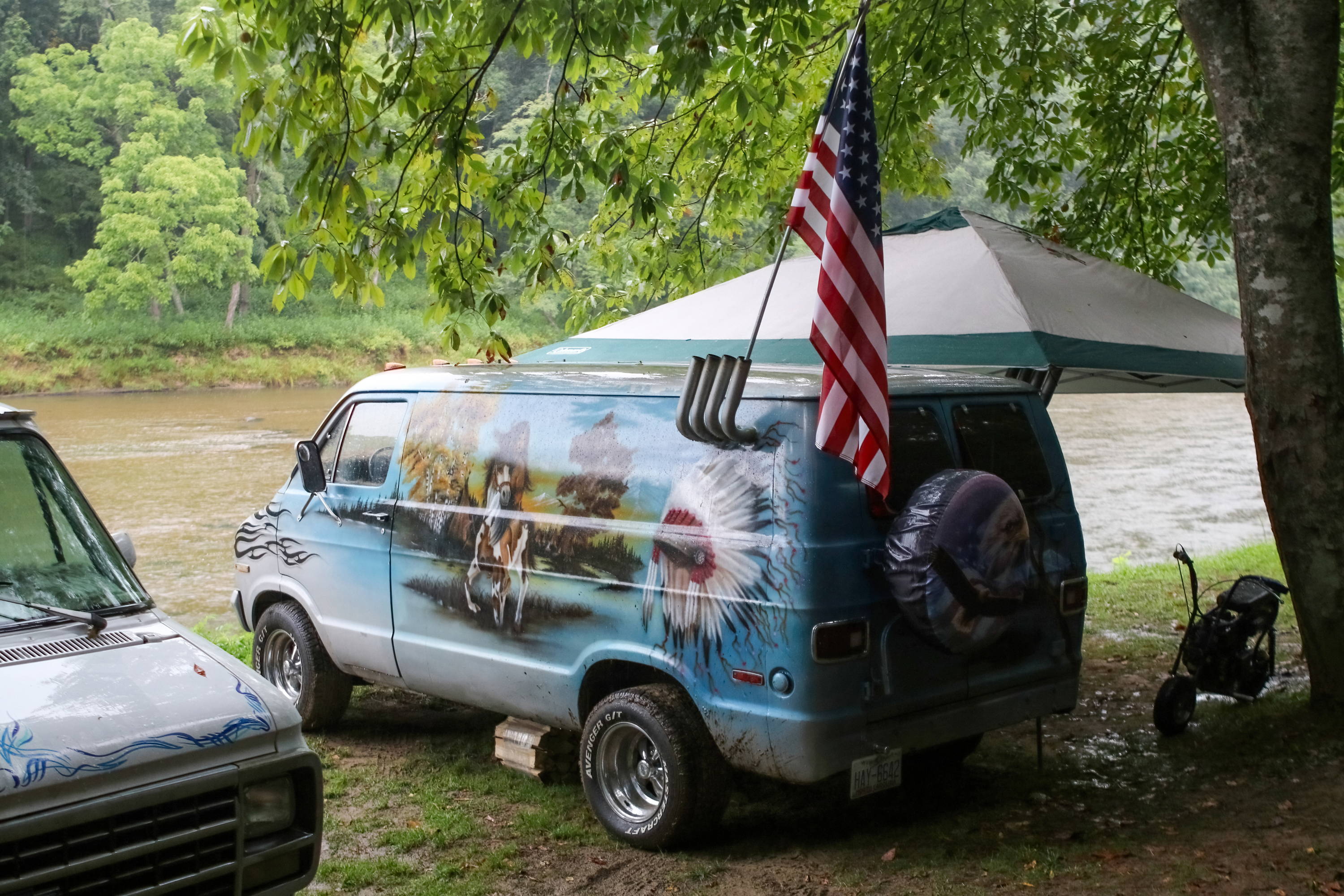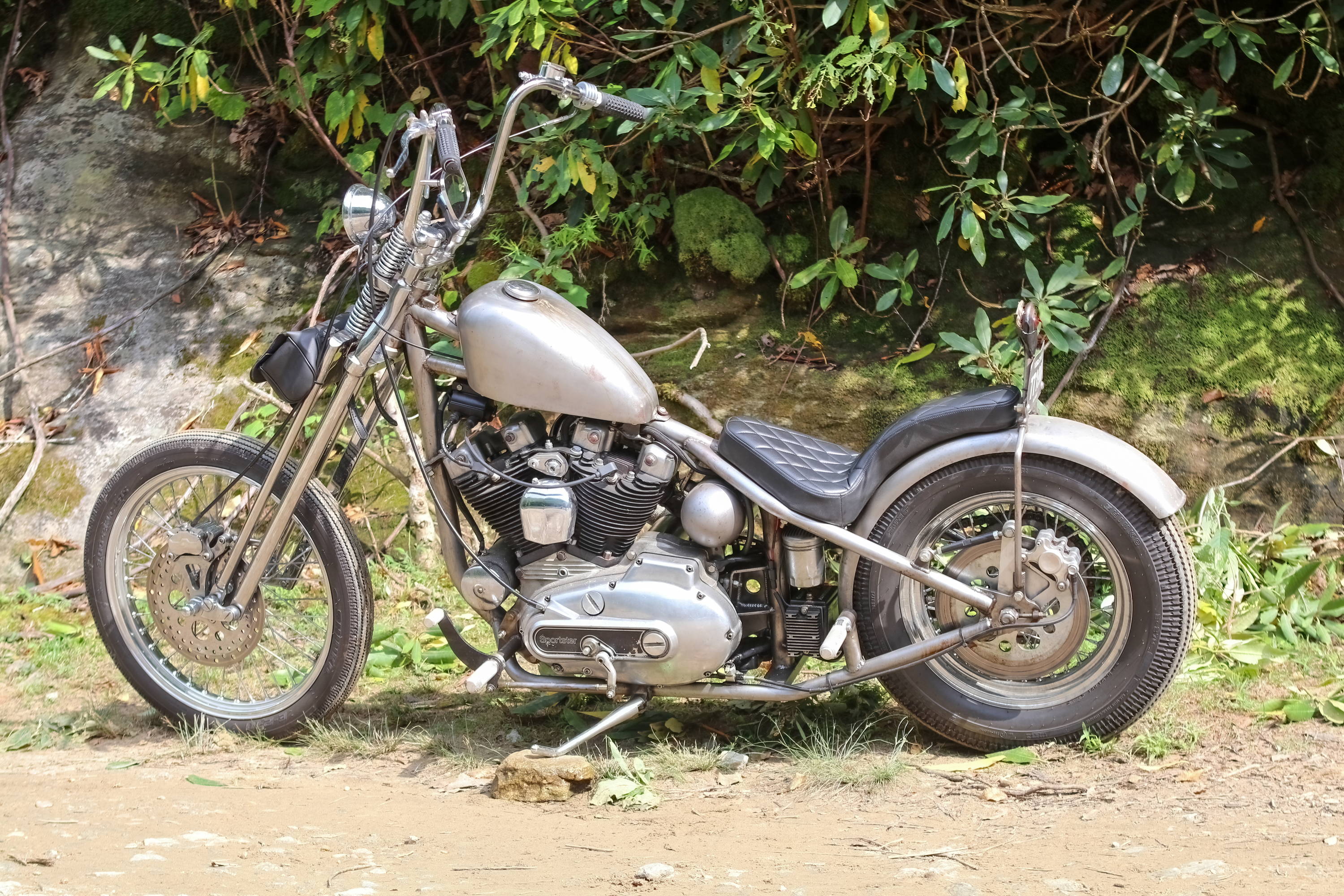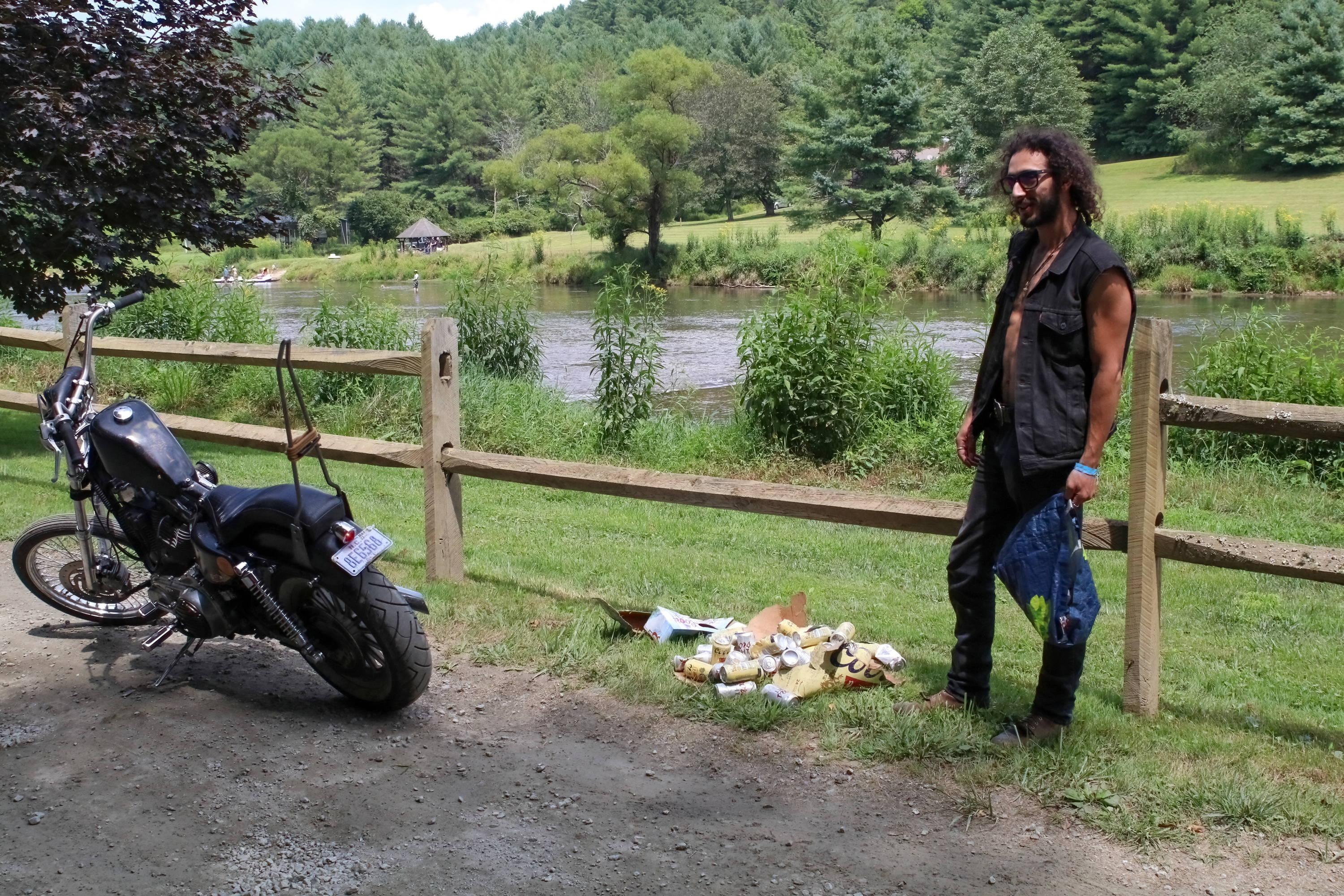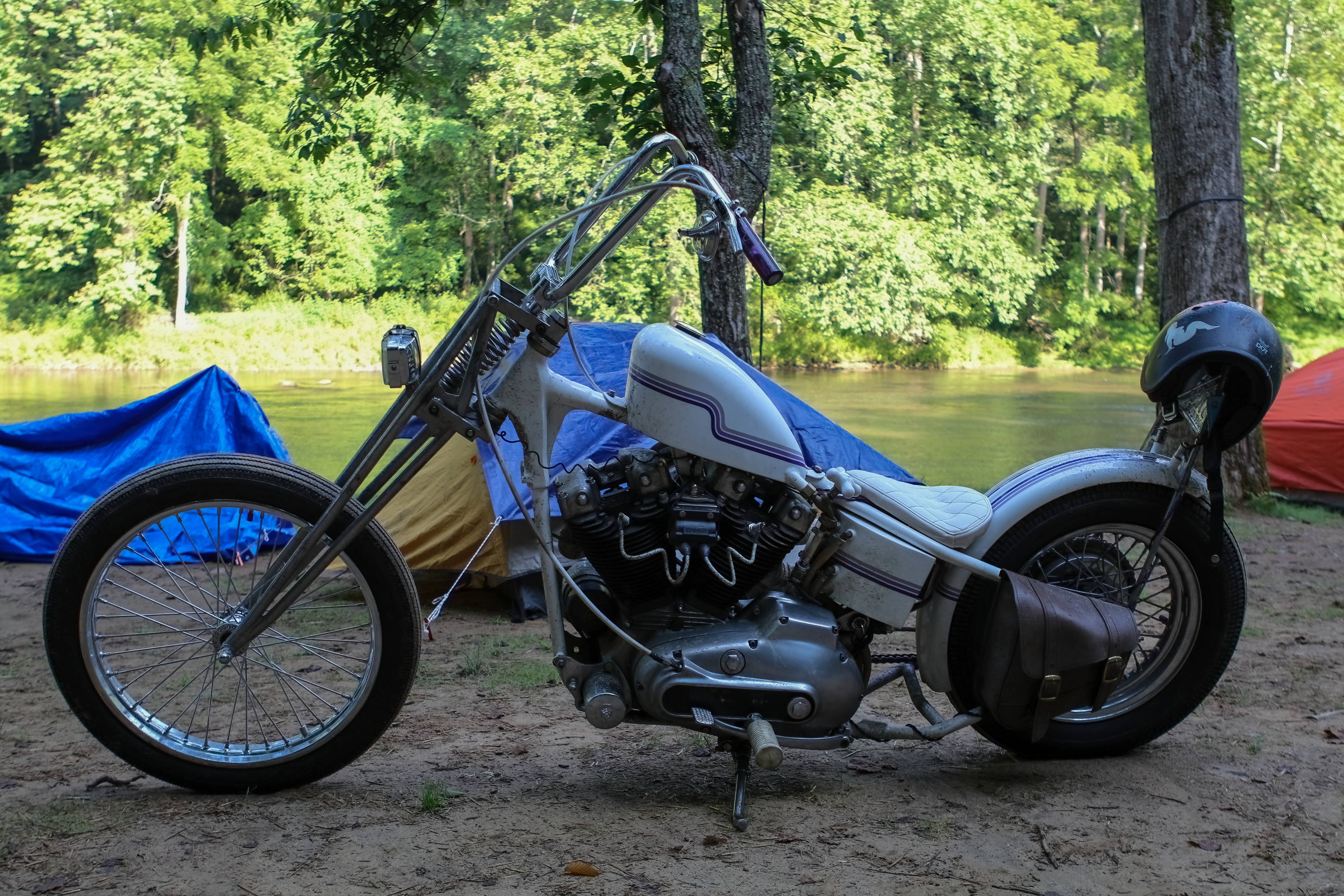 Then it was time for the 2nd annual Skate Jam which got everyone together for a ride through the mountains to a local skate park for an hour of busted knees and twisted ankles before heading back to the campground for an afternoon on the river.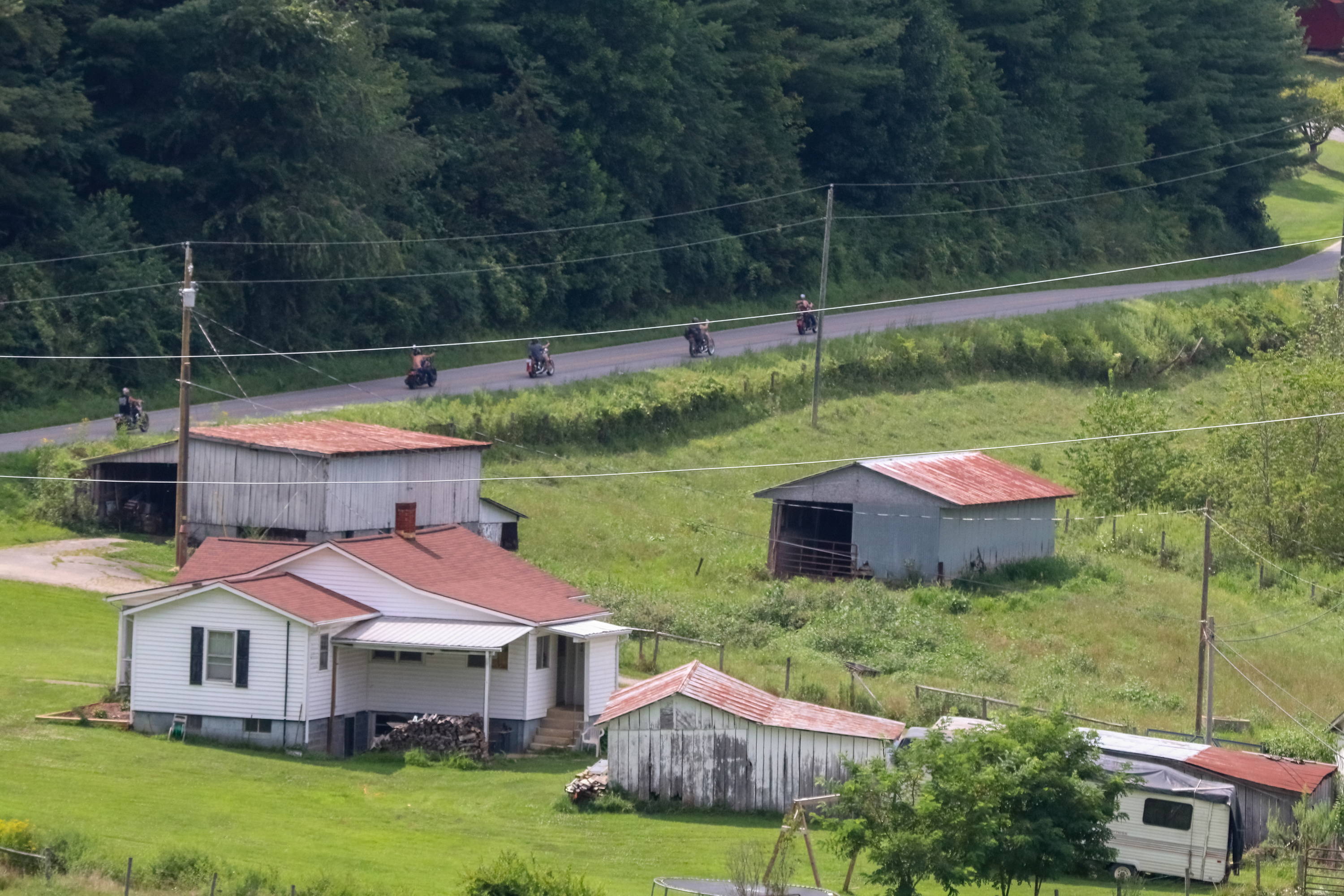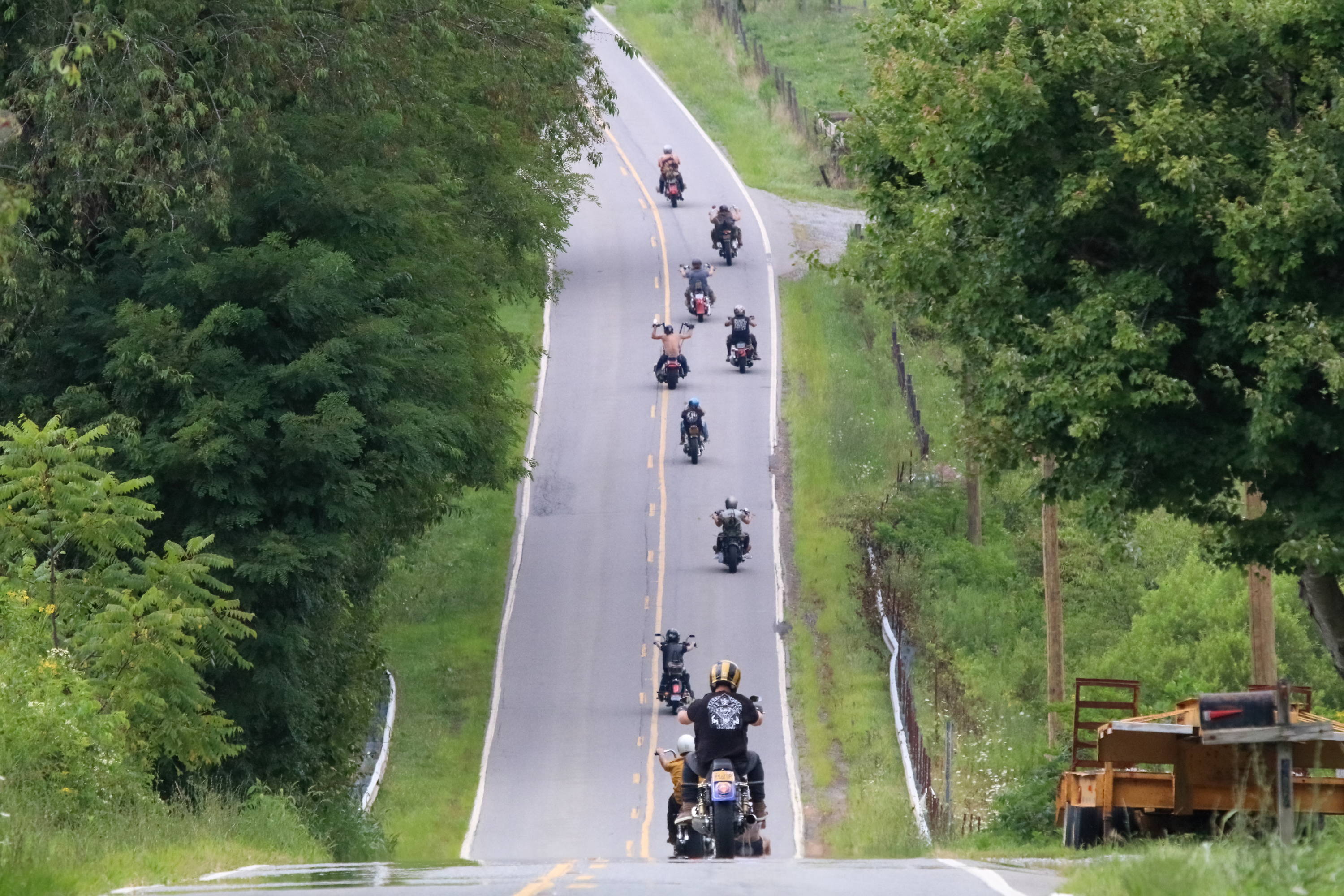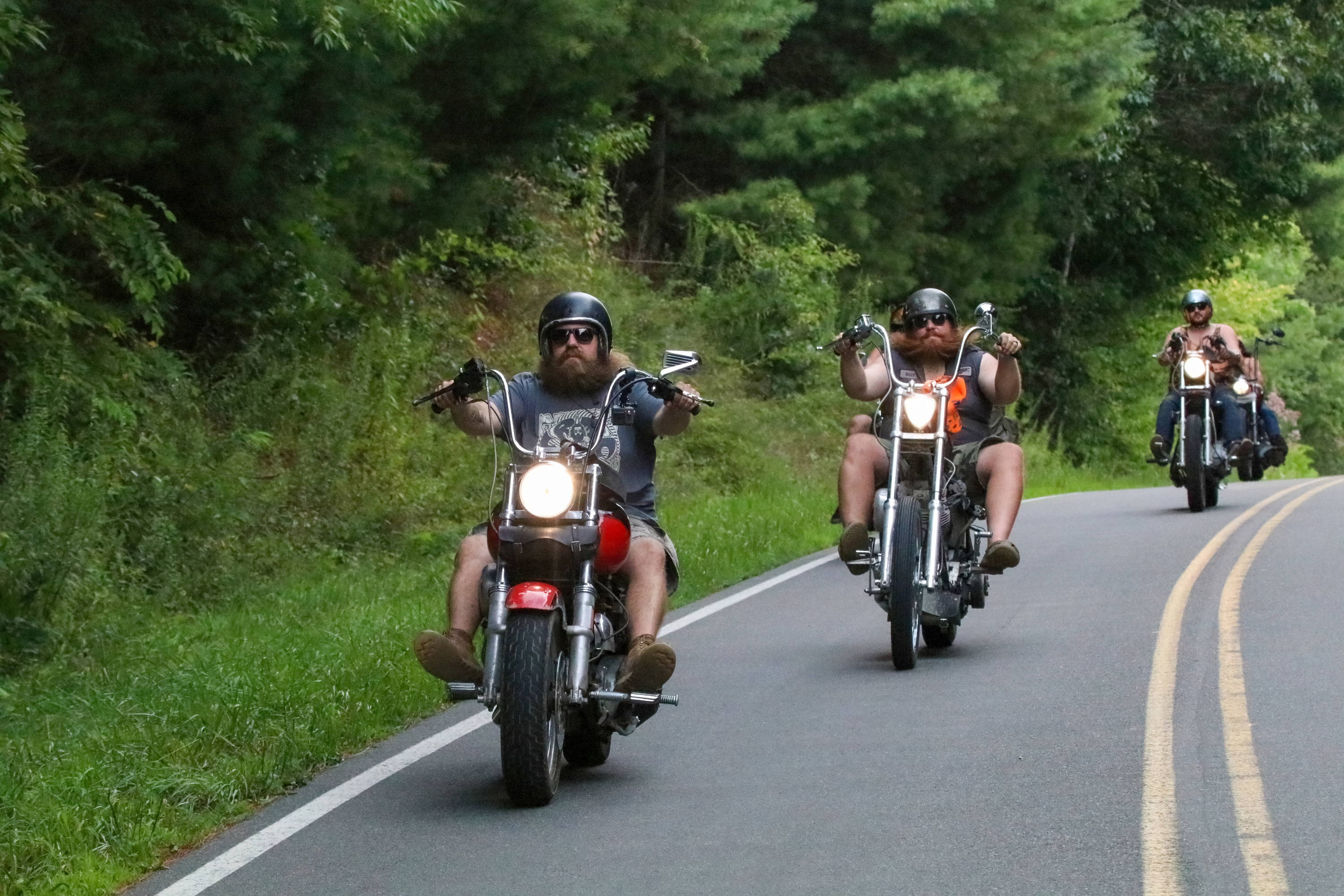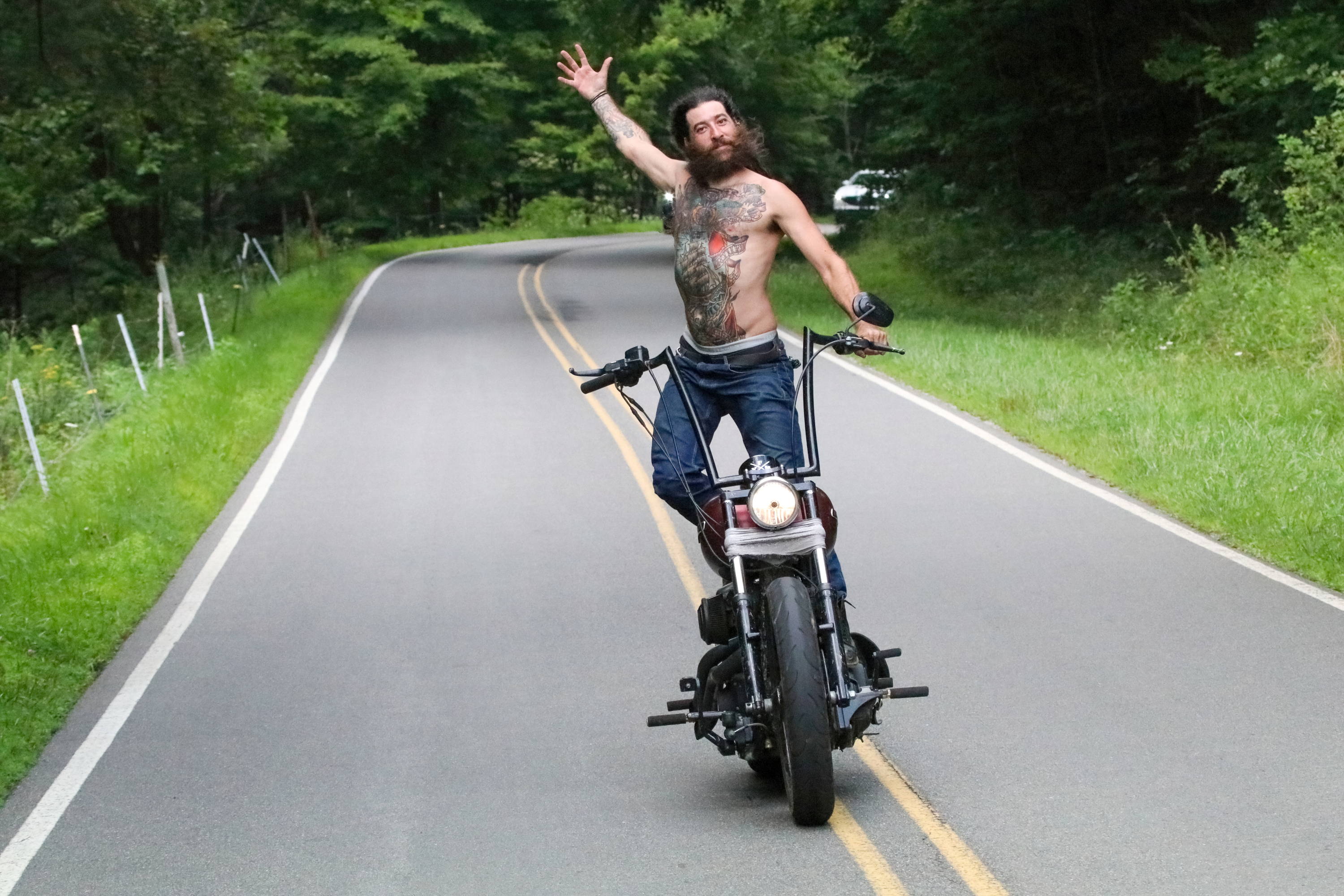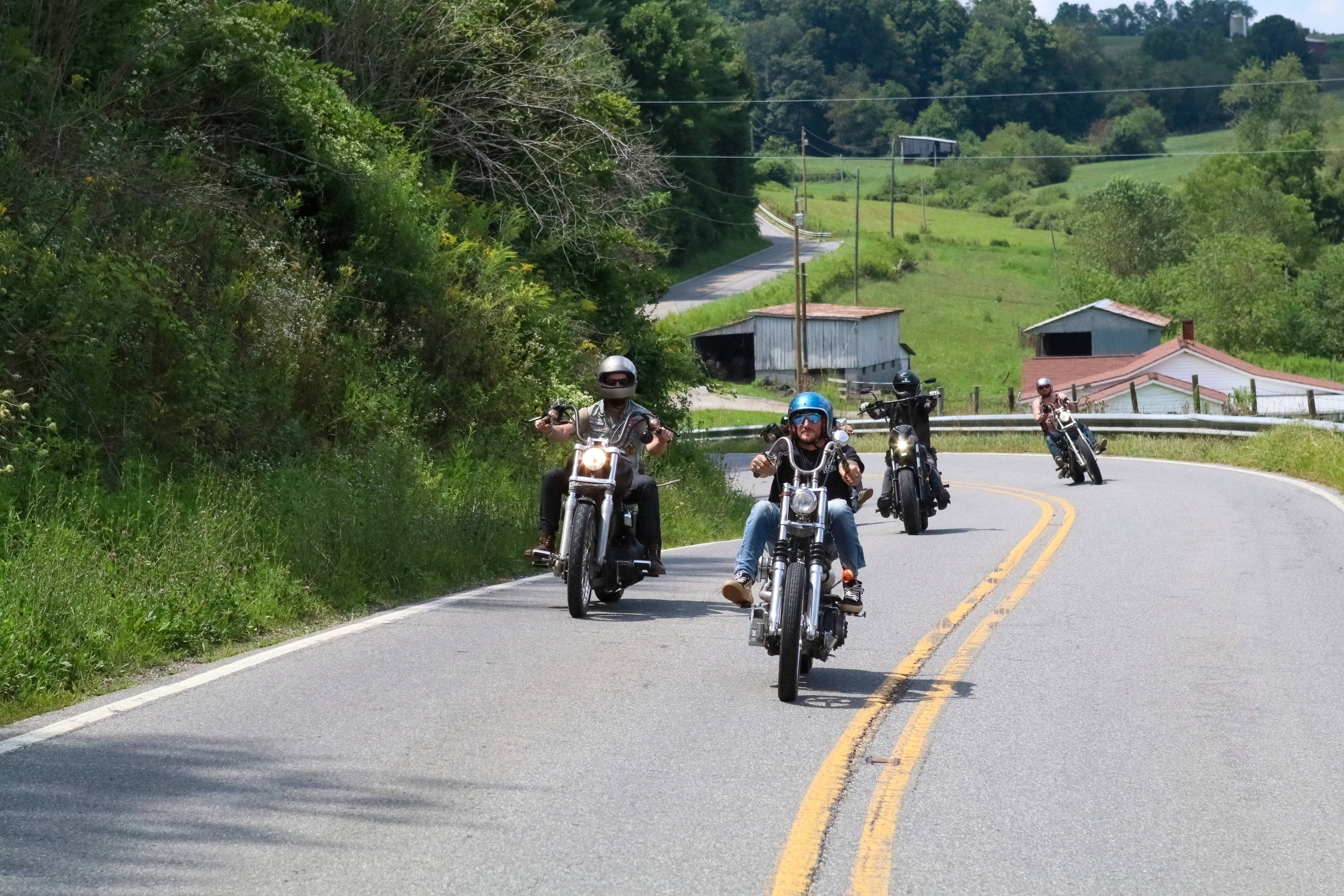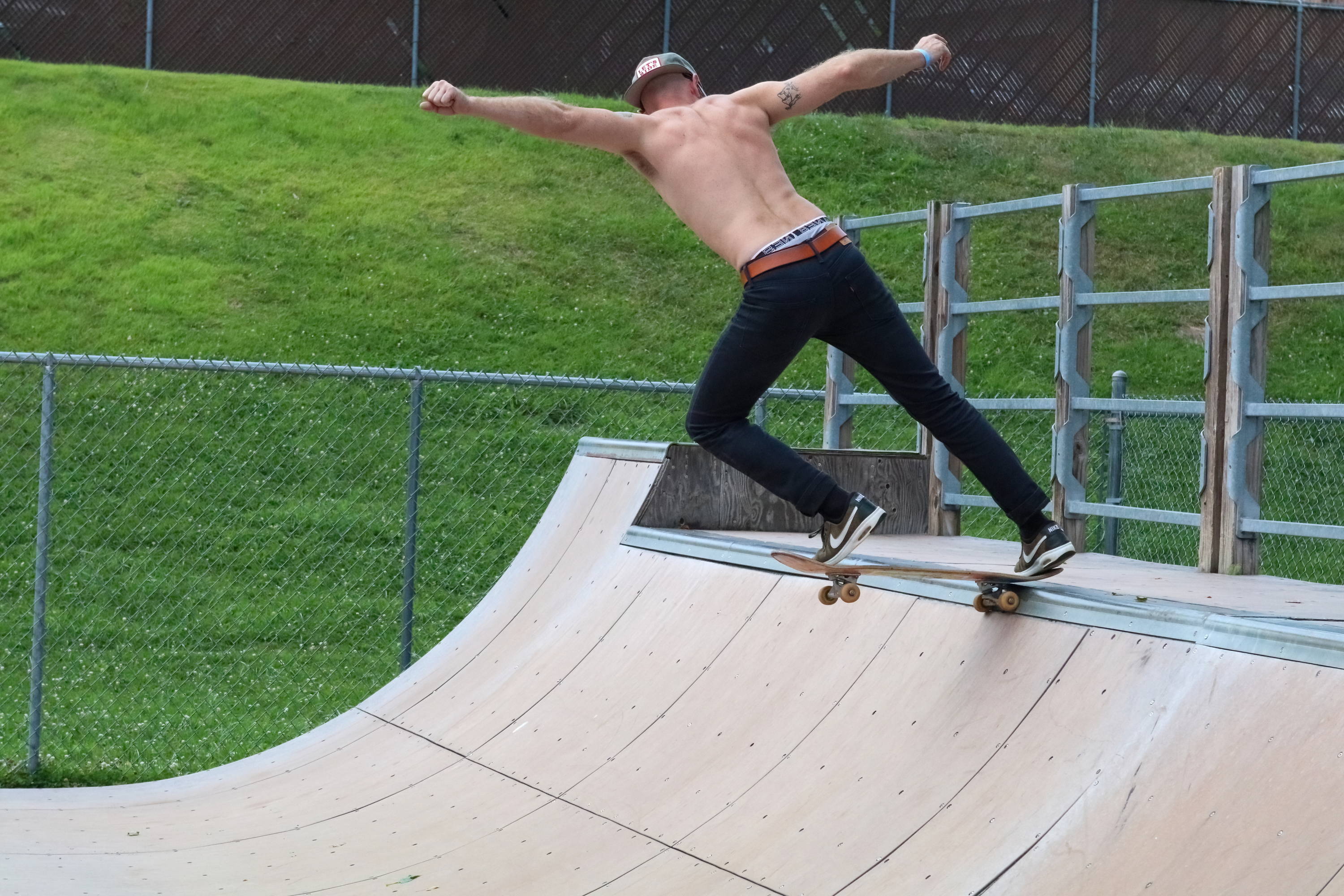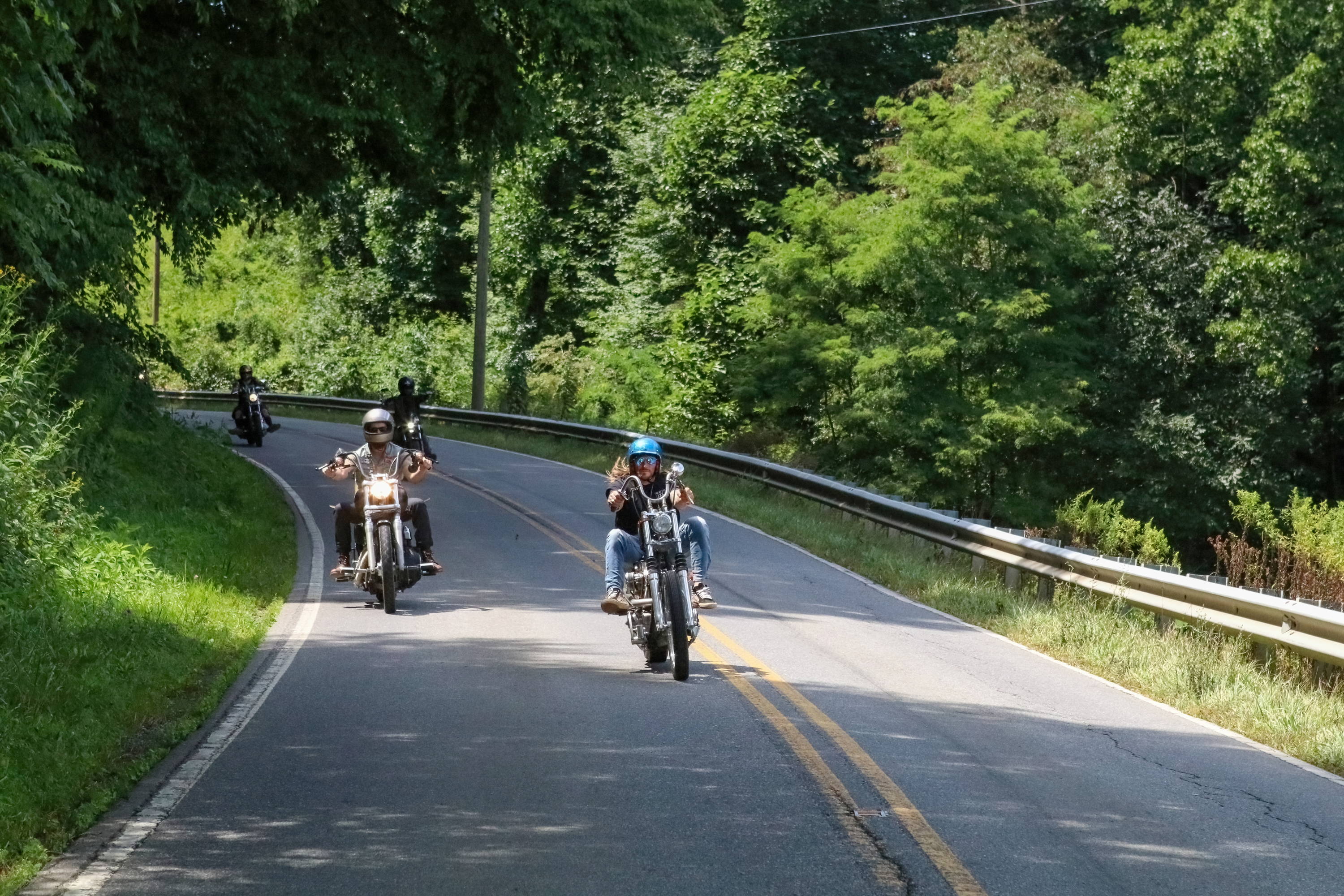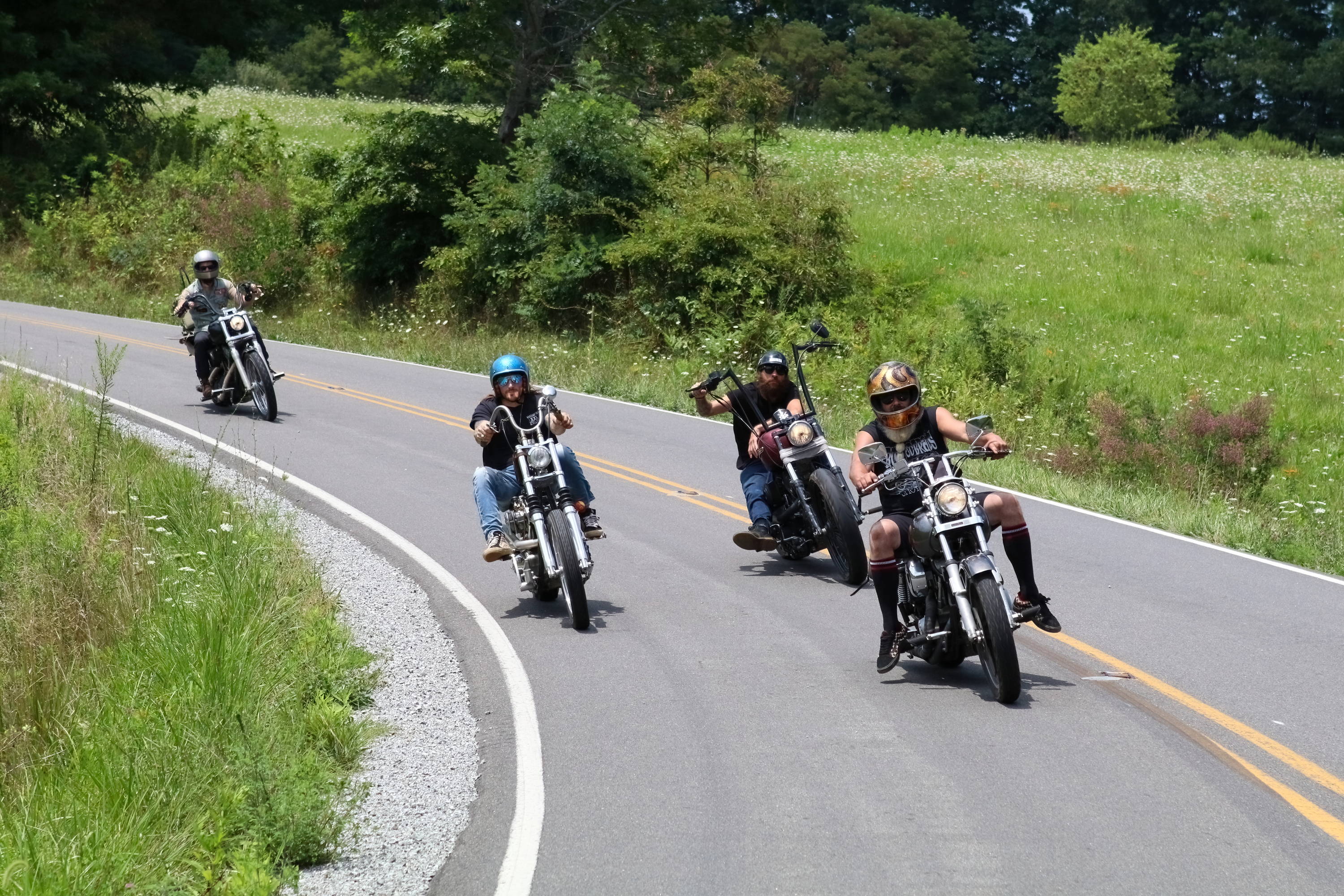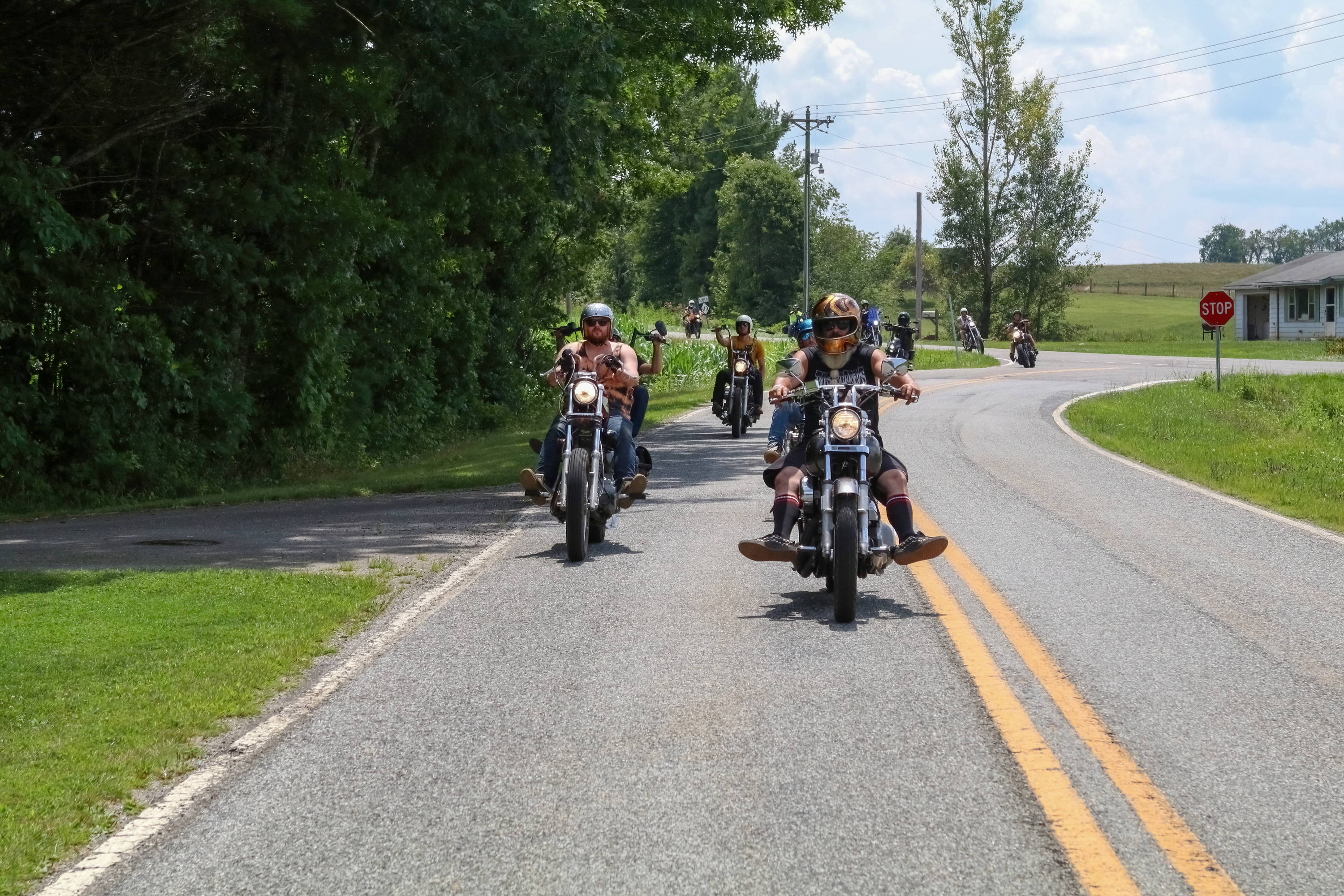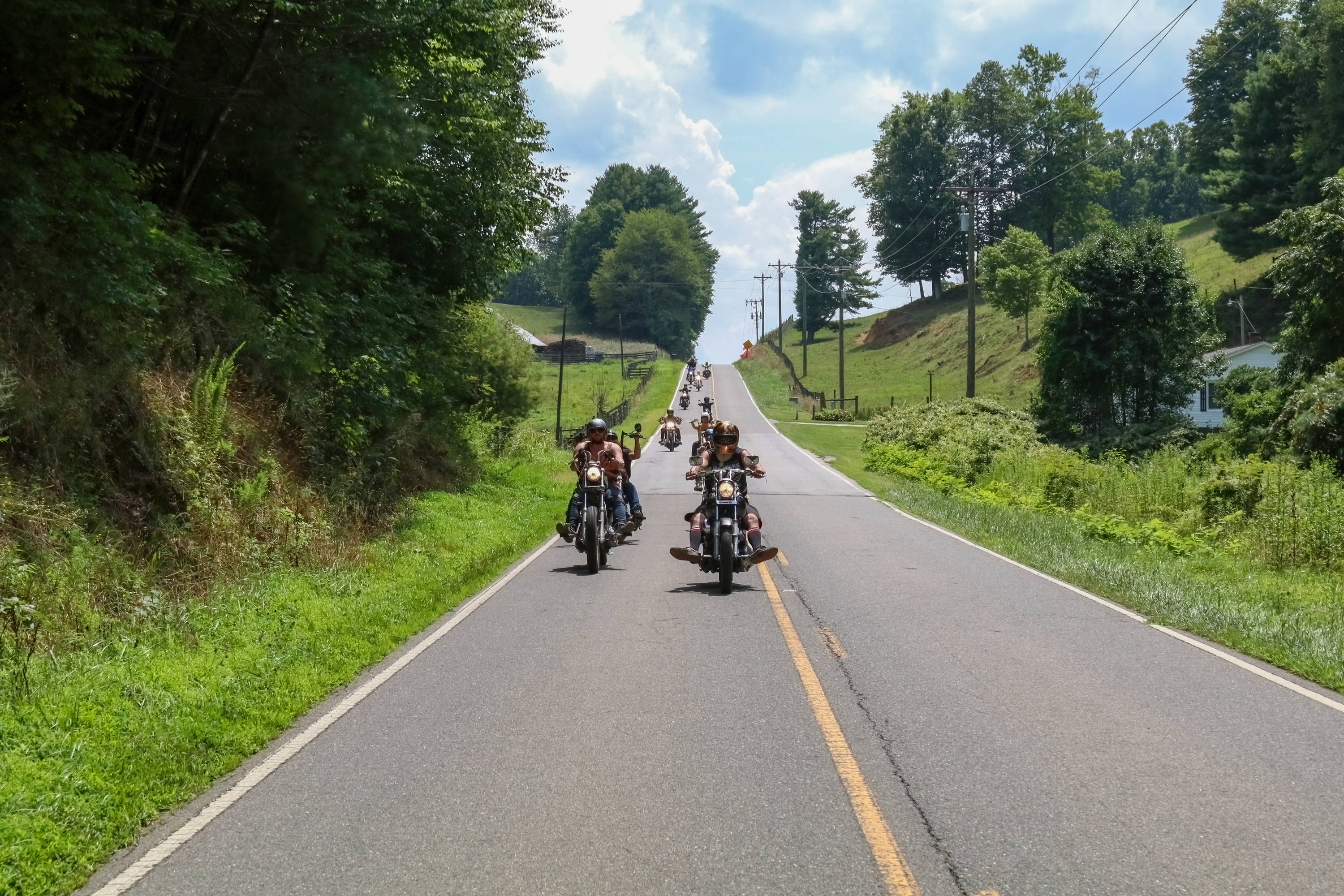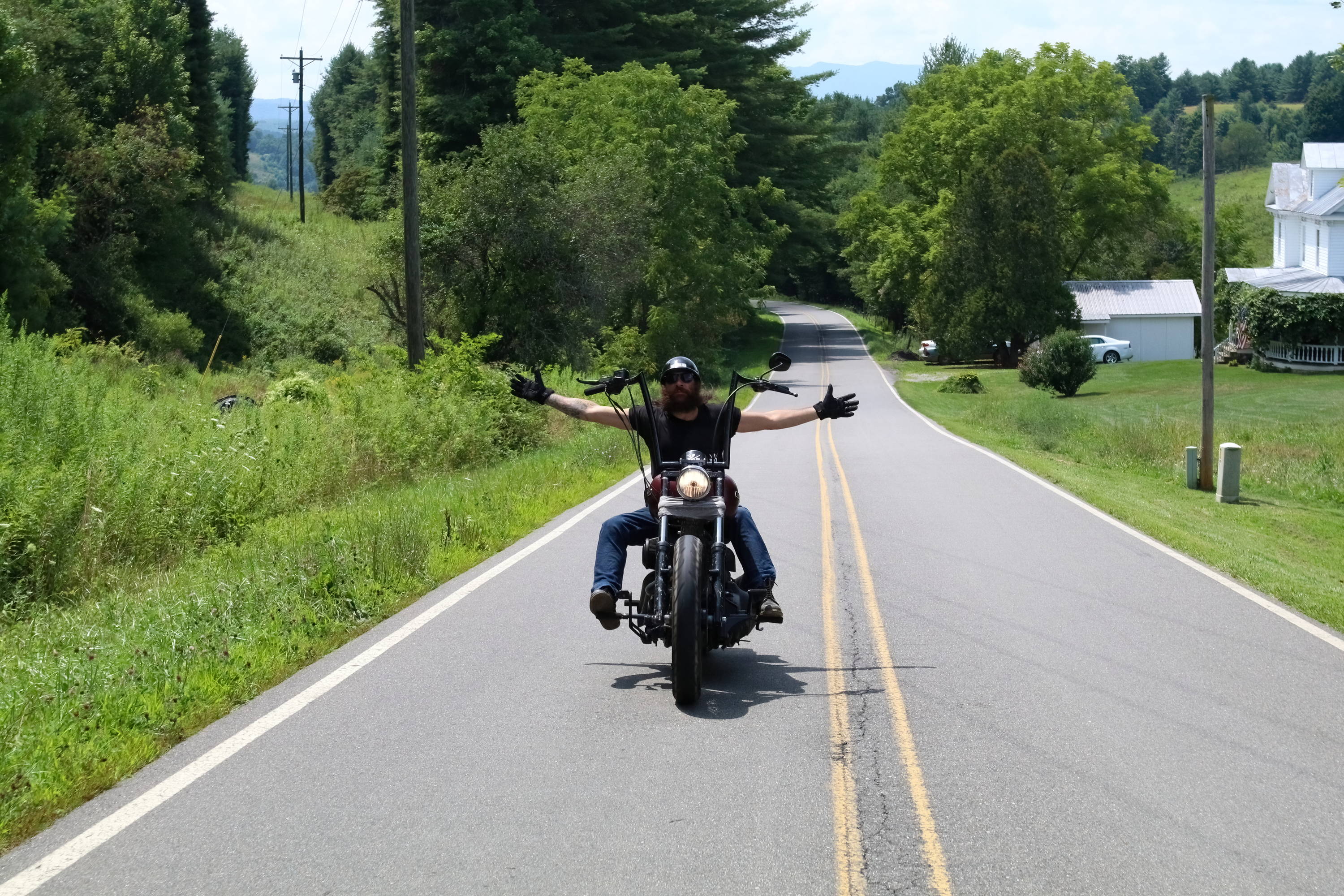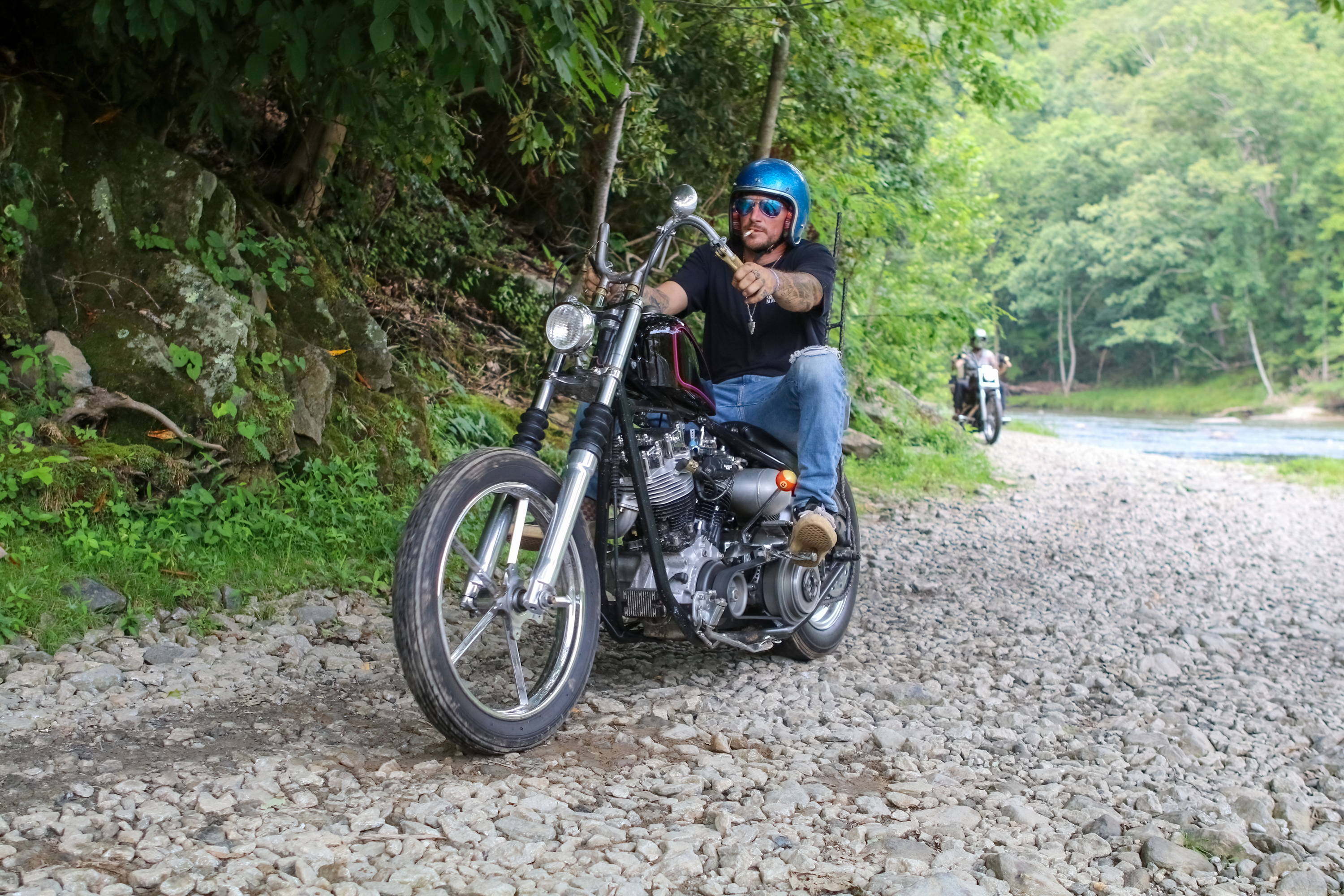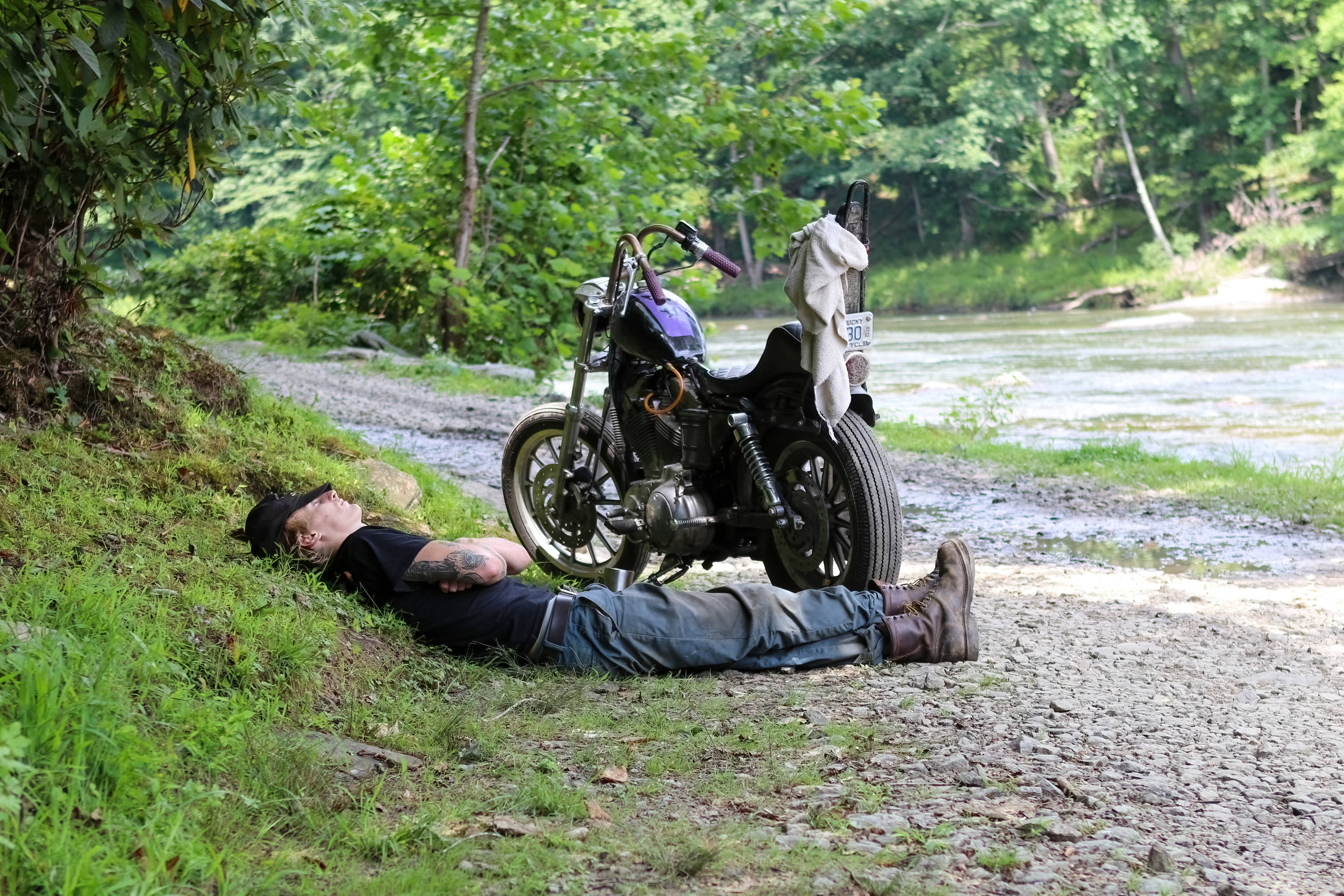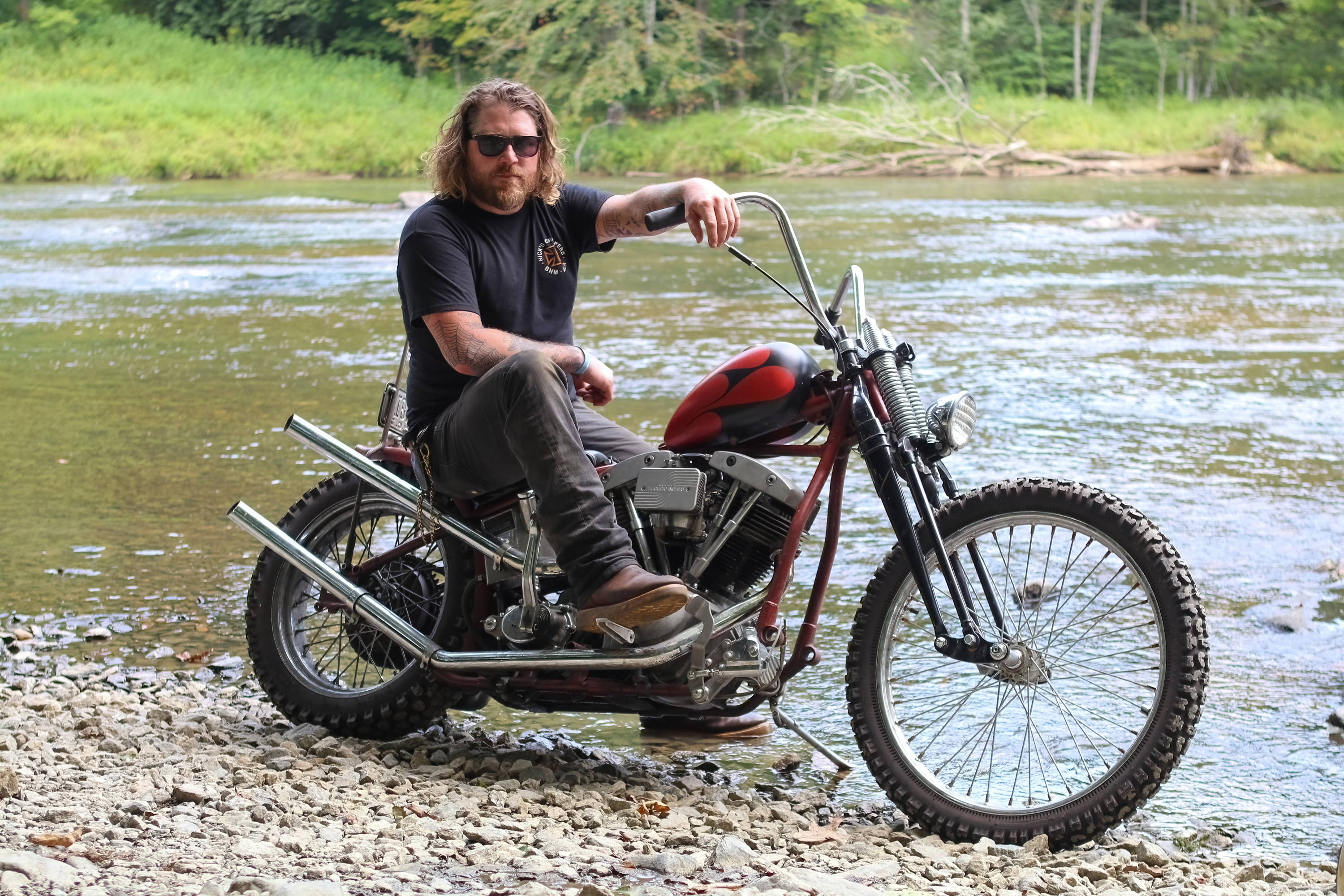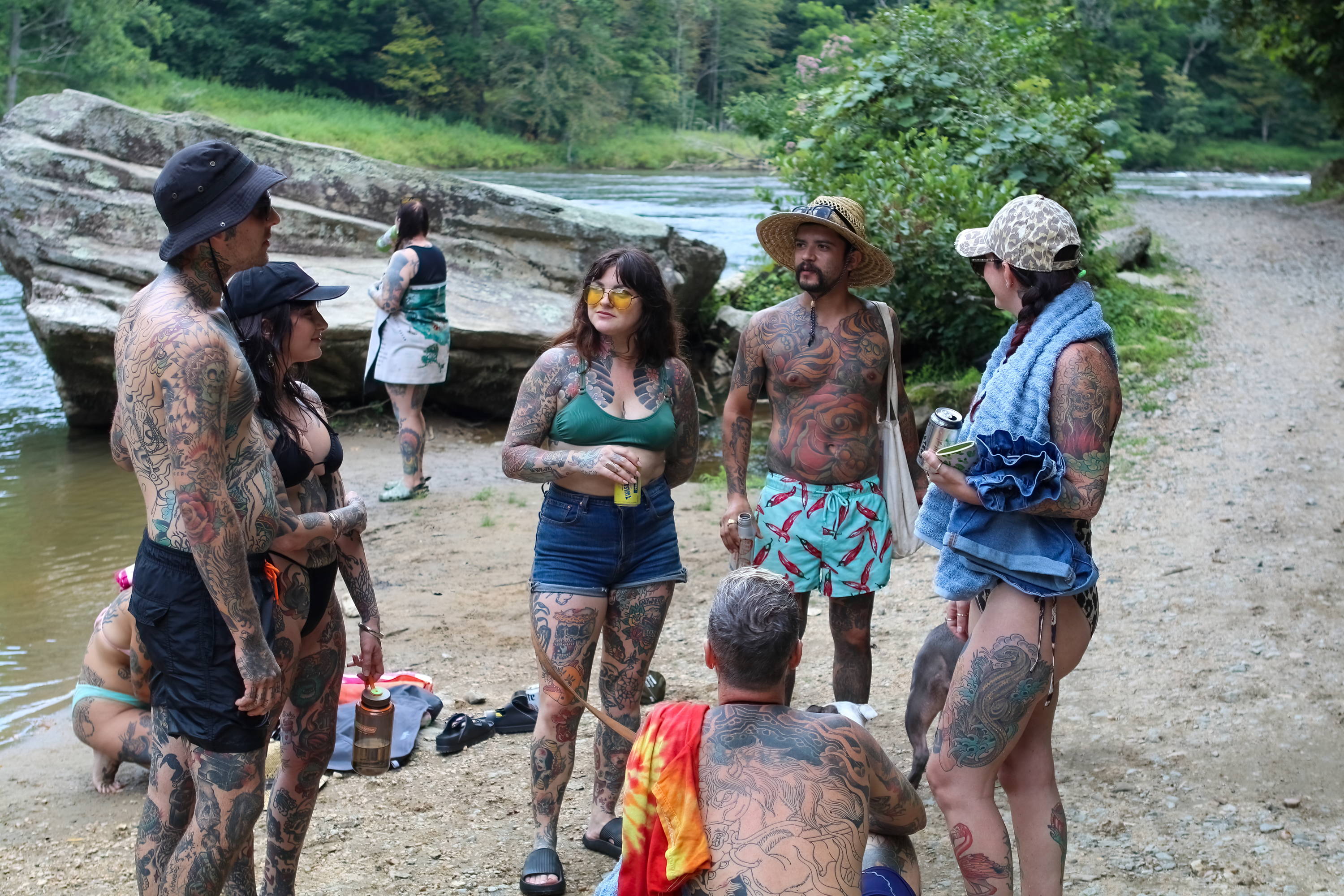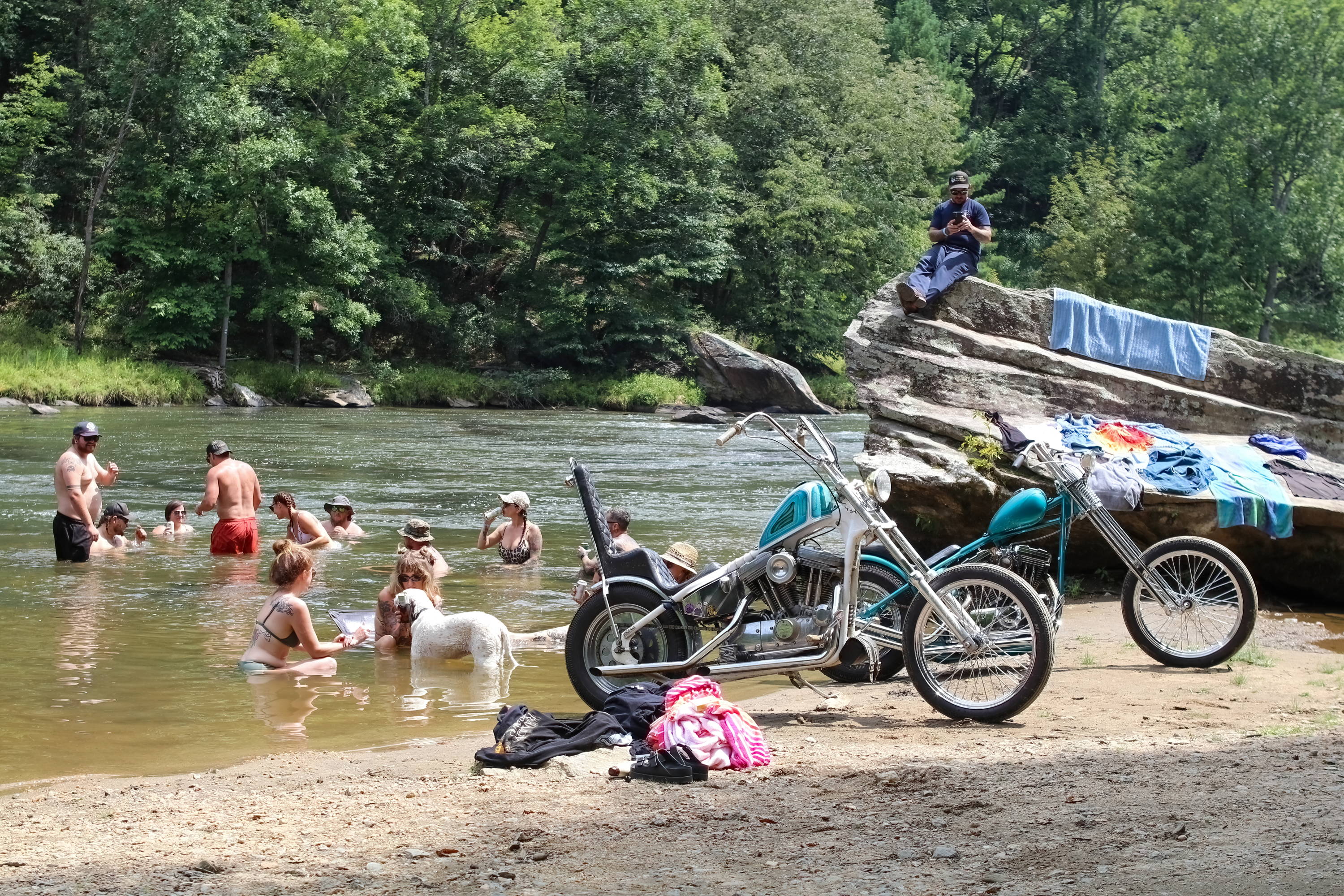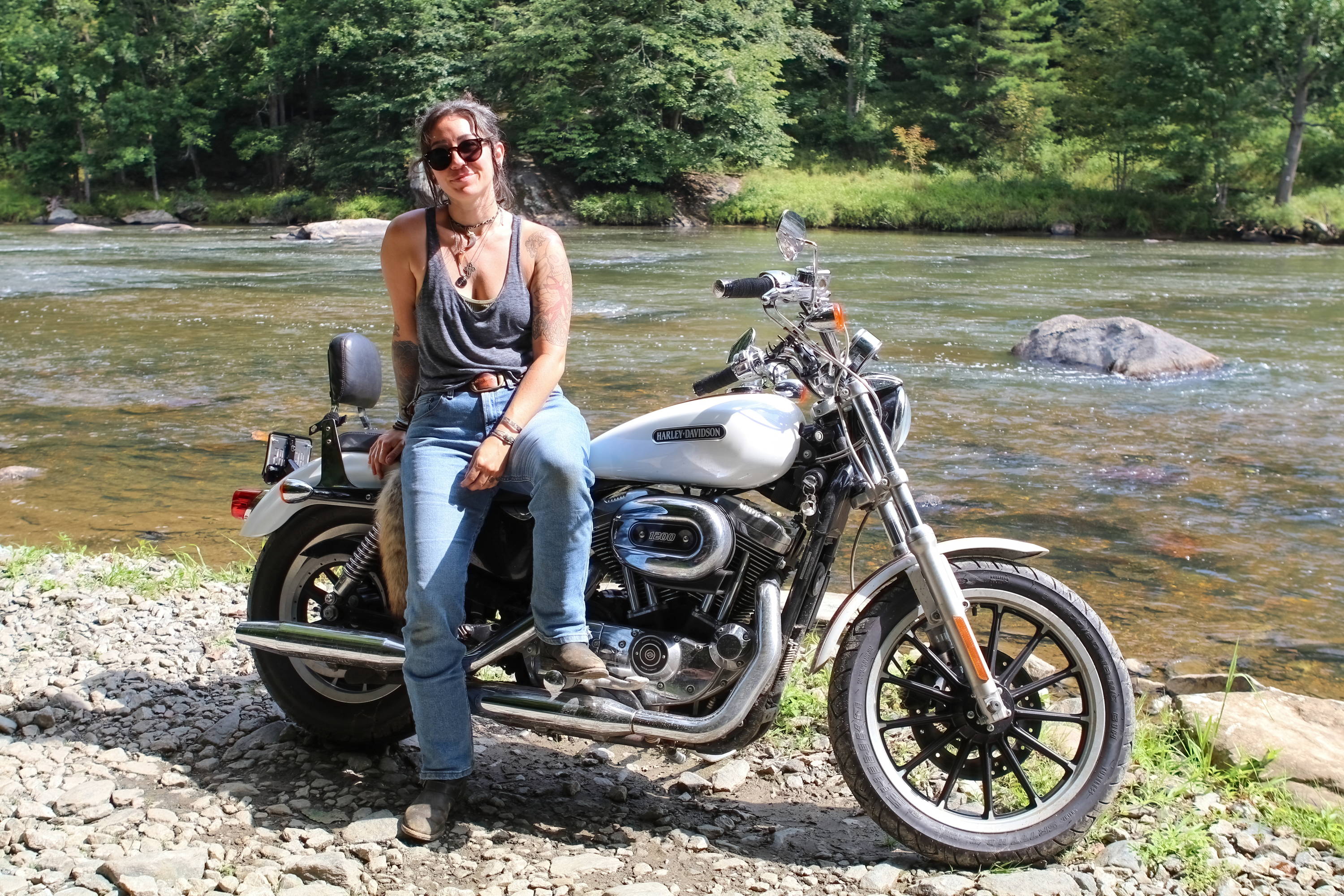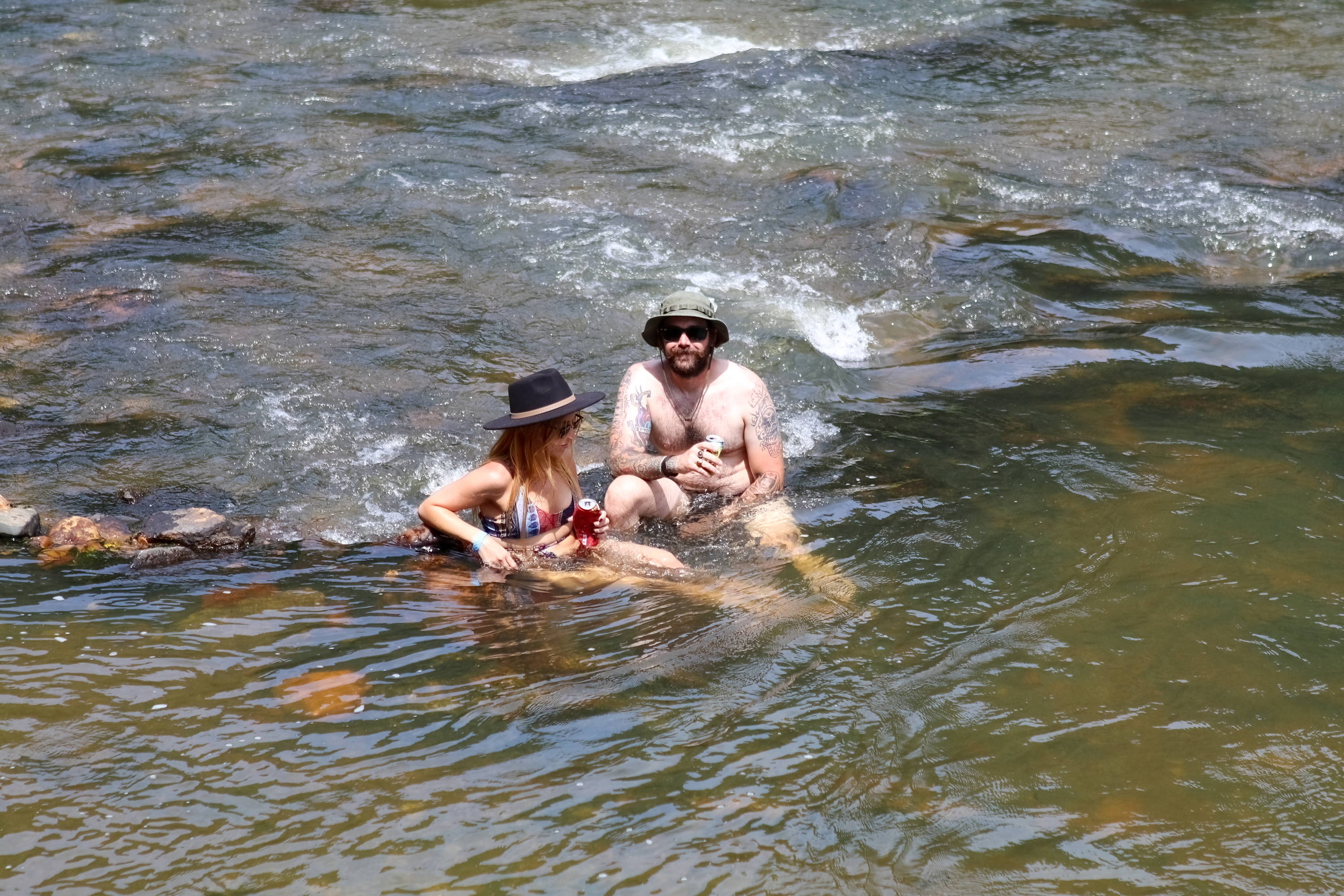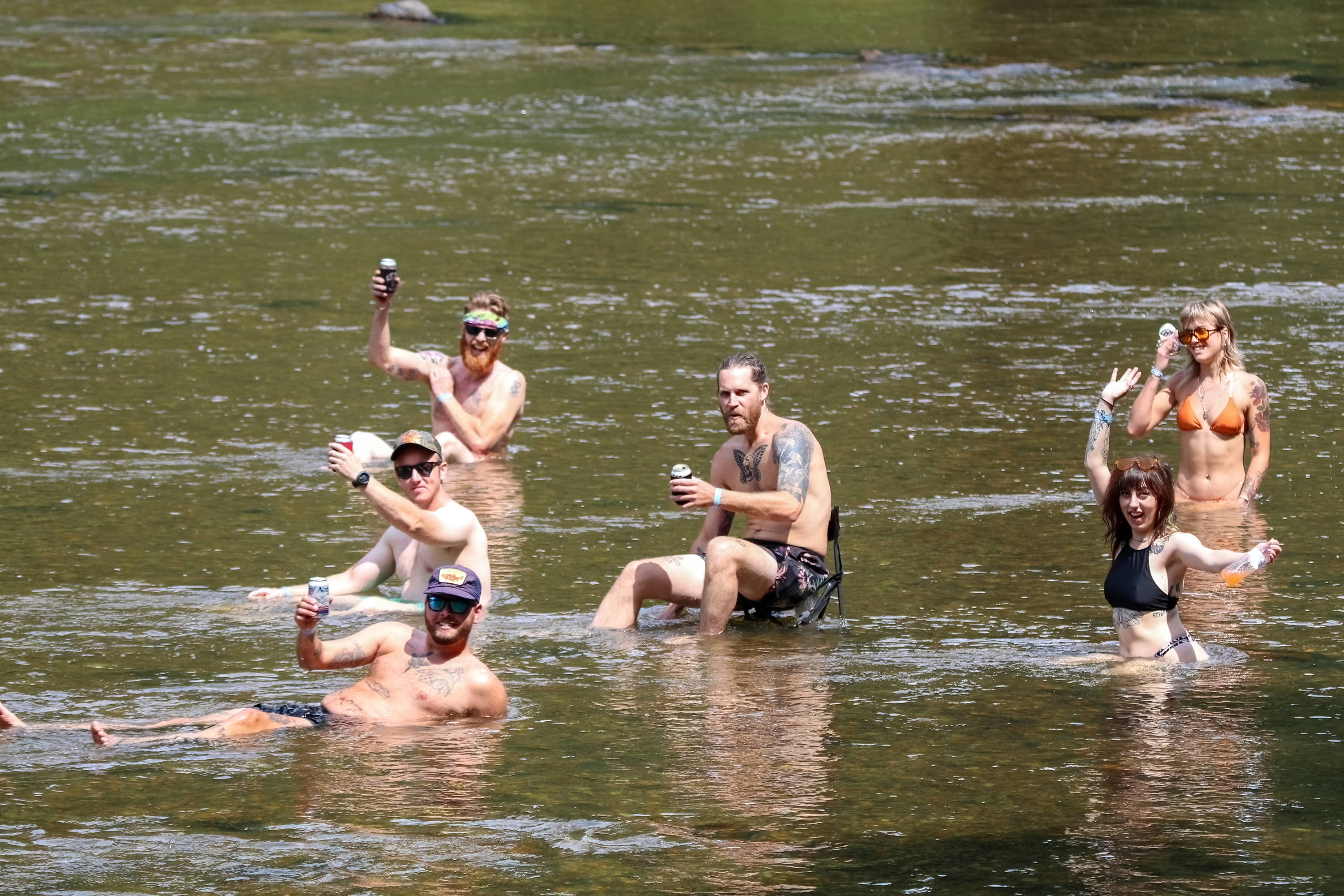 ---
Saturday afternoon brought with it a little rain, but nobody seemed to mind and everyone just slogged through the rain and the mud to find spots to hang out in vans or under pop-up shelters.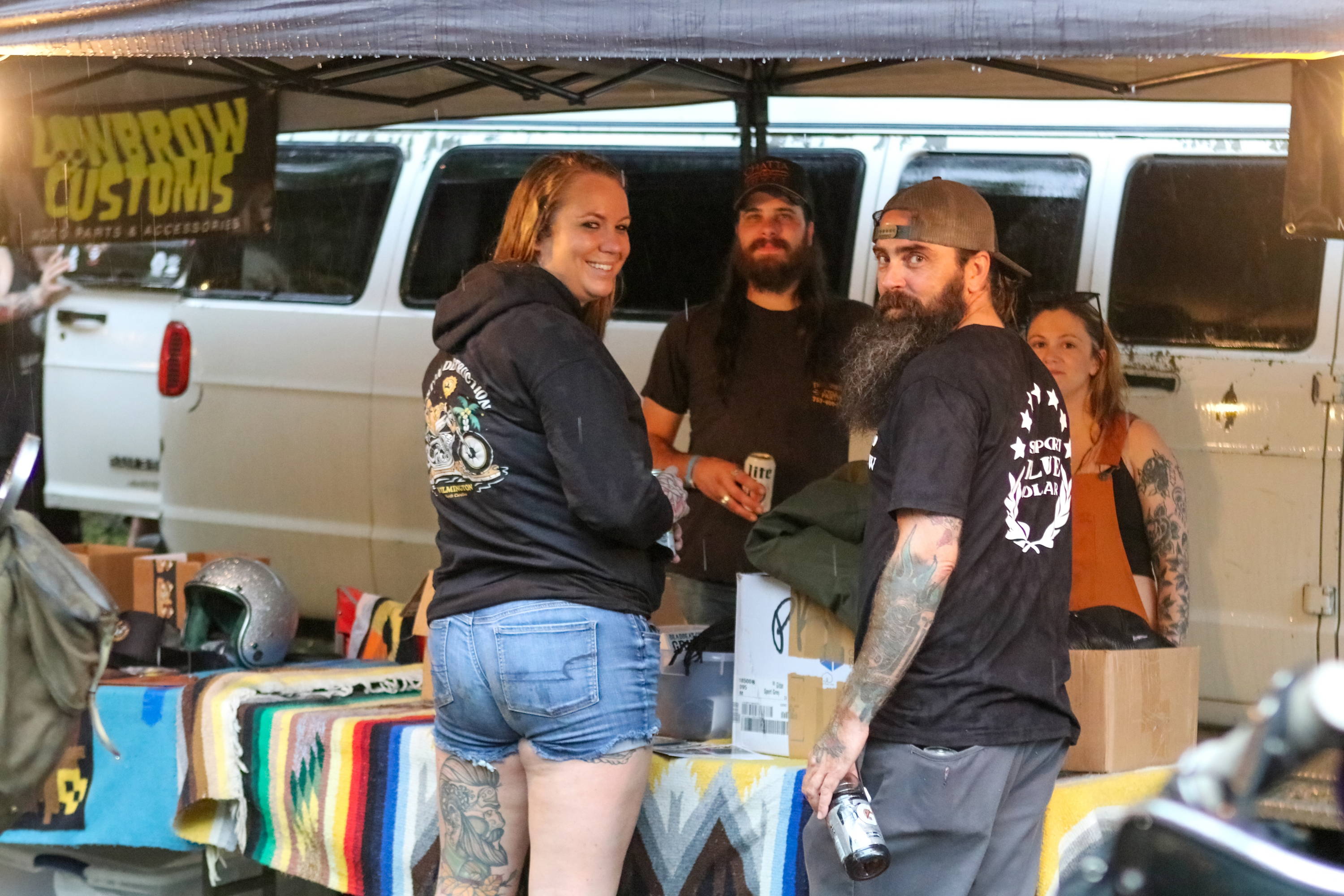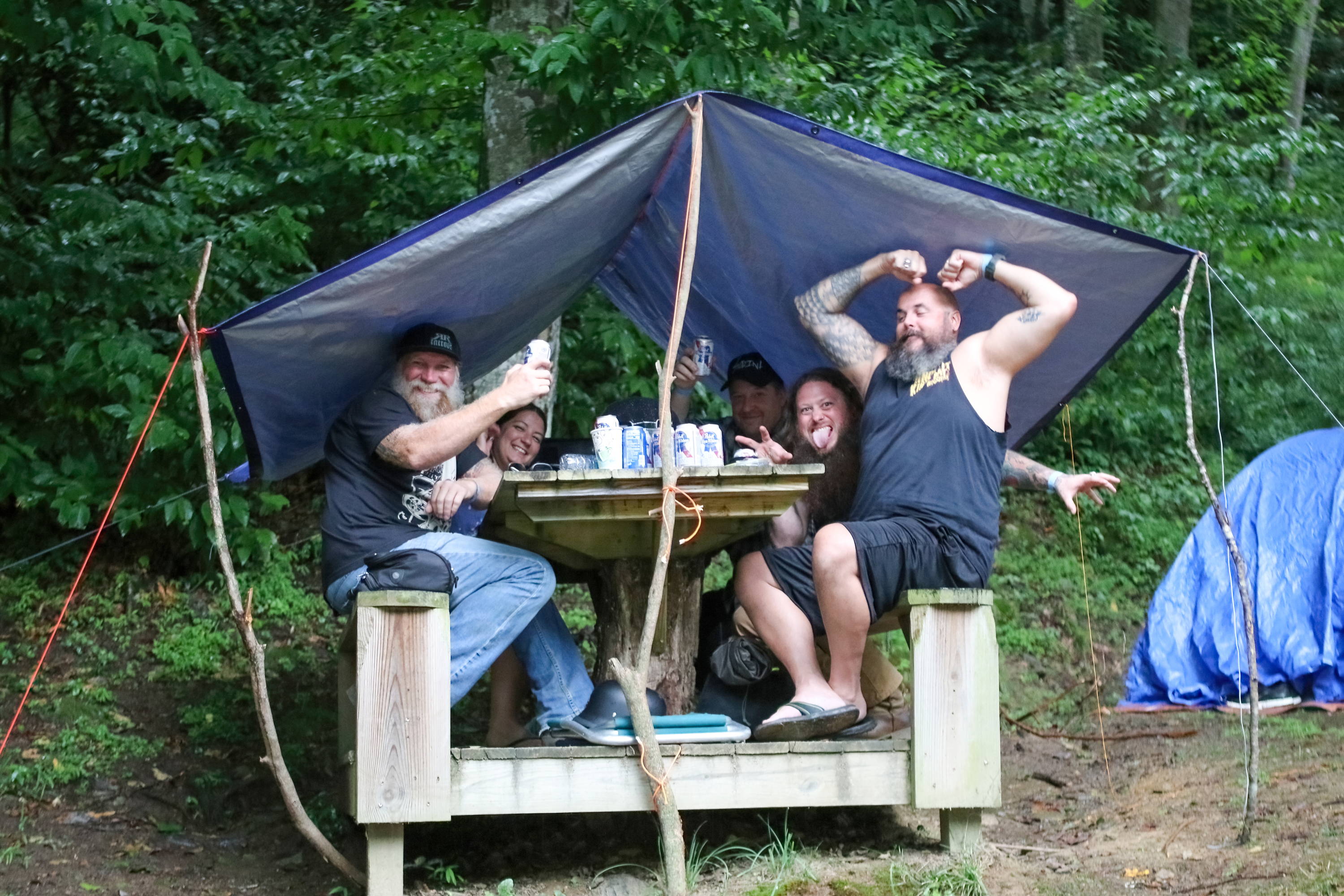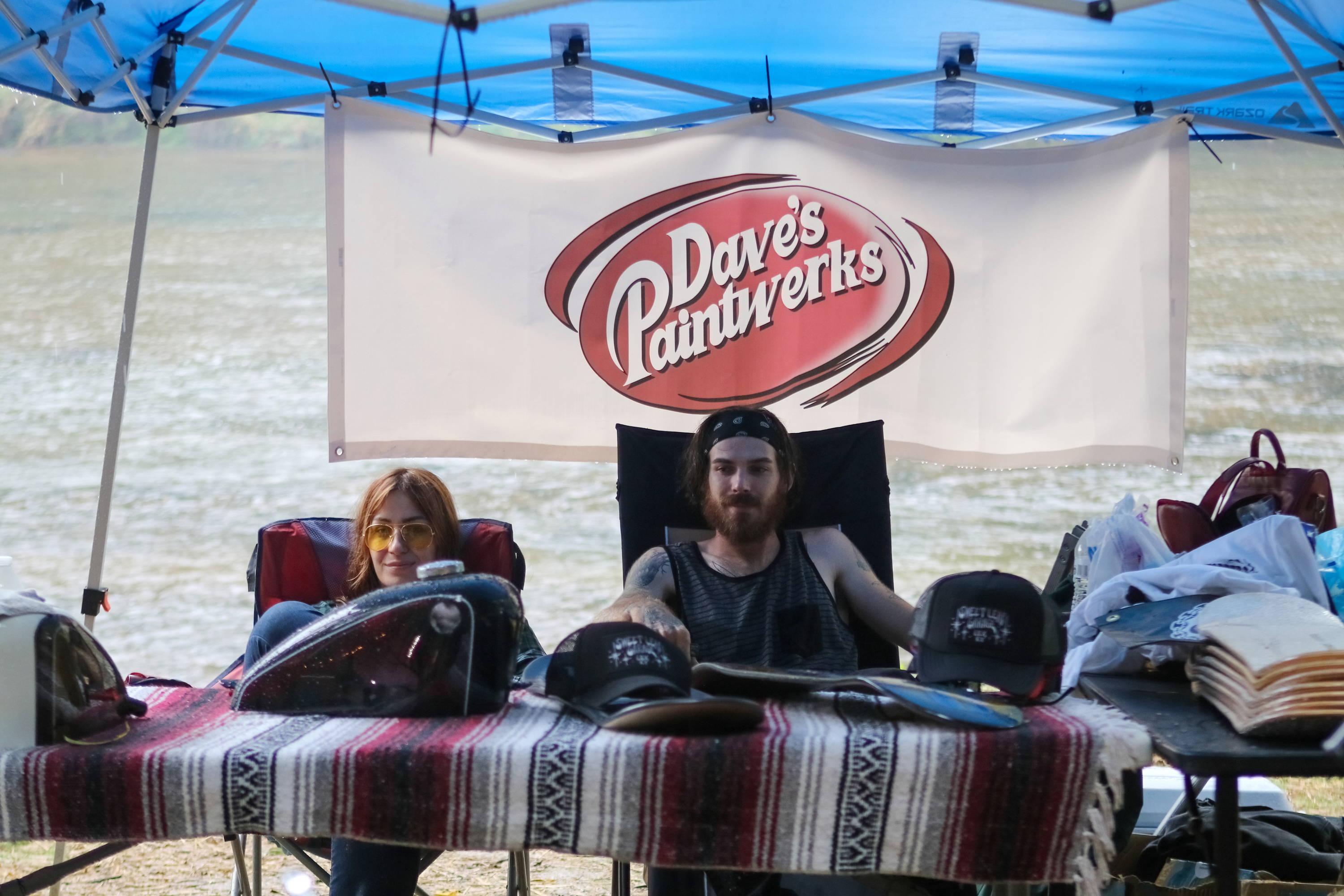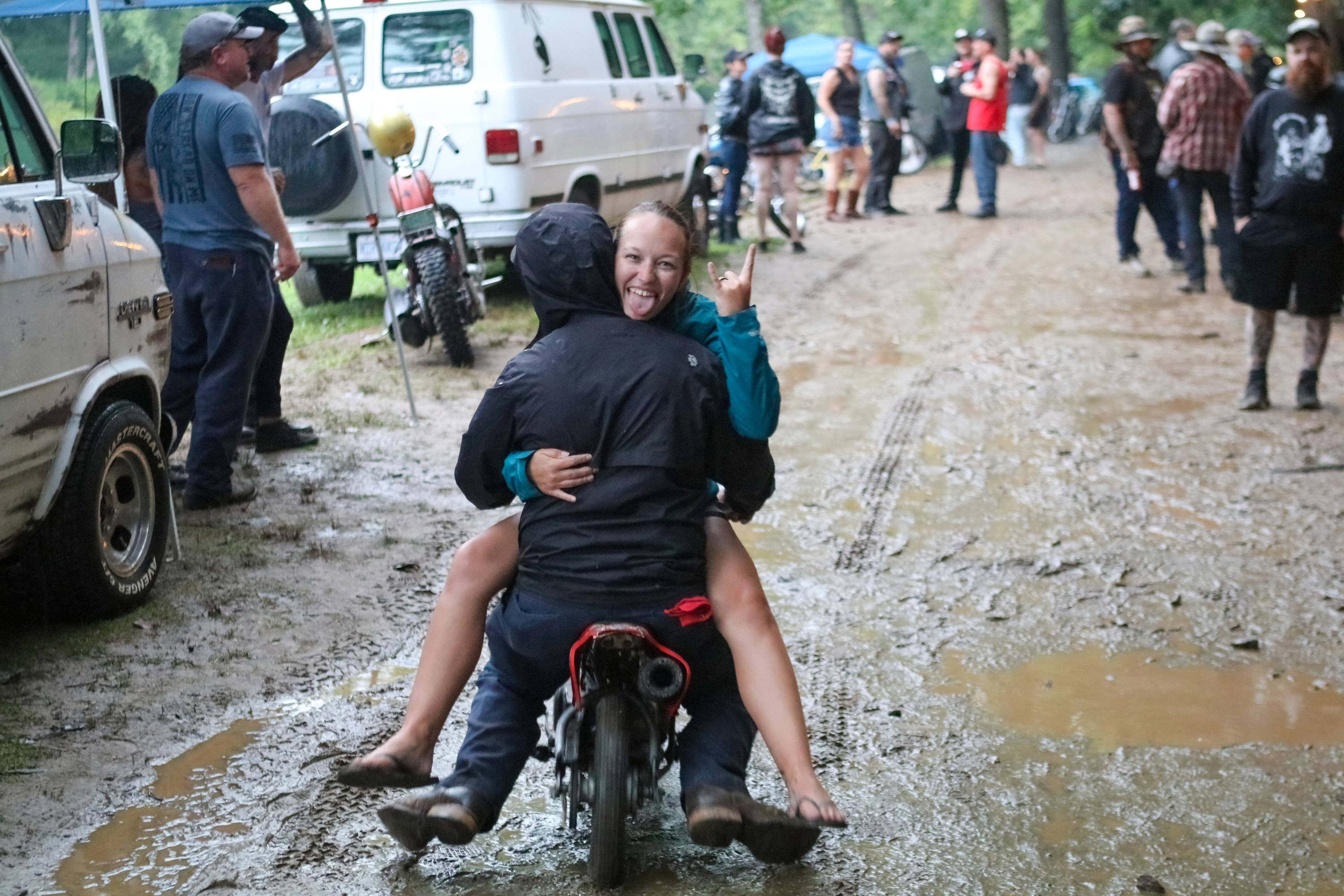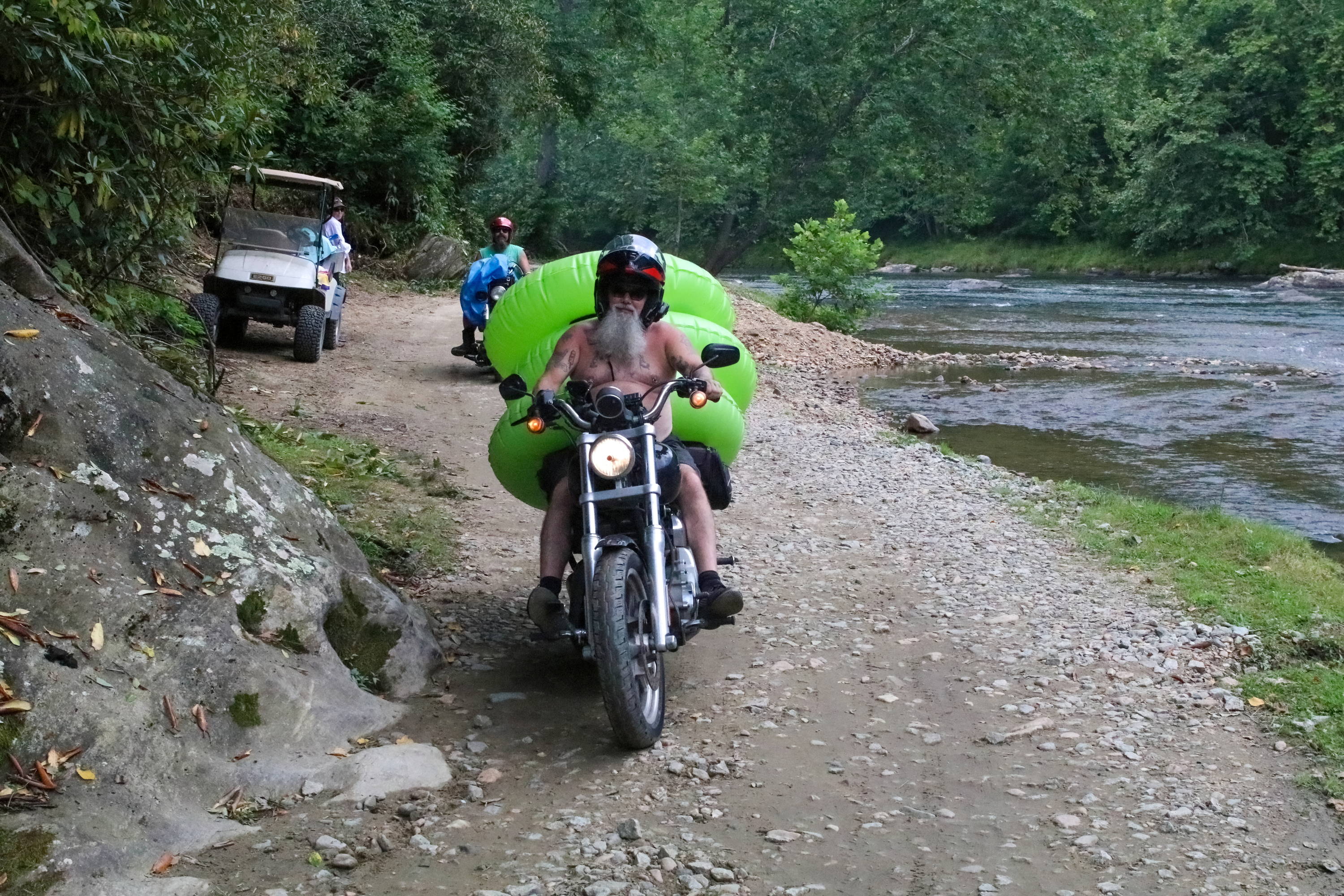 Once the clouds cleared out, people crowded around the Rave Cave for the raffle. As always, a ton of great prizes were given out and industry leaders like Deadbeat Customs stepped up to make sure that even in a year filled with economic strife, that there would be plenty of prizes.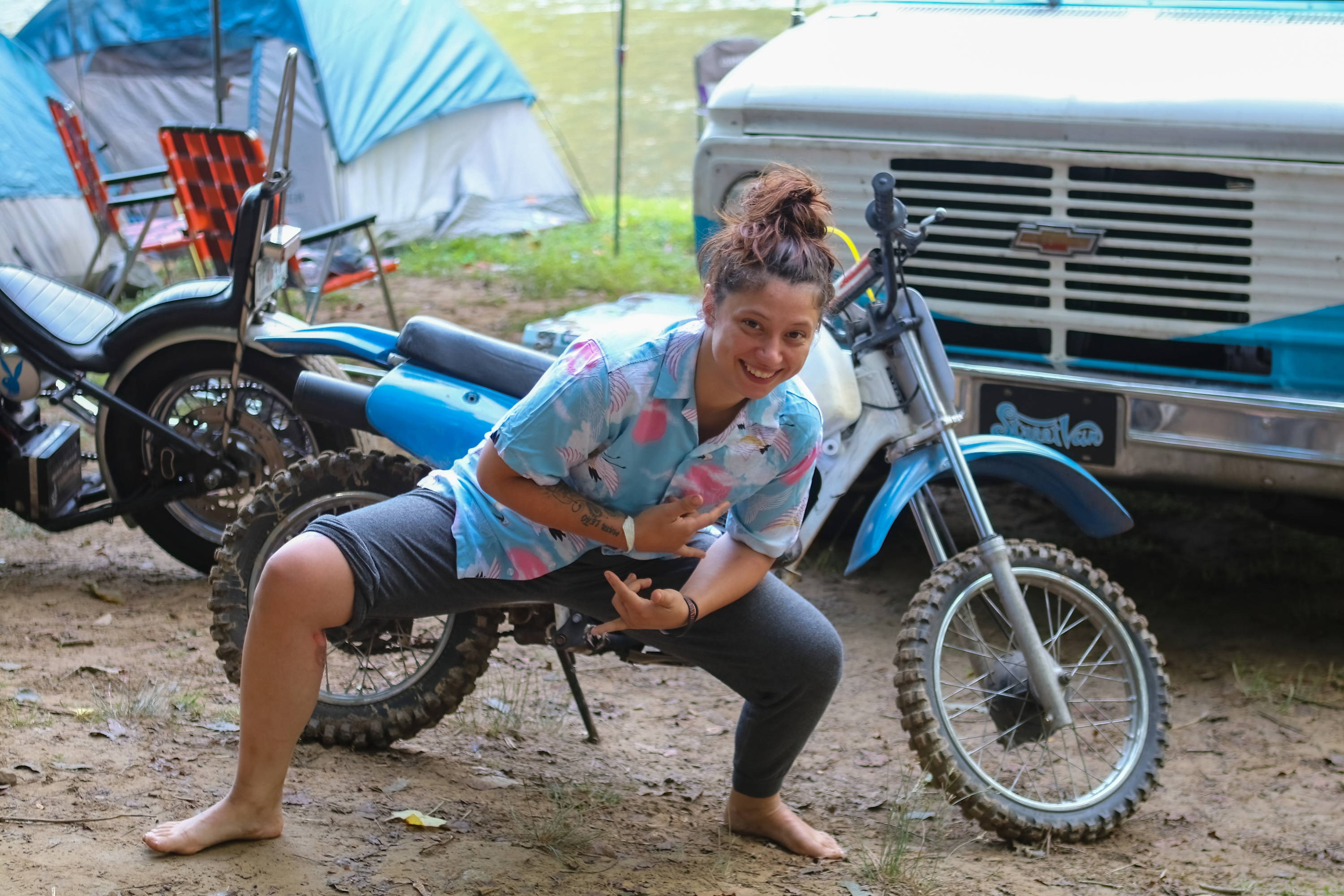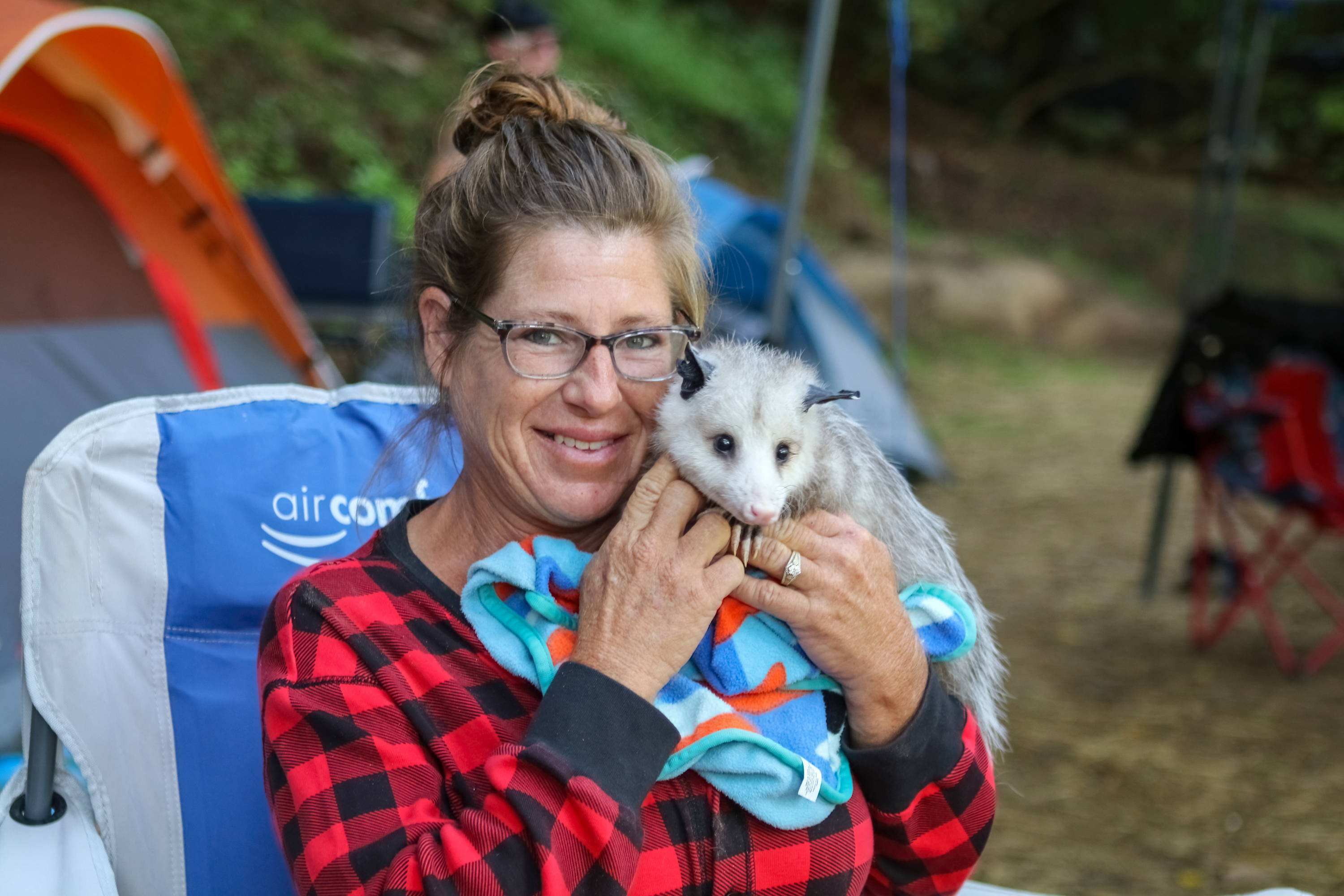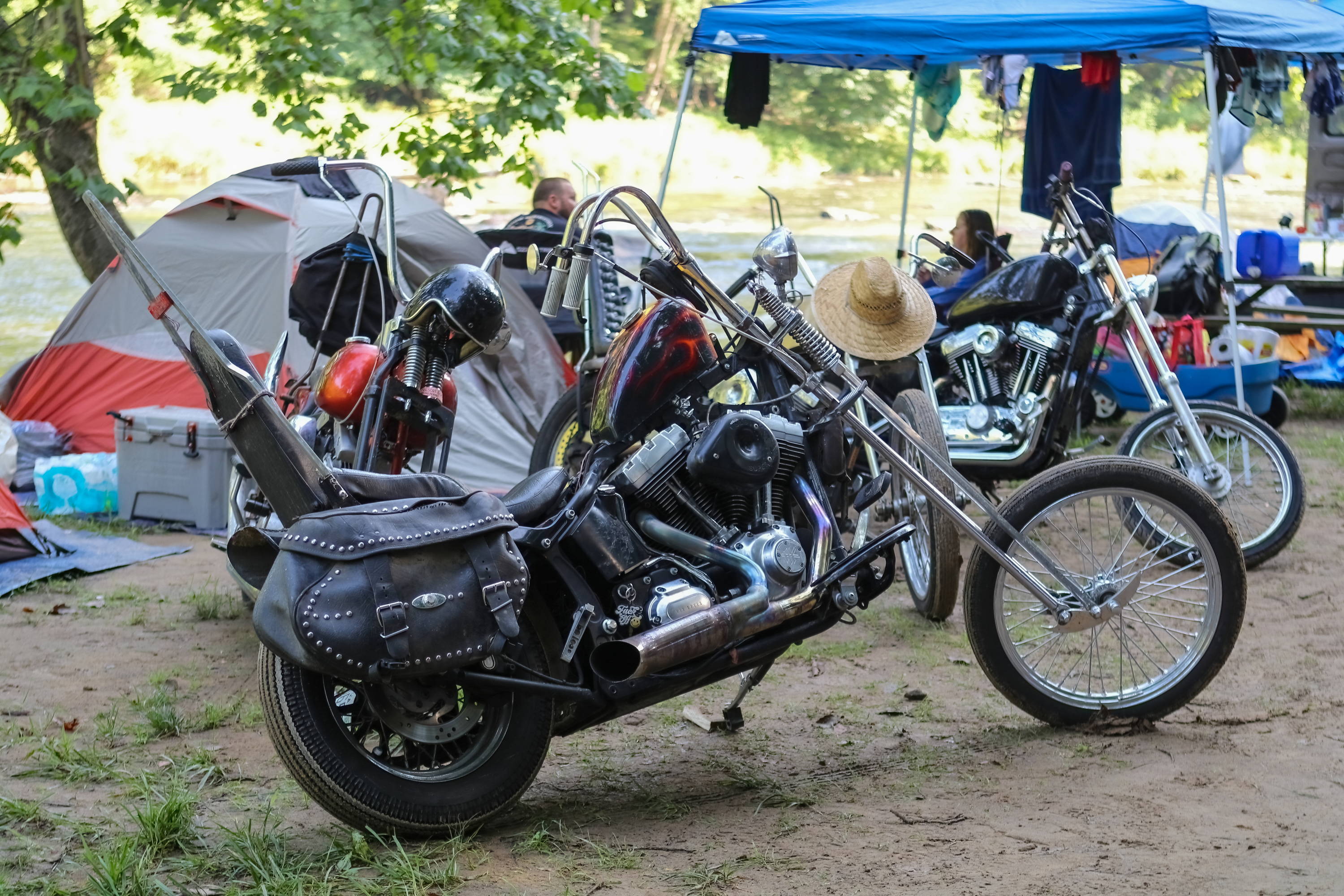 ---
Once all the prizes were handed out, the party ratcheted up a notch as the Rave Cave came back to life and the heavy metal music started echoing off the cliffside. Then it was on to more burnouts and dice games while sporadic fireworks lit up the night.
I think the party would have just rolled on until dawn, but then the generator ran out of gas and party dropped off like a primary bolt with no Loctite.
---
I have to admit that Sunday morning was pretty rough. The rain had held off overnight, but no one was the drier for it with everyone trying to pack up camping gear that was still wet and dirty. Trying to coax a fully loaded chopper through the mud is a skill that not everyone had mastered by Sunday morning, and I watched quite a few bikes getting squirrelly in the mud while trying to make their way through the campground.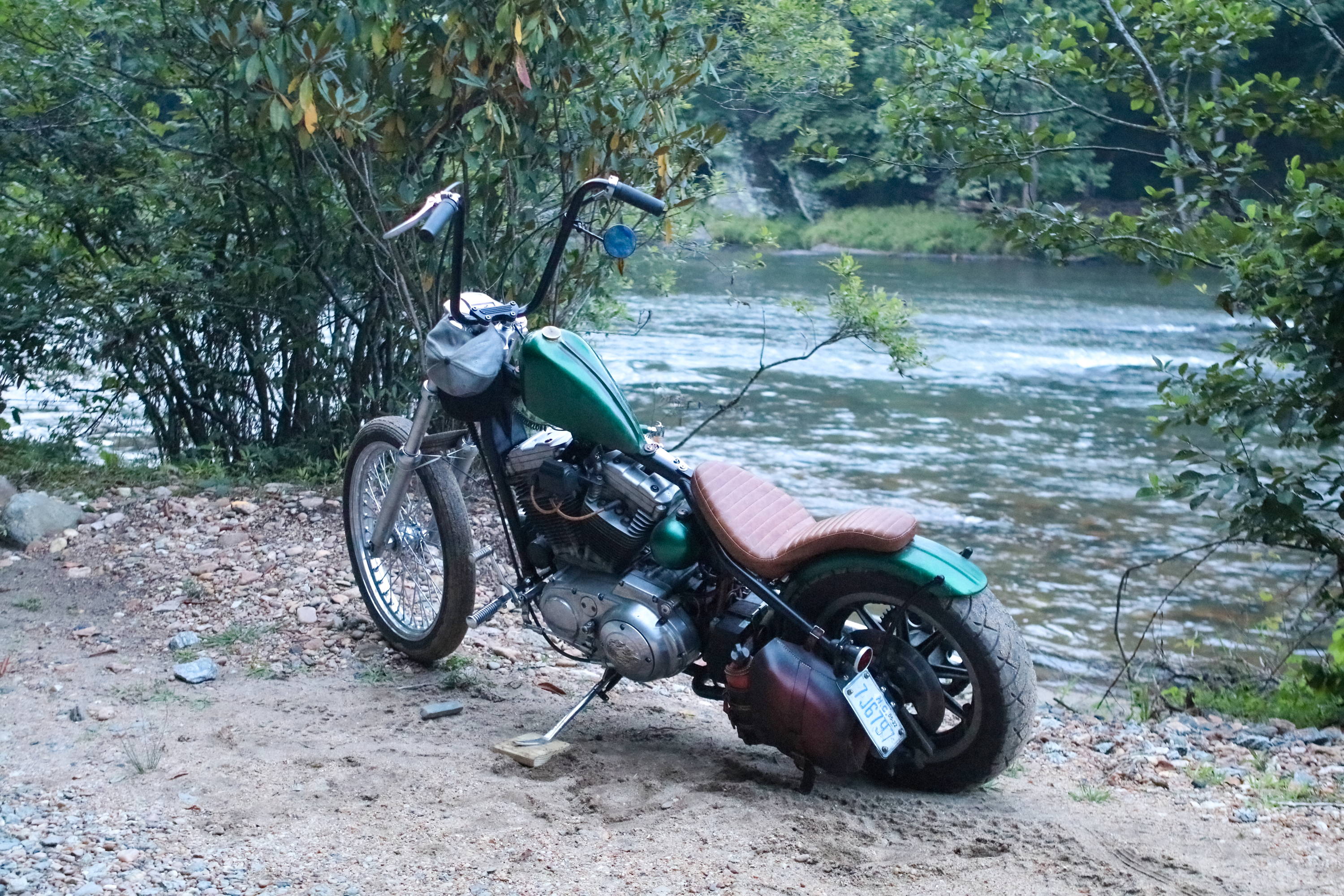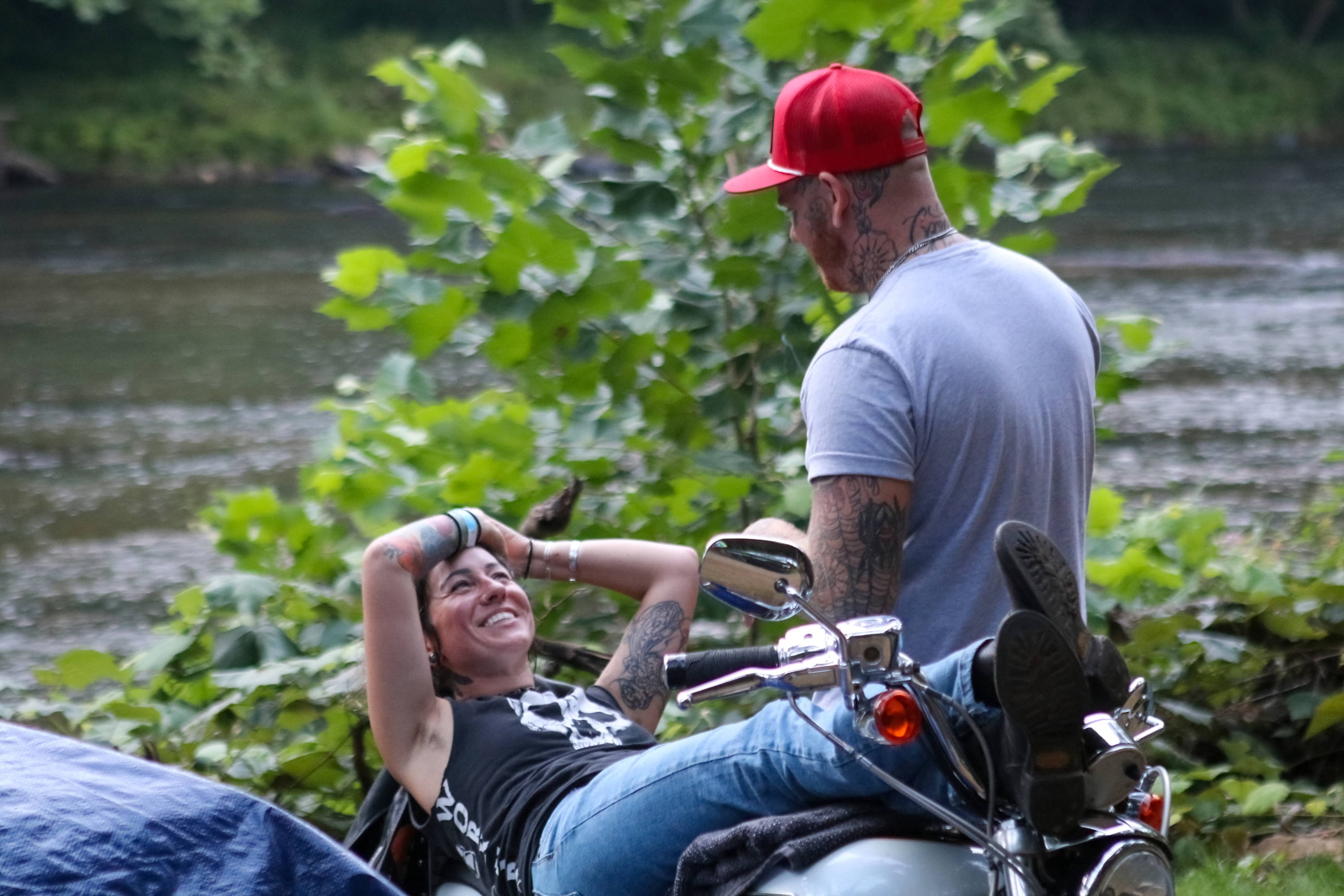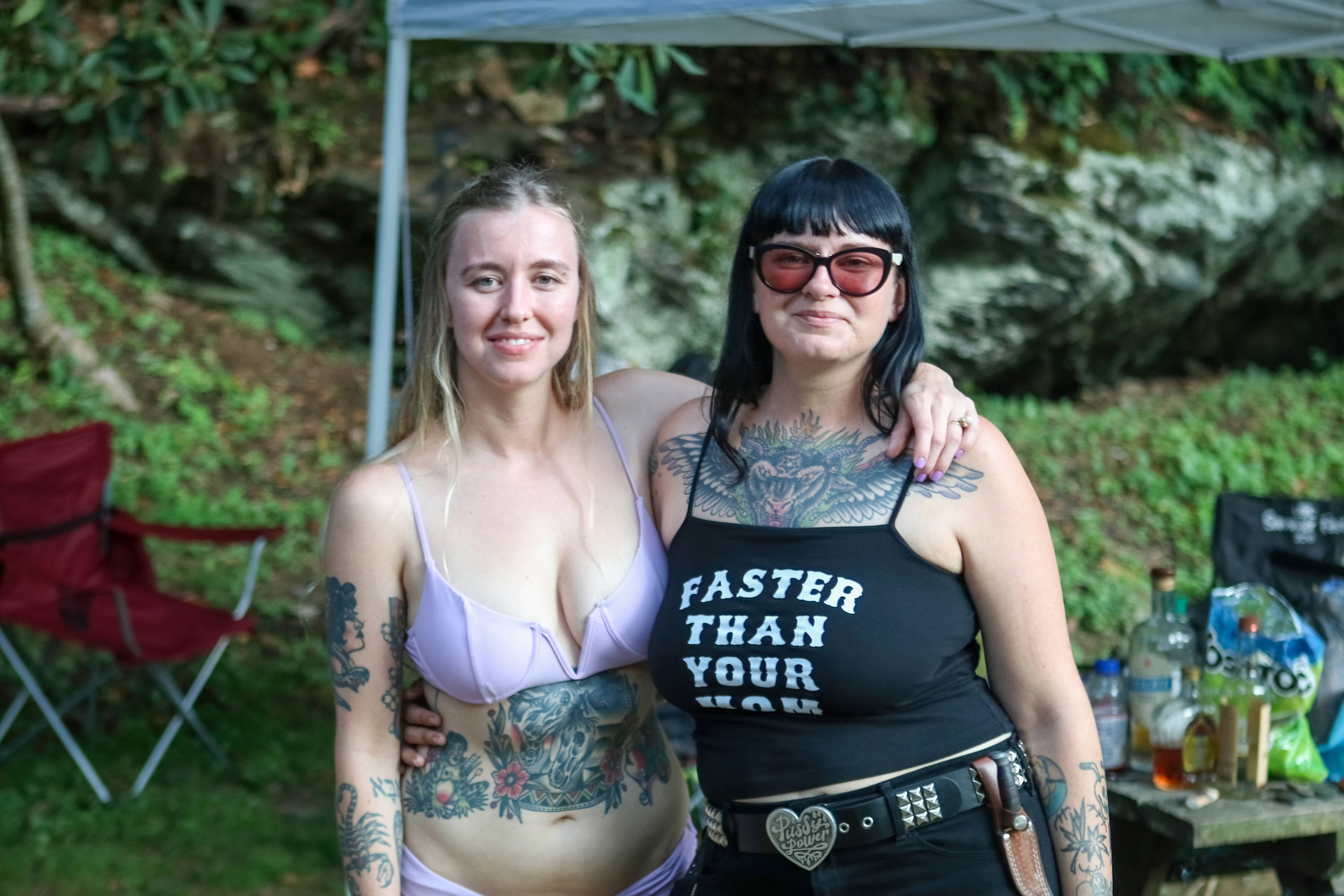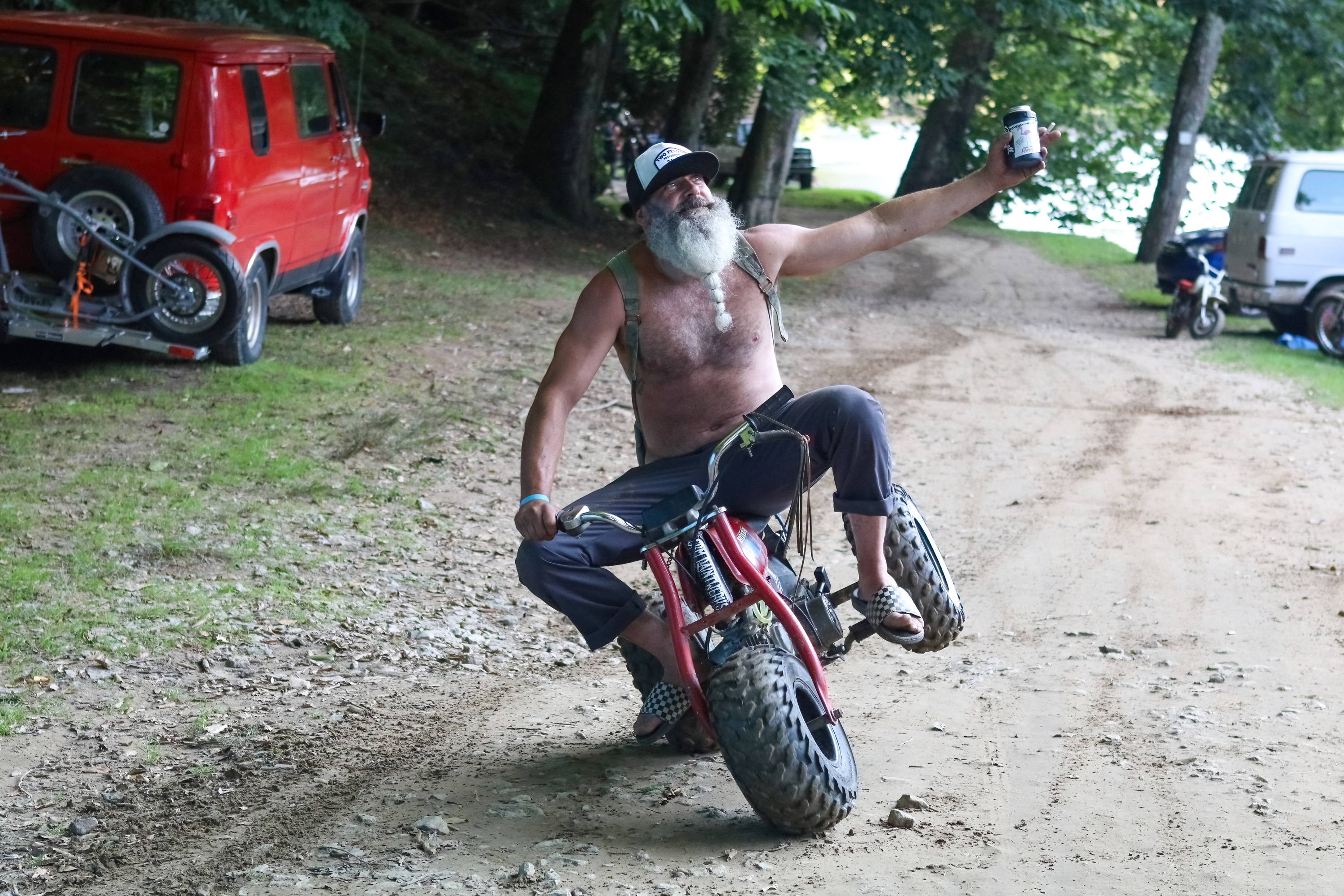 I also spotted more than one bike that had been covered in beer cans during the night. Apparently, this is a new ritual for first time participants. The "laying on of the cans" I guess you could call it…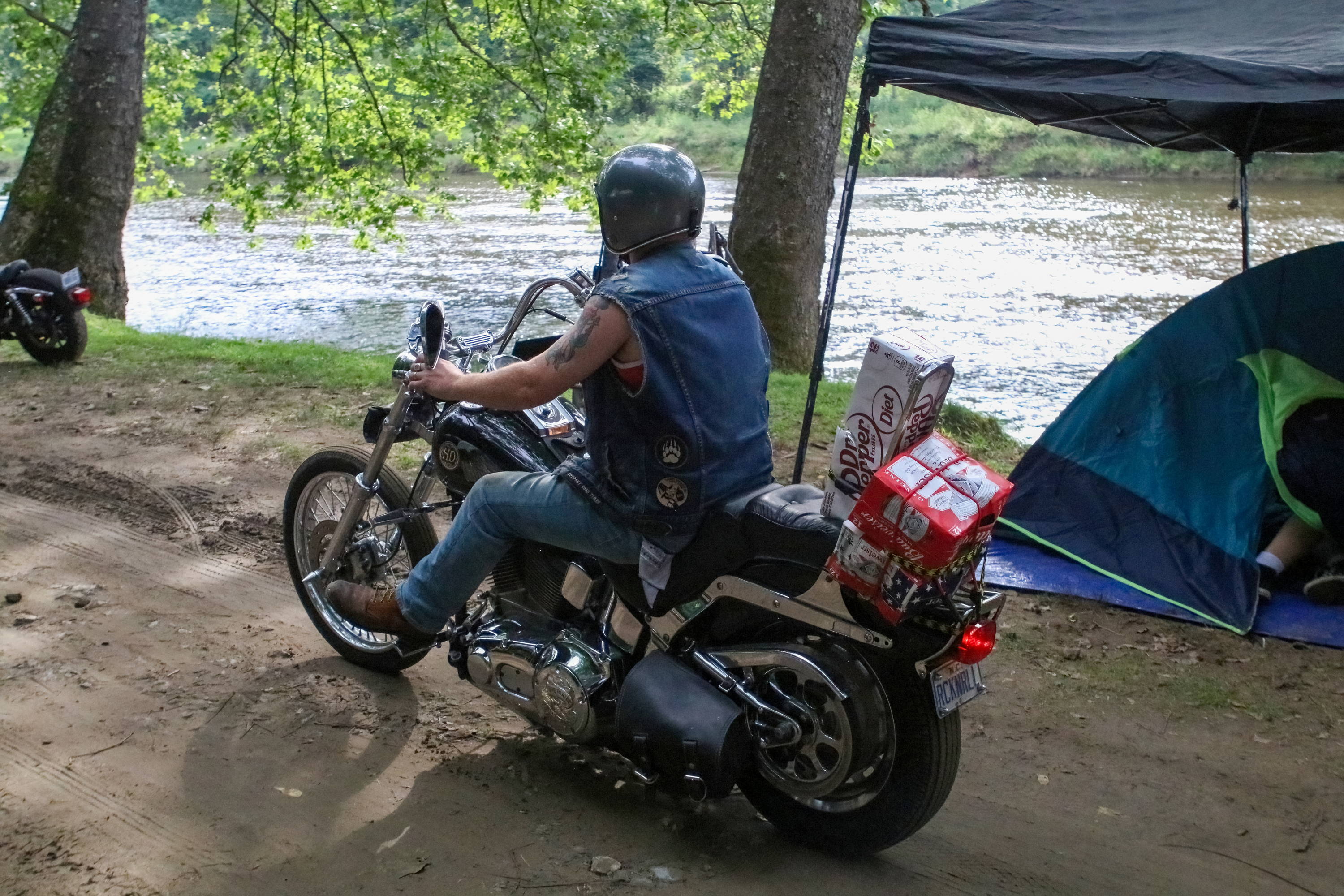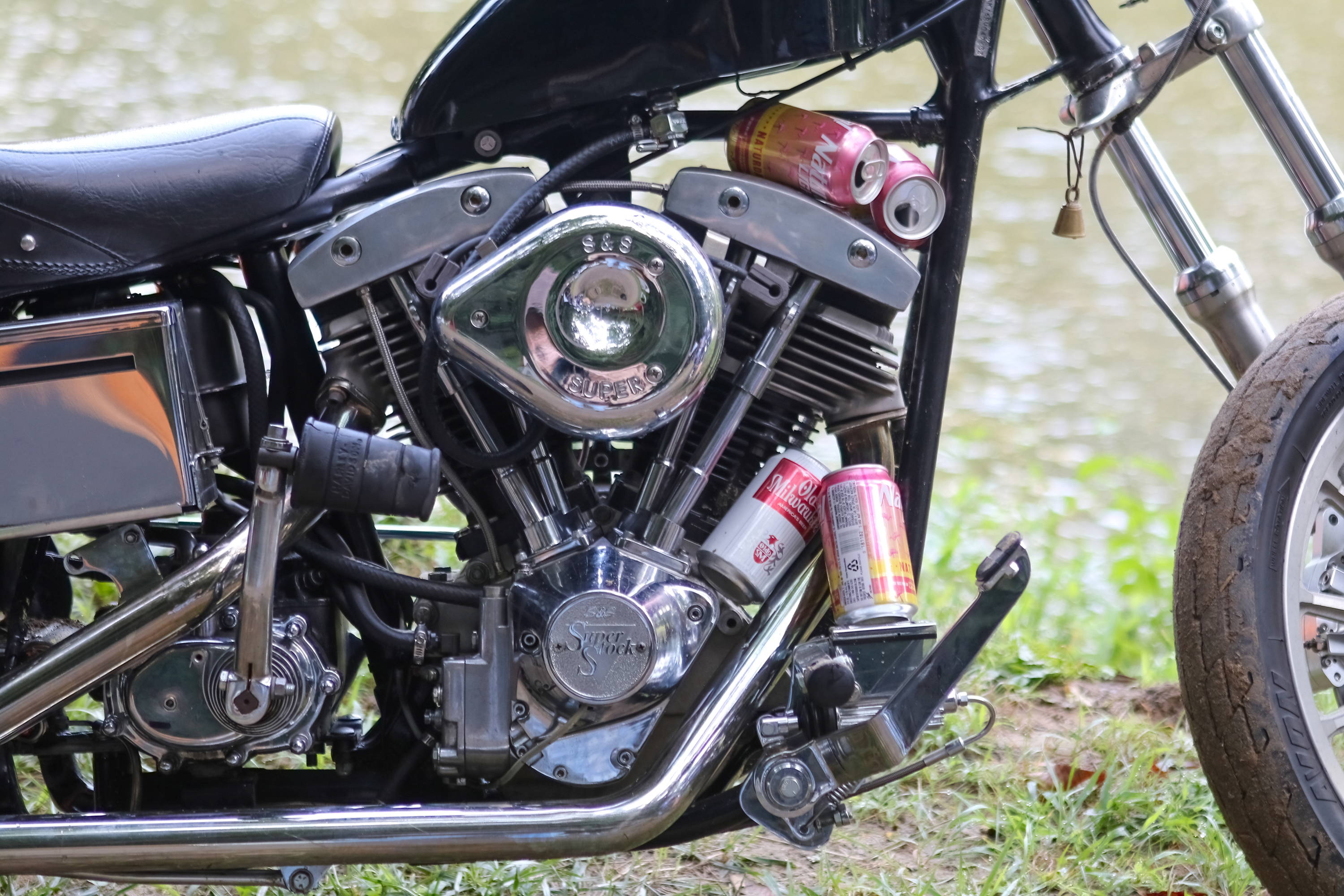 ---
After attending the last four Twin Rivers Chopper Campouts, all I can say is the event keeps get better and better. Zak Gibbons, who is the driving force behind the TRCC, always manages to pull off a great weekend, no matter what the circumstances. He's dealt with everything from hurricanes to pandemics and still keeps coming back every year for more.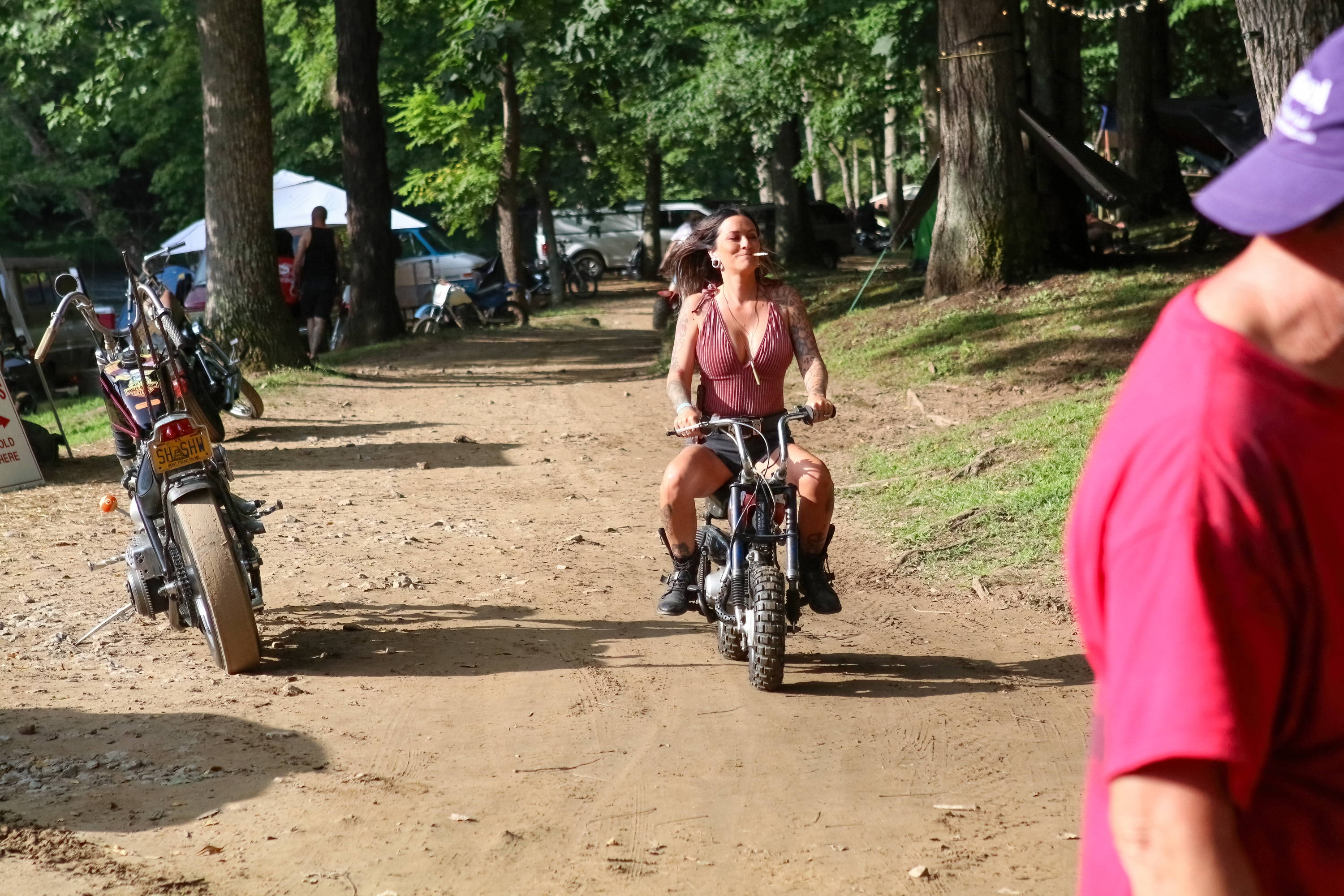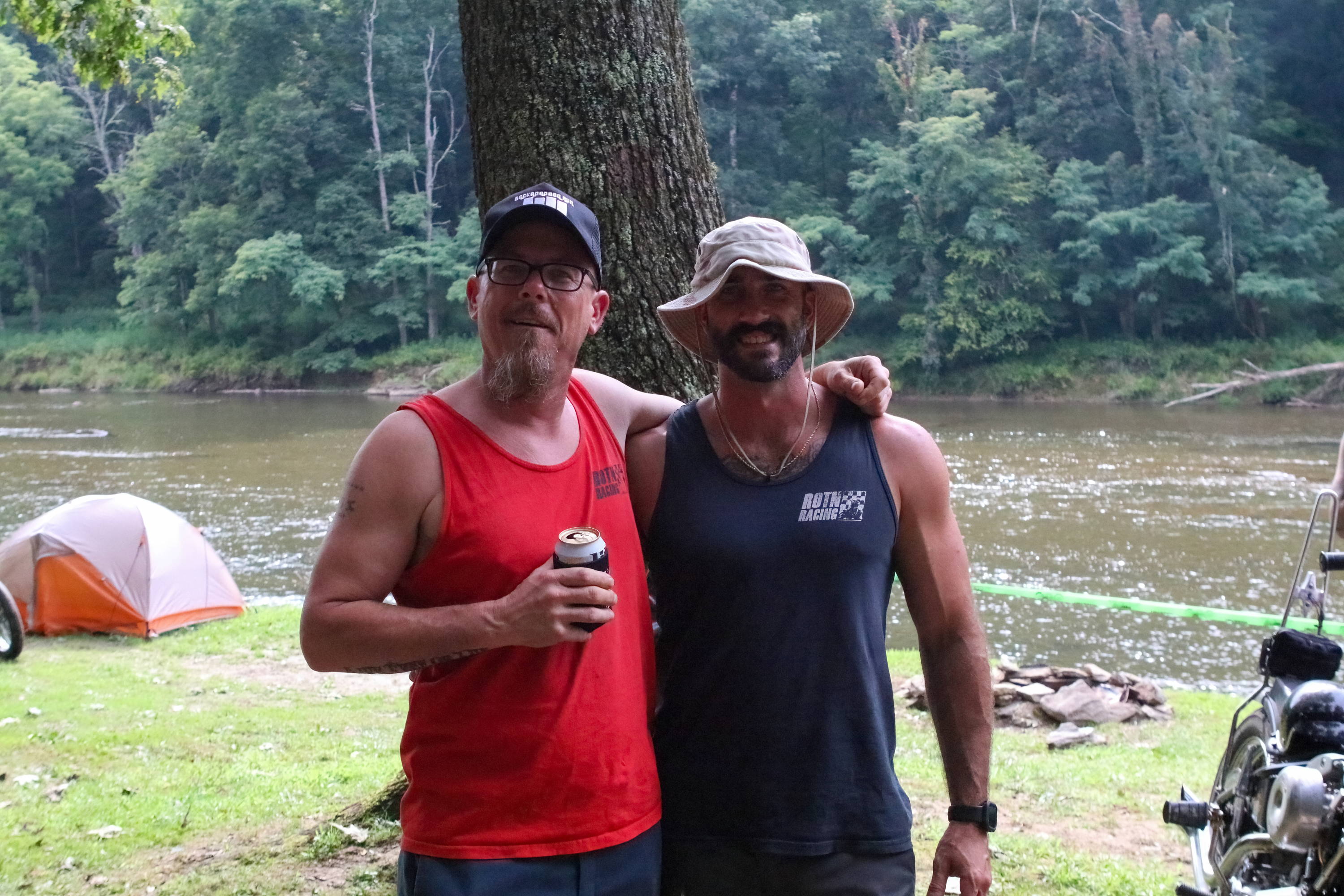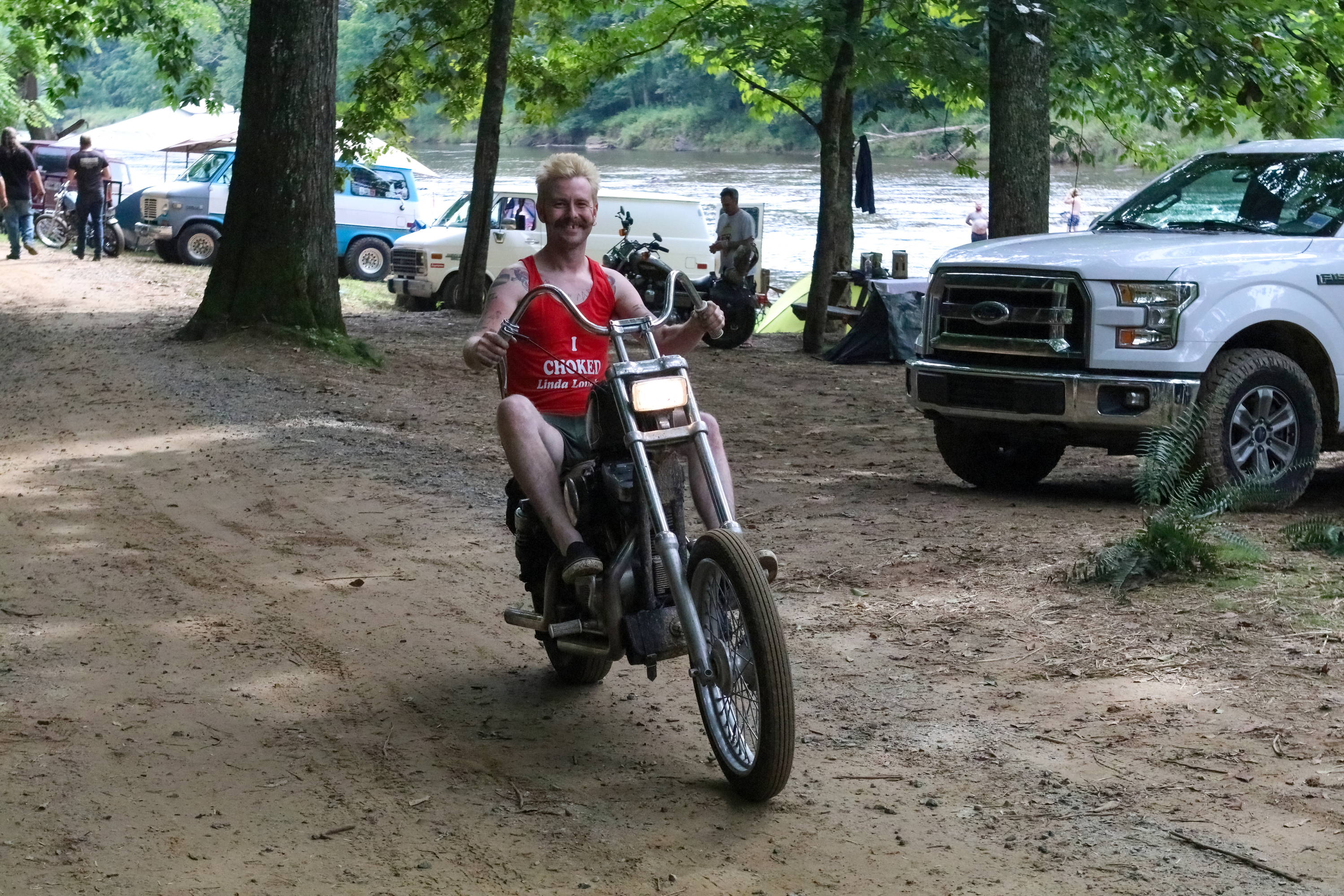 Grass roots events like these are why a lot of us got into riding motorcycles. The sense of comradery and the feeling of being with family is something that is harder to find at a big rally like Daytona and makes events like TRCC worth attending even if the weather doesn't cooperate.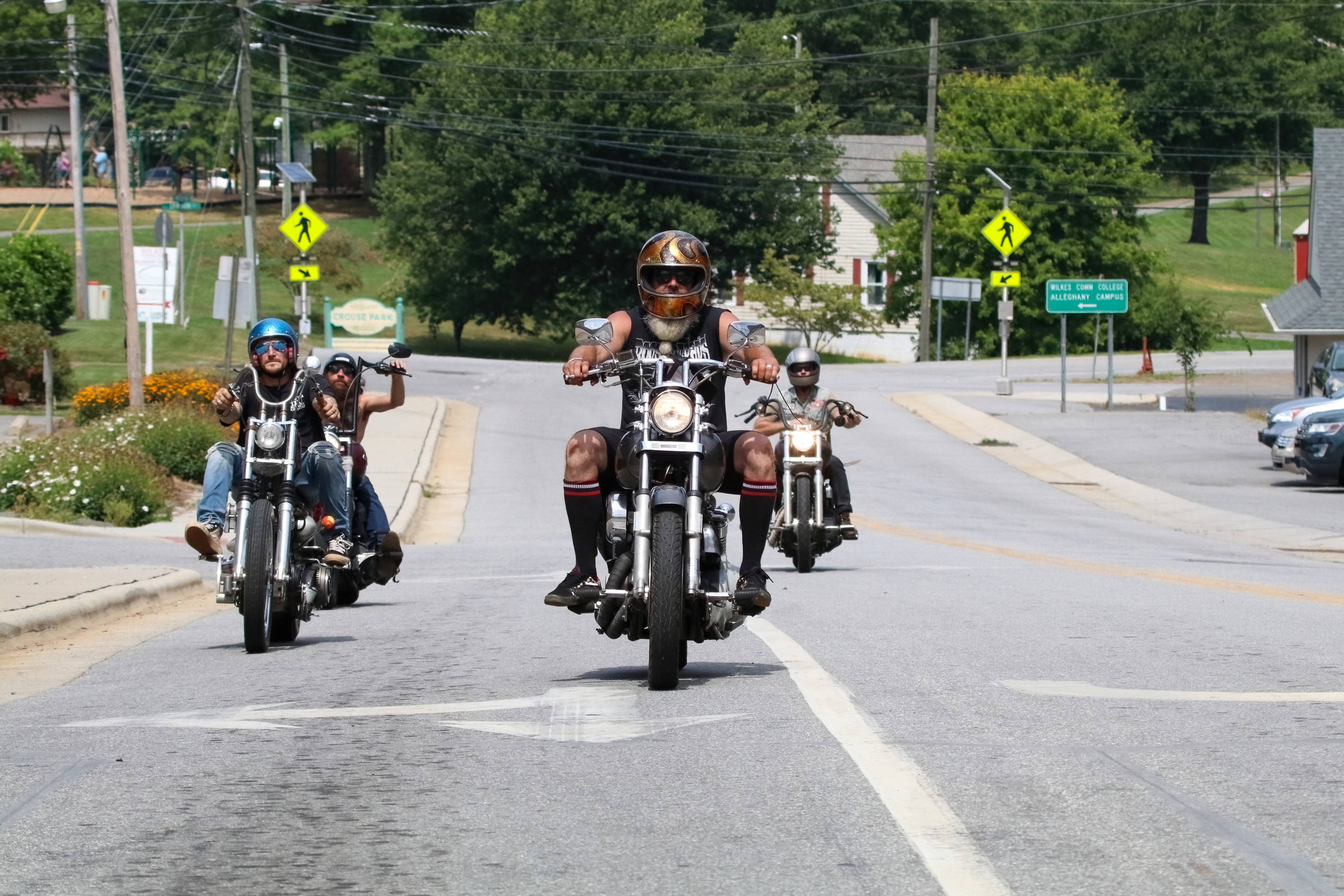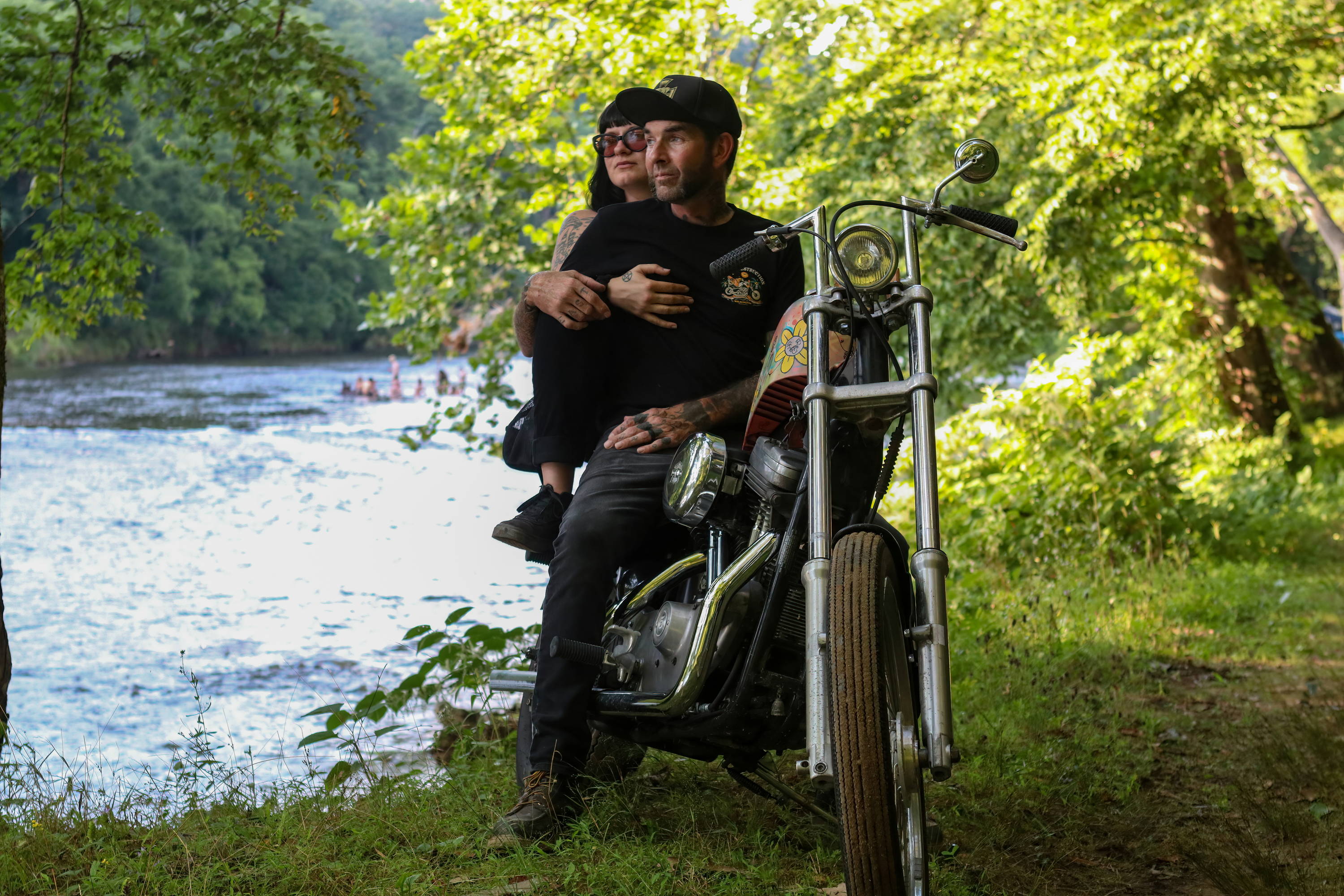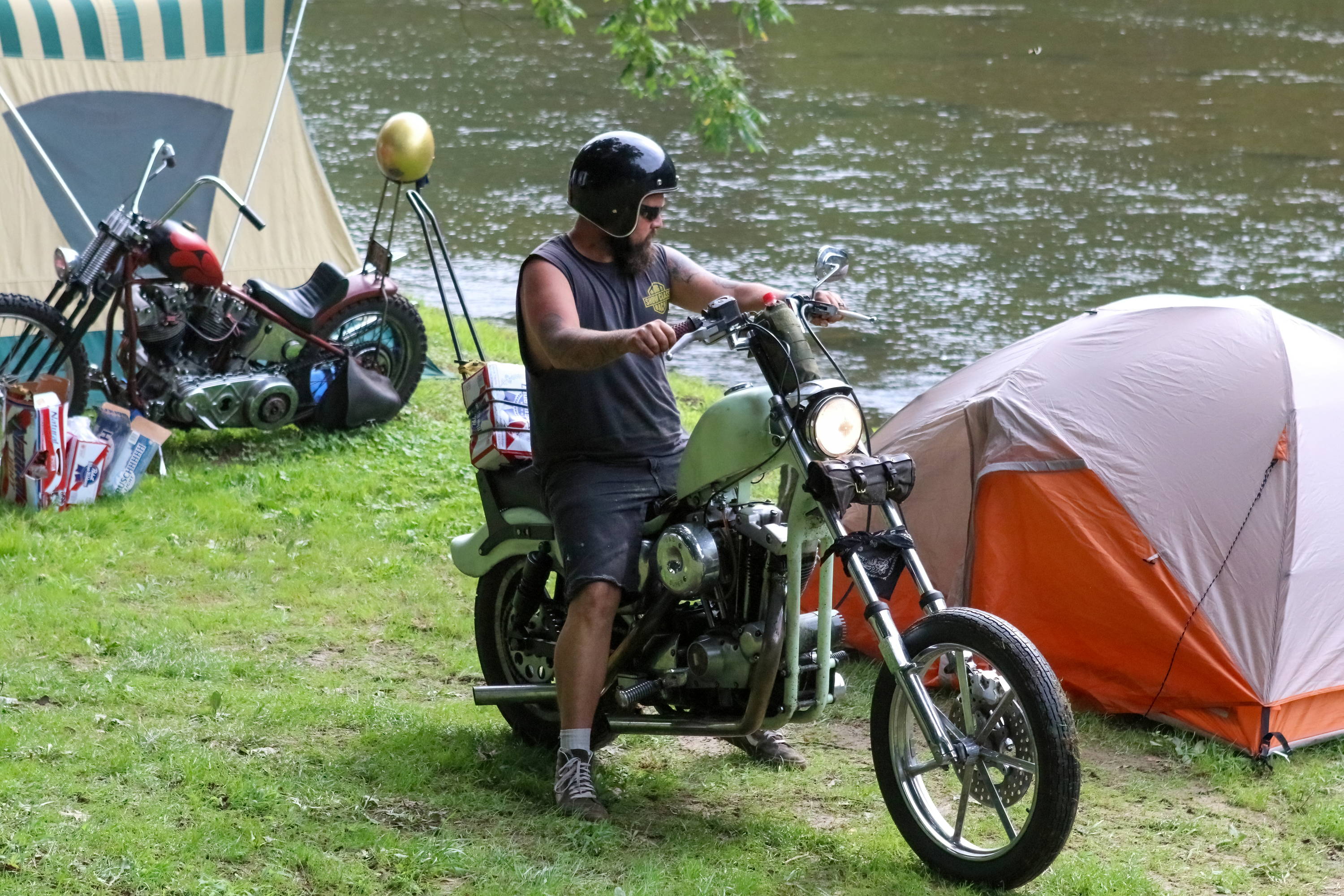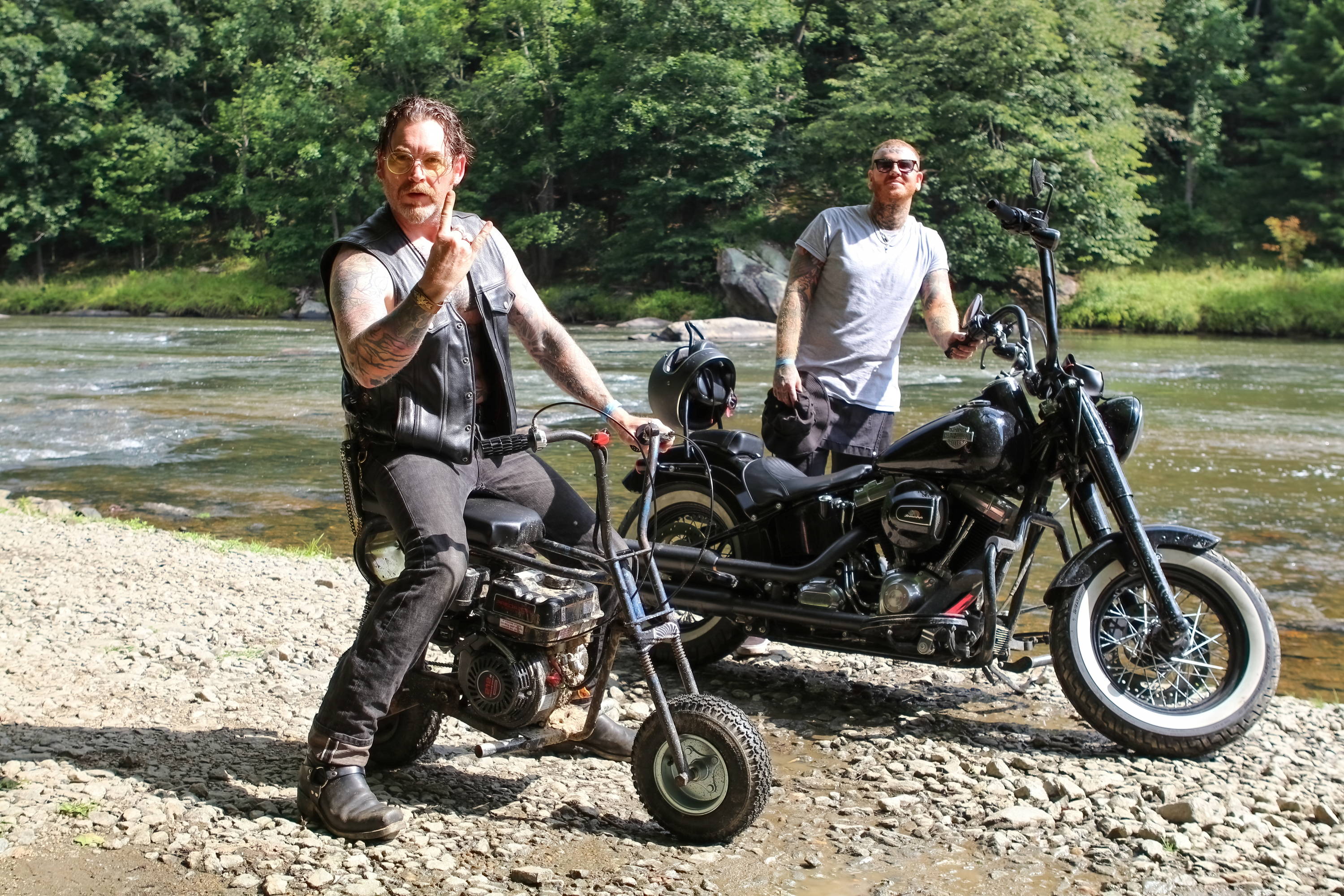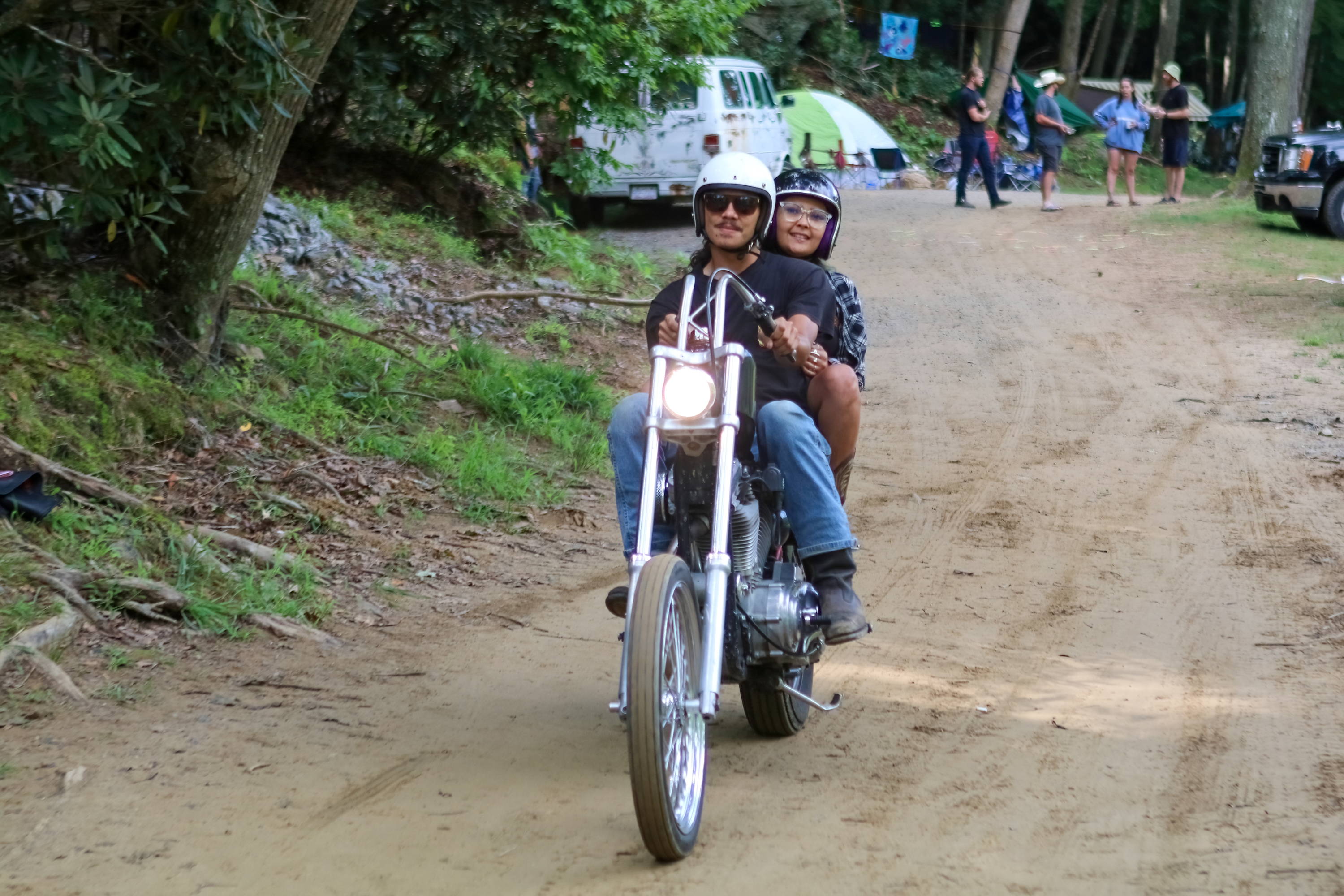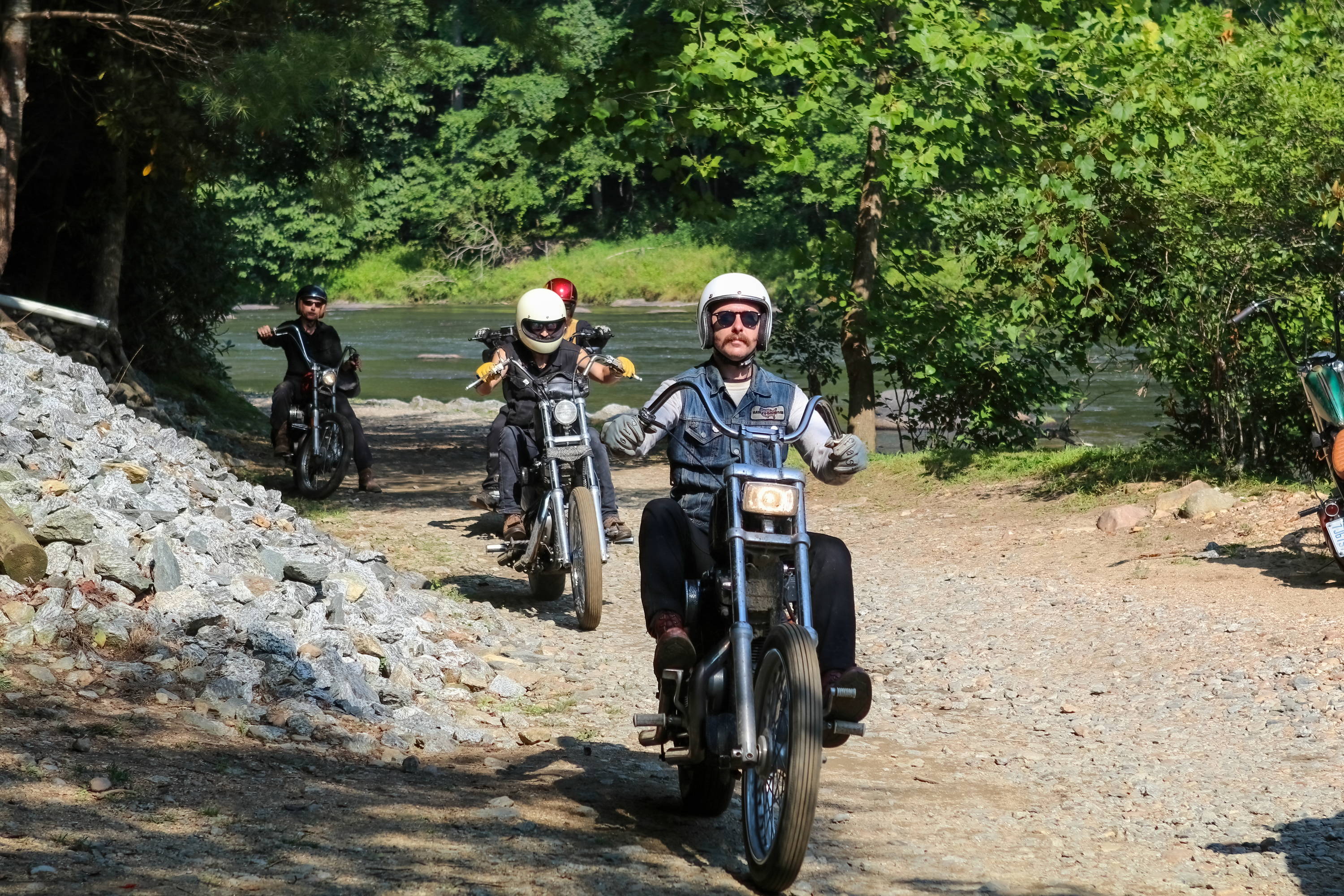 Recent Posts
The sixth annual Backroad BBQ Run went down on the weekend of May 12-14 along the banks of …

On the afternoon of May 20, riders from all over rode to Poconos Park in Bushkill, Pennsy …

Are you baffled and overwhelmed by the countless options for upgrading your Harley's exh …