Eric Bergdoll, 35, is a quintessential handyman who has perfected the art of DIY. Bergdoll has been a self-starting worker his whole life, fully immersing himself in any project he can get his hands on.
His favorite thing to create? Motorcycles.
"I've always been a 'tinkerer' or a 'doer', from building BMX bikes to dirt bikes, to cars to houses, to custom fabrication to building bikes and shit," Bergdoll explains. "I was always too poor to pay someone to work on my shit, so I had to learn to do it myself. It developed into a hobby and a love, so when I got my first motorcycle, it was basically second nature to not leave it stock."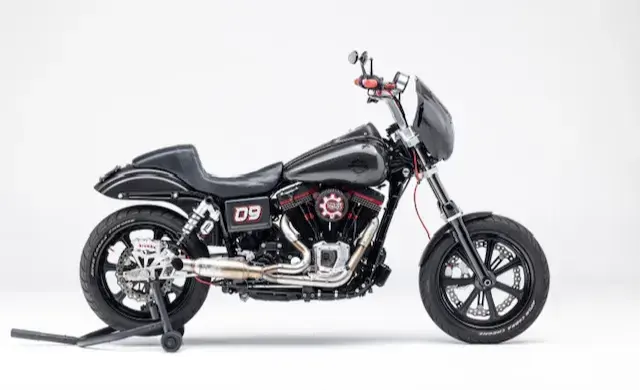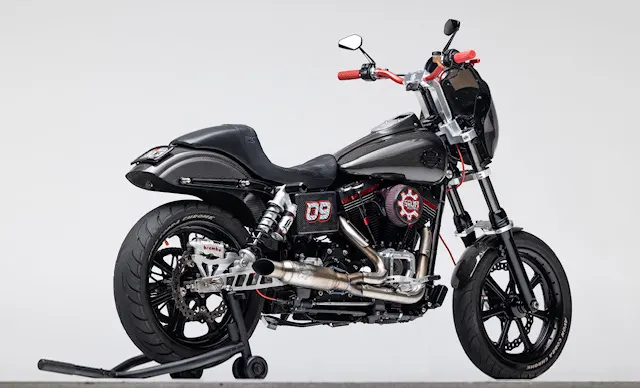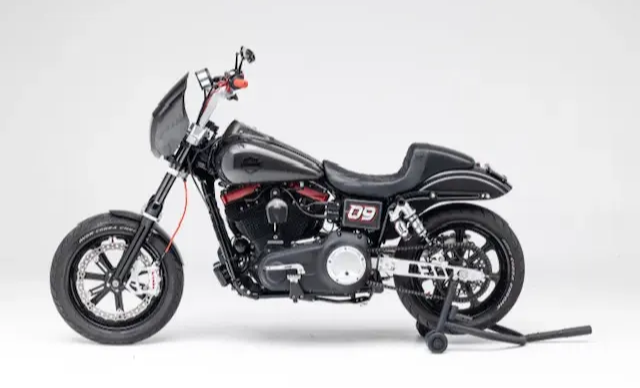 Bergdoll does all of his work in his home garage in upstate New York. He has fully customized his '13 Street Bob, adding a huge selection of aftermarket parts and some great performance upgrades.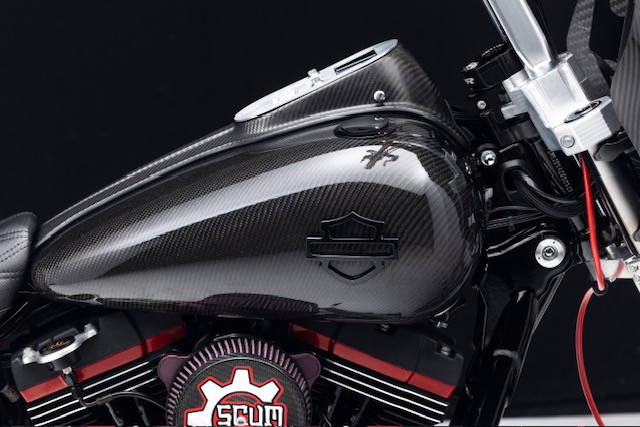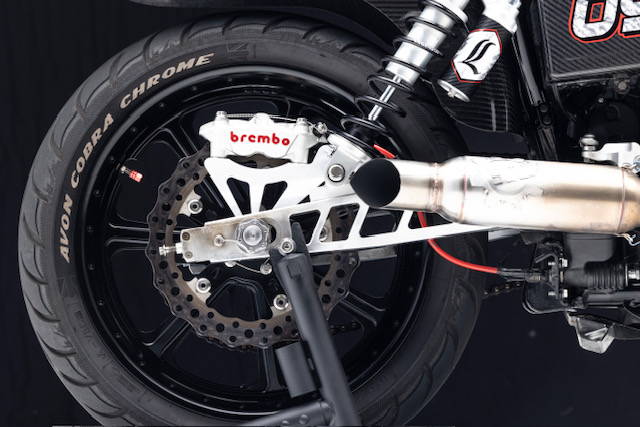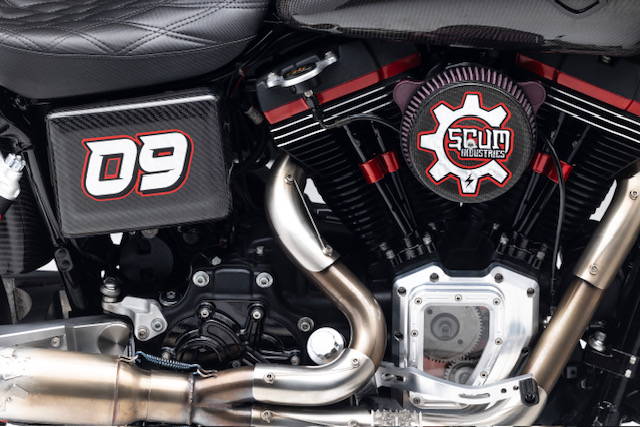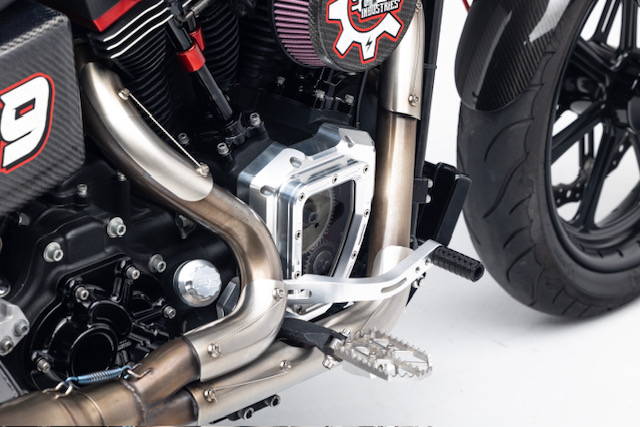 "Aside from the motor build, I did everything myself," Bergdoll tells Deadbeat. "That being said, I did have a few people make some custom hard parts for me, like Sanpietro designs on my derby cover, m.I.a. On my carbon fiber gas tank, Justin Derosia has been matching me hard parts for a few years now and made my dash plate and lower triple tree on this bike, original garage moto on a custom front fender to fit a 130 tire."
As far as performance upgrades go, Jason installed a Revolution 117, a welded and balanced crank and a Feuling Cam Chest — nothing spared.
"I have a few custom hard parts, like my lower triple tree with my own Scum Industries logo on it," Eric mentions of the Dyna's custom fabrication. "My dash and a few other parts but the frame is stock."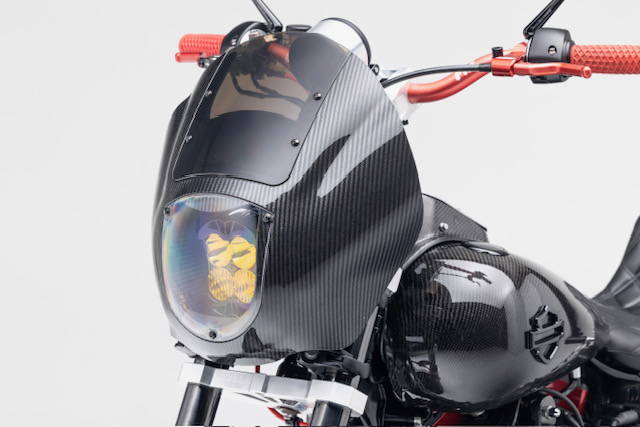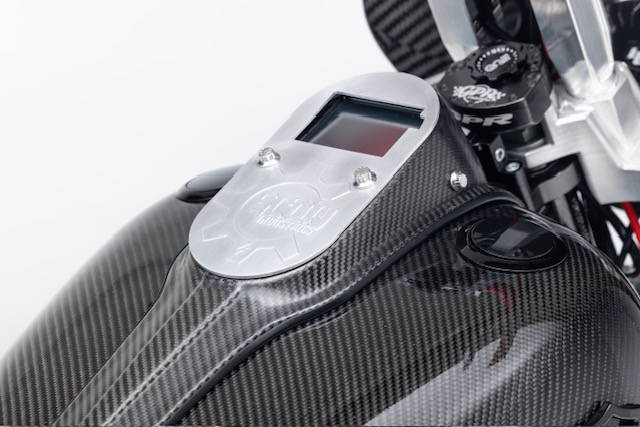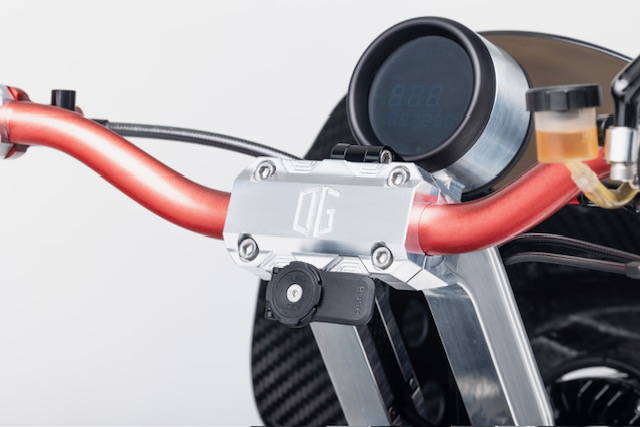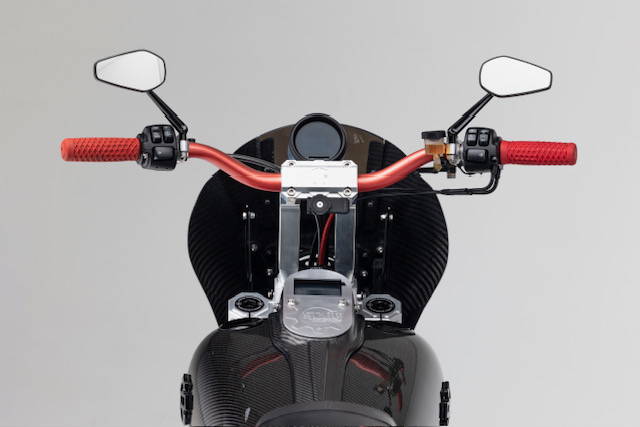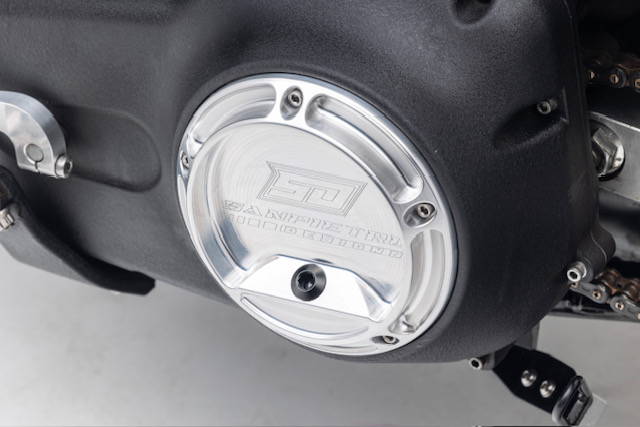 Eric declared he used absolutely zero paint on the entire bike. It is full carbon fiber, but Eric will soon be getting the bike a carbon fiber flame paint job.
Overall, customizing his Dyna Street Bob was quite the family affair.
"Yeah, trying to be a dad to a two-year old and a 12-year old makes builds hard and long," Eric admits. "But my two-year old loves the garage and working on bikes, so I'll for sure remember building two bikes in the garage with her help."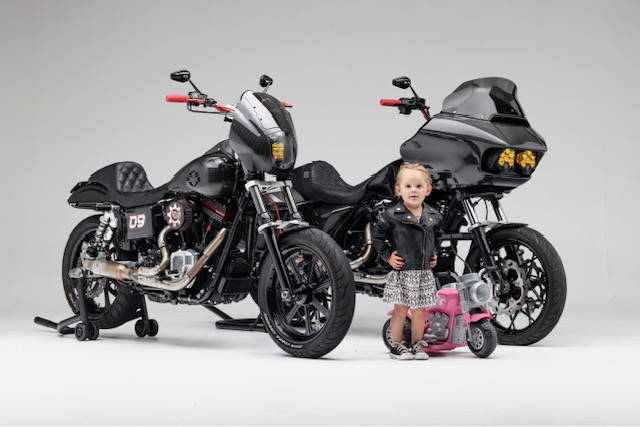 When comparing the riding style of the Street Bob to the style of other bikes he has ridden, Eric says this Dyna is 'Fucking Fast'. He describes the bike as a complete animal...despite losing a race at Mount Washington to a Ducati this year, Eric admits he was not phased by the ordeal at all.
"I was always within about two to three bike lengths from him," Eric reminisces. "We get to the bottom of the mountain, and the guy says, 'What the fuck is that thing?' He said he was pissed because he just couldn't shake this Harley behind him."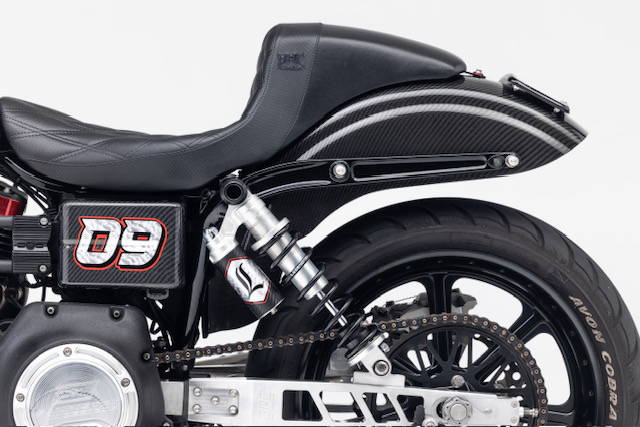 Eric believes the best part of the building process is actively creating a solid work of art that subtly stands out from the crowd.
"I love the fact that I have two magazine bikes that I ride daily," Bergdoll exclaims. "Shit, I wrecked the Dyna at the Deadbeat Retreat this year, snapped my bars in half and shit. Fixed it on the spot and rode until 5am. Had so many people talk shit, but ya know what? I had fun and that's why I build 'em. I build 'em to ride 'em and have fun, they don't just sit in a garage. Build 'em, ride 'em, wreck 'em, and rebuild 'em again. It's what makes building bikes so much fun!"
Check Out The Full Build Sheet:
Powervision Tuner with Scum Ind. Dash Plate
Welded & Balanced Crank
S&S 583 Cams
Stage 3 Heads (cnc ported and polished)
Hpi 58mm Throttle Body
Hpi 5.3 Injectors
Hpi Intake w/ carbon cover
Custom exhaust w/ trask head pipes and jmd tubes muffler w/ retaining springs
A1 cycles oil pressure gauge
Darkhorse Man-o-War 34-Tooth Compensator
Screamin Eagle primary chain adjuster
Baker billet clutch cover
Sanpietro designs derby cover
Vulcan chain drive
Superlite rear 55t sprocket
Screamin eagle adjustable pushrods
S&S lifters
Original garage carbon fiber front fender
Hofmann Designs Carbon Fiber Side Cover
Italian design studio Carbon dash
Italian design studio carbon rear fender
Italian design studio carbon horn cover
Italian design studio carbon 1/4 fairing
Black out recessed gas gauge and cap
M.I.A. Carbon fiber tank
Brembo 19rcs master with elite lever
MYM spacers for controls and perches
Zack nation 2" drop tree
Scum industries lower triple tree
Gpr 4 stabilizer
Original Garage Fork brace
Original Garage moto x pegs
Original Garage shift peg
Original Garage brake peg
Original Garage crash bar
Original Garage perch clamps
Original Garage single gauge pod relocation
Custom Cycle Engineering Motor Mount Bracket
Original Garage 6.5" pullback risers
Legend Axeo Cartridge Up Front
Diamond lane black fork tubes
Qpc billet swing arm
Twisted industries front radial caliper mount
Kraus rear radial caliper adapter
Brembo 108mm calipers (gsxr)
RSD diesel 18" wheels powdered black
Arlen Ness 15" Jagged Front Rotor
Crossthread brake arm
Crossthread shift arm
Cycle Visions Plate Mount w/ Rear Lights
BMC wall seat
PBM shift linkage
PBM valve caps
Baja designs lp4 with prior performance brackets
Leather pro t sport bags
Follow Eric Bergdoll on Instagram at @tattooedscum .
Recent Posts
Moto Pockets is a well-known name for motorcycle storage, and for good reason. Born out of Southe …

Icon's Helmlink™ Bluetooth® Communicator is the must-have communication system for all …

Memphis Shades' Fairings are among the best fairings available today, but putting them together …